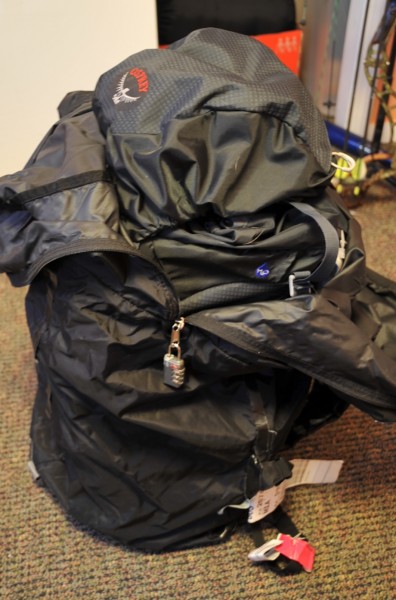 Don't ruin your sweet backpack when you need to check it in as luggage! I see so many people at airports that just dump their $300 pack on the scale at check-in and don't even think twice.
We all know that baggage handlers are not careful with anything in their possession. Nor are they even required to handle anything delicately.
If you've ever watched the baggage handlers unload or load up the belly of an aircraft, you know they don't care about your pack. I don't blame them, they've got other things to worry about. Their main concern is getting what's on their cart off so that the plane can leave on time or so you can pickup your luggage off a belt and be on your way. That means they will ferociously grab, strangle, and abuse your pack in the most easiest method available to move it from Point A to Point B.
Compare your pack to a piece of luggage. What do you notice?
Would you ever hoist and huck your 50lb pack by the bungee handles designed to fit your ice axes? Would you ever drag it out by the floating top lid? Or have you ever thought of the multitude of leashes, straps, buckles, and doo-dads adorning your packs versuses the infinite corners, screws, latches, and other bags they could hook? What about even the skin of your pack, the material? How much abuse would you let someone subject it to?
I hope I'm not scaring you too much or making your face turn red. All packs are not made equal. Some packs are designed to be used as luggage or are made of parts that could withstand that abuse more than others. Other packs have means to hide away all the straps and buckles like a turtle in its shell.
On our most recent trip to Peru, my girlfriend and I solely lived out of our backpacking packs and a daypack that we used as a carry on. I knew ahead of time I'd be checking in my Osprey Atmos 65, both because I was sure the size wouldn't be allowed on the plane and also because we wanted it to store extra gear we'd need for the trip that wouldn't be allowed on board the cabin.
Given the size of the Atmos 65 and it's plethora of strappy straps, I looked into a cover.
What I found was the Airporter LZ made by Osprey. It runs about $34.00 at REI.
I read many reviews on it and one of the biggest complaints was that the seams on it were very weak and the material pretty thin. This is likely because it offers protection for your pack while also remaining lightweight and packable to stay with you on your trip. It has one long shoulder strap, has a half zip top to load from with double zips to lock it, and has an ID holder with velcro closure.
It comes in a mesh zip bag that I ended up using to house hiking essentials: maps, moleskins, bandaids, and Gatorade powder. The cover actually folds up inside itself when not in use, so you really don't need the mesh bag at all.
I went with the largest size because I found out it can actually fit both my Atmos 65 and my girlfriend's Aura 50! It has the option (but ends up being ridiculously heavy and cumbersome) to wear on just one shoulder. Also, because of this extra capacity, when you only load a single pack in it you have a giant floppy mess of extra fabric hanging off like a sock that's too big for your foot.
Here are some photos of the Osprey Airporter LZ
NOTE: Heeding the words of reviewers shaming the pack's seams quality (many had them tear open while traveling), I took a roll of Gorilla Tape to every seam that I considered a stress point on the pack. I also put on some foil duct tape so I could spot it quicker on the conveyor belt (It doesn't stay on very well!). I'll likely spray paint a swatch of blaze orange or the like before our next trip.
From the side with my Osprey Atmos 65 (stuffed with a sleeping bag):
Loaded and Zipped up with the Atmos 65 inside:
Also during my search for an adequate pack cover, I read a few people touting the durability, ease, and economy of picking up a military surplus Sea-Bag. These are nylon/Cordura shoulder bags made for active duty military personnel (primarily Marines) for traveling. It's essentially a top-loading sack with backpack straps. It has a spin drift collar with a clip and grommets for some p-cord, and a couple extra pockets. This is a genuine USMC issue Sea-Bag made of nylon. There are others on the market that are made of canvas or duck cloth. While these may be standard issue to other branches or countries, it's not the same one that's provided to US military, so I'd look for one with these features. There are also bags that are actually laundry bags, so be careful you don't buy one of those.
I was interested in getting this before my trip because they usually go for around $20. However, many of the ones sold online like at eBay are true surplus or used. Some may come with stains or names written on them. So we just bit the bullet on the Airporter LZ.
A few weeks after the trip, my girlfriend visited a friend whose husband is stationed at Camp Lejeune. While there, she spotted some Sea Bags at one of the PX stores and scored it for $20. Here are some photos of it:
From the side loaded with the Atmos 65
From the Top loaded with the Atmos 65
This guy is a better fit for the Atmos 65 but is not capable of storing an extra pack like the Airporter LZ. It is also slightly heavier than the Airporter, but is far superior in terms of durability. It also comes with two backpack straps, so if you pack it right with the backpack orientated properly, you can wear it like a backpack with relative comfort.  The only downside is that the spin-drift collar is not really "lockable" unless you devise a method to cinch it closed and lock it that way.
Being about $15 cheaper than the Airporter, it's up to you if the cost savings is worth the extra weight to carry around but with better durability. However, a benefit is that the Sea Bag can be used for just about anything else that you don't need a backpack for, like hauling dirty laundry or for quick weekends to the cabin. The Airporter LZ is pretty much limited to sheathing your pack, as it's cumbersome to use for anything else.
For me, it's a toss-up. I am planning on keeping both and using both interchangeably. Both are pretty economical and surefire ways to save your pack from the rough hands of luggage carriers. One offers lightweight, packable, and spacious amenity, while the other offers the rugged construction, fit, and functionality fit for our soldiers.
Don't be an assjack, wrap up your backpack!