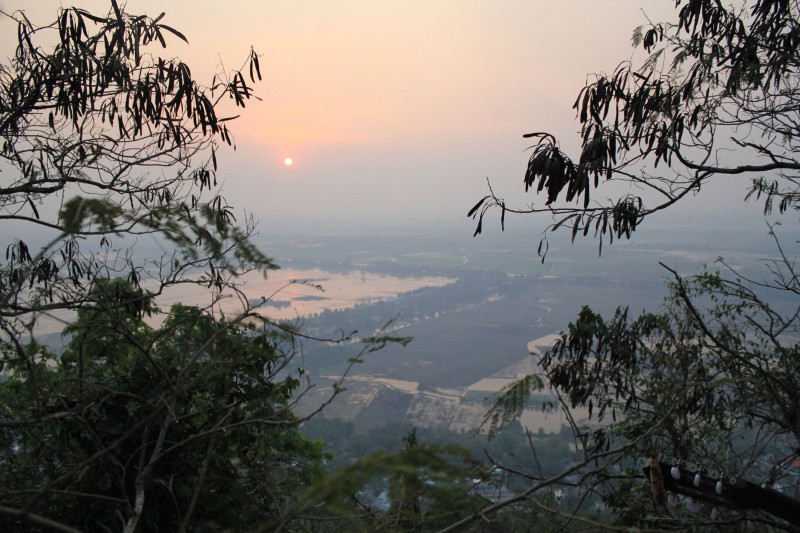 You've read the articles on the people, climate and landscape on Sam Mountain near Chau Doc and you loved them so much that you're convinced this will be your next venture. Now read this find out how to get there, what you need and what you can expect.
Sam Mountain is a casual hike that offers a cultural look into the life of people on the mountain. At only 240 meters in height (787 feet), you can see beautiful views of the landscape at the border of Vietnam and Cambodia. It's a popular destination for Vietnamese and foreign pilgrims. Pagodas surround the area and there is a shrine at the top of the mountain.
You barely need any gear besides strapped sandals for friction against slippery rocks and loose, light fitting clothing to lessen the severe heat you may encounter depending on the time of year you travel. Temperatures in this region are highest from February until May, when the rainy season starts. Rains typically last till November.
Begin your trek at the northeastern base of the mountain at the pagoda. A moto-taxi from Chau Doc can drop you off there for around 30,000 to 60,000 VTN or $1.50 to $3 USD. You can stretch the hike to a leisurely 4 hour venture.
Getting There
There are two popular means of transportation and two main cities that are easiest from which to travel. If you're in a small town in either Vietnam or Cambodia, you will likely have to get to a major city as there tend to be few or far-between connections between small towns. Also, don't expect to travel on a whim. Buses may only leave a few times a day or even once a day and usually at a time that is inconvenient.
Bus
The route that I personally took was from Ho Chi Minh City. It was the bumpiest 6 hour ride of my life. I recommend taking the trek during the day so that you can observe the territory because there's no chance that you'll be sleeping when trying to keep your belongings and your body in the seat. And watch your head, it seriously has the potential to hit the ceiling. Cost is between 100,000 to 120,000 VTN or about $5 to $6 USD as of July 2011's conversion rates.
It's possible to get to Chau Doc from Phnom Penh, the capital of Cambodia, by bus as well though you will have to inquire at a travel agency as to exact bus station locations, travel/departure time and cost.
Boat
Boat is the preferred method of travel from Phnom Penh. A boat from Ho Chi Minh is available, though it tends to be more expensive than the bus. If you draw the short straw, you may end up paying $18 USD for three boat transfers from Phnom Penh and a mini bus that finally takes you to your destination. Beware that cheaper fares might mean more of a hassle. Inquire at a travel agency on location for up-to-date information. Usually, the trip takes about 4 1/2 hours and costs between $8 to $18 depending on where you buy your ticket from.
There is no connection by train. If you're in jam and have a lot of money to blow, your last resort is a taxi. You might have a hard time finding the right driver that you can convince to take that route, but he'll likely do it for a large sum of cash.
This guide is part of a series of articles on Sam Mountain. Read about its people here. Or about the landscape and climate.
All photographs by author.