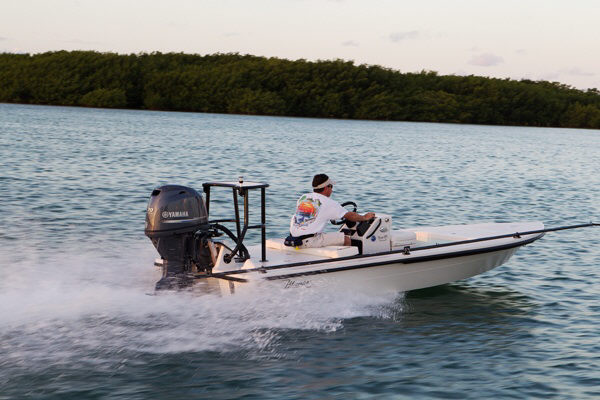 When it's time for a new outboard, bigger isn't necessarily better; you have to match the outboard to the way you use your boat, your budget, the size and type of boat; and the vessel's weight and horsepower capacities.
Horsepower Ratings – Not Quite 20'
Due to their smaller size (length, beam, bottom width, transom dimensions, inside hull depth), boats less than 20' length overall (LOA) don't have as much inherent buoyancy and stability as their larger kin; therefore these craft must comply with government-mandated methods to determine a reasonable engine size.
The U.S. Coast Guard has definitive formulas and tests to establish the Maximum Persons Capacity (in pounds) and the number of people; the Maximum Weight Capacity (persons, outboard, and gear), and Maximum Horsepower that an outboard-powered boat under 20' can safely handle.
This information is readily accessible on the U.S. Coast Guard Maximum Capacities label in the boat.
Outboards for Boats Under 20′
Boats 16-20' are one of the best-selling product segments in the marine industry, because if you do your shopping, they're reasonably inexpensive, easily trailerable by a mid-size tow vehicle, and one person can usually launch, operate and retrieve the boat alone.
It is important to make a determination for yourself about how an engine's power relates to a boat it is matched with. Make sure you test drive the boat to see if the price-point outboard will suit your needs.
For example, a typical 17' aluminum fishing package can have a Maximum Capacity of 90 hp, but you can buy the boat with a 25, 40, 50, 60, 70, 75, or 90 hp outboard, emphasizing the fact that on a smaller craft (shorter than 20'), engine choice is frequently a juggling act between initial cash out of pocket and your long-term satisfaction with the boat.
HP Ratings: Boats 20' and Longer
Because the official (weight capacity and horsepower) calculation rules pretty much exclude boats over 20' LOA, we went to Joe Hunter, Engineering Manager of Grady-White® Boats to get the inside scoop on how manufacturers go about rating their larger (greater than 20') vessels.
Hunter said, "We start by partnering with a naval architectural firm that calculates the required structure for the horsepower needed to obtain the desired performance. In addition, we have built many models in this size range over the past 40 years and have a large amount of empirical data for comparison.
Finally, we conduct extensive testing and sea trials on the finished product with the maximum horsepower to insure optimum performance and safe operation under a variety of conditions.
Our maximum horsepower ratings for boats over 20' are determined by a combination of engineering, experience, and testing".
The bottom line is the boatbuilders decide the weight and horsepower capacities for their boats longer than 20', so go ahead and spring for as many ponies as the boat manufacturer allows. You'll be doing yourself a gross injustice by under-powering a larger rig – you won't be allowing the boat to live up to its full performance potential. And don't forget to select correct propeller(s) – the right props can make the difference between a good rig and a great rig.
Most salts will tell you to put the biggest outboard on the transom as the boat can handle, and on the majority of larger boats – over 20' length overall (LOA) – it's better to have the extra power and not need it, than to need more horsepower and not have it.
Too Much Power?
Do not install an outboard larger than the maximum horsepower rating on the U.S. Coast Guard® Maximum Capacities label.
This is important – using an outboard that exceeds the boat's maximum horsepower capacity can make the boat unstable and unpredictable, especially at high speeds. Y
Resources
American Boat & Yacht Council (ABYC®) Standards and Technical Information Reports for Small Craft
U.S. Coast Guard Boatbuilder's Handbook
http://www.uscgboating.org/regulations/boat_builders_handbook_and_regulations.aspx
Image Credits
Contender® Boats
Grady-White® Boats
Yamaha Motor Corporation, USA®