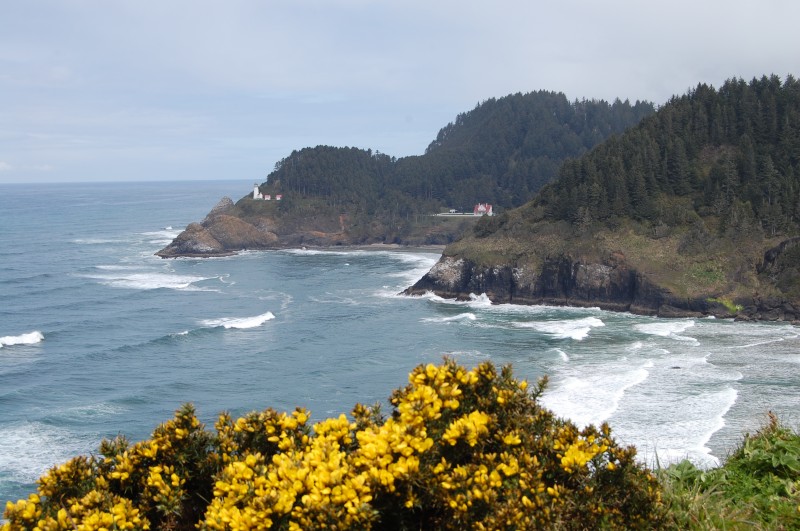 I can't imagine anyone trying to seriously argue that the beaches of the East Coast are more beautiful than those found on the West Coast. Before you send hate mail though, I'm sure pretty soon I'll write a piece about how great East Coast beaches are . . . It just might not be as long. You don't even get SUNSETS over the Atlantic ocean! For a romantic scene with the sun hanging low over the water, you'll have to wake your lover up at 6 a.m, making the date pretty lame before it even gets going . . .
When planning a beach camping trip, make sure to research campgrounds thoroughly, because rules are different just about everywhere. For starters, many cities and counties have strict laws against tents, fires, dogs and other stuff you might be about to load into the mini-van this very moment. And if you're looking for that intimate, sea-foam-in-your-face experience, don't assume every coastal campground has sites on the beach itself. In fact, it's not that common. The state of Oregon, for example, owns its entire coastline and beach camping is illegal, but there are plenty of campgrounds with tent and RV sites close to the water.
Fort Stevens State Park is among the largest campgrounds in the nation, and is full of interesting military history. It has 19 tent sites, along with 15 yurts and about 300 sites with running water and power, 174 of which are considered "full-hook-up" sites.
Tillamook Head — As you stroll along the six miles of trails here, you'll be walking the same grounds traveled by Lewis and Clark, while experiencing some of the best coastal scenery Washington has to offer.
Nehalem Bay State Park is set up with toilets and showers, and each of the 284 campsites has a fire pit and picnic table. There are even opportunities to view wild seals lounging on the rocks. For more info about these and other Oregon parks, go here: http://www.beachconnection.net
California became synonymous with the "beach lifestyle" as soon as video footage of radical, bronzed surfers started trickling eastward, over 50 years ago. Besides the fact that large chunks of California have actually fallen into the Pacific Ocean since then, the only big difference is that more of the beaches are closed to camping. Of the handful of true beach camping options still available, here are two:
Trinidad State Park, located in northern California about 80 miles from the Oregon border, has tide pools teeming with aquatic animals and visually striking rock formations. Trinidad offers some of the best ocean views of all the nor-Cal campgrounds because the sites are situated on the cliffs high above the tide pools. They have fire pits, bathrooms and showers.
Clam Beach is just north of Acata has nine beach sites available, but only on a first-come basis — no reservations. Cost is $15 per night, with a max stay of three days. You can build beach fires and cooking fires, but the bathroom facilities are semi-primitive. Be sure to check the rules, which vary between campgrounds. To read more about beach camping in California go here: http://exm.nr/mvp6kp
Washington has numerous private campgrounds up and down the shoreline with tent sites very close to the water, not to mention state parks such as Belfair, Kinney Point, and Blake Island. To see which ones offer beach camping, go to http://1.usa.gov/jEQPZh and click on the name of the park to see its map.