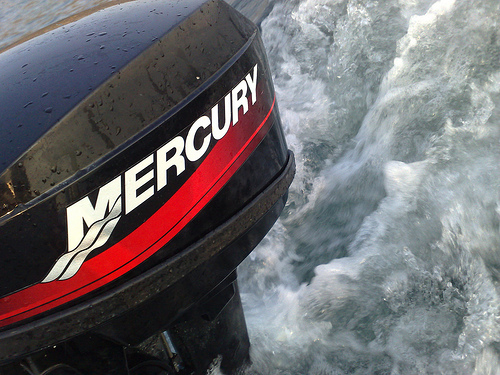 That high performance outboard hanging on the back of my bass boat isn't the same two-stroke engine my grandfather used to putt around his favorite fishin' hole.
My Nitro z9 powered by a Mercury Pro XS 250 is a far more sophisticated piece of equipment. It's instrumental to my success as a touring bass professional, and I keep it running at optimum performance by following these 10 critical measures that I've learned over the years:
Distribute weight properly: You'll get more bow lift and better handling in big waves by keeping heavier gear in the rear portion of the boat. That's where I store soft plastic baits, tools and spare equipment. Lighter items, such as rods, rainsuits and crankbaits are stored up front.
Trust a reputable dealer: He knows exactly how to set up a boat to achieve proper RPMs and performance. Each boat manufacturer is different, so call upon those who sell and specialize in your boat/motor combination for advice.
Prop for safety: Choose a propeller that gives you a good hole-shot, bow lift and optimum speed without sacrificing handling. You want a prop that allows the boat to steer easily so you can dodge unexpected obstructions and still maintain control, even if it requires some sacrifice in top-end speed. I run a high performance Mercury Fury, and most of the guys on tour run outboard manufacturer's props, too.
Add a hydraulic jackplate: It enhances overall performance; you get on plane easier in shallow water, idle through no wake zones more efficiently, and can adjust engine height to compensate for weight changes with the flip of a switch. When in big water, you can lower the engine to give you a better bite.
Use premium engine oil: Service techs at tournaments tell me it's critical to choose one type – preferably a manufacturer's oil – and run it consistently. If you buy whatever is on sale, it could cost you dearly in the long run. Some dealers sell premium oil in bulk; take in your old oil jugs and refill them for considerable savings.
Follow service schedule: Don't procrastinate dealer recommendations. Break in a new engine by the book, follow-up with 20-hour check and change lower unit lube every 20 hours. During the check-up, dealers can detect potential problems by hooking your outboard to a laptop computer. Changing lube regularly is inexpensive insurance to know the seals are good and you won't have problems.
Be cautious with fuel: Today's engines are designed to run on 87 octane. Premium fuels aren't necessary, but I do avoid gasoline that contains ethanol when possible. Always buy from reputable stations; I buy Shell when it's available because it is consistently better quality.
Avoid buying gas on the water: unless it's an established marina that sells a lot of gas. I also avoid gas stations off the beaten path that may not replenish their fuel tanks as often as those that get a steady stream of business. Stale fuel builds up unwanted deposits and moisture. If that finds its way into your boat tank, you've got problems.
Slow down for fuel economy: Instead of running wide open at 5,800 rpms, back down to 4,800-5,000. You won't lose that much speed but you will save on gas and oil.
Run a fuel system cleaner: I run Mercury's "Quickleen" through a tank of fuel about four times a year. It cleans out any deposits, extends spark plug life and maximizes my fuel economy.