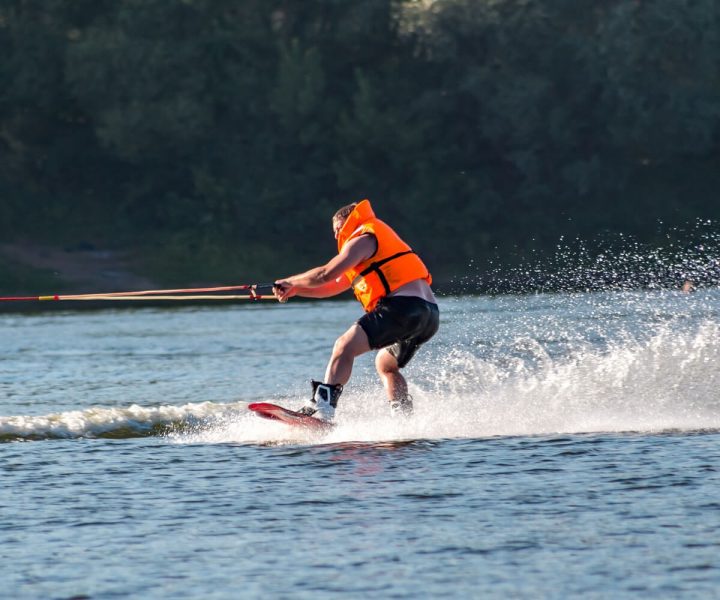 Wakeboard bindings (or boots, as they're sometimes called) are a crucial part of your wakeboarding gear. They are responsible for securing you to your wakeboard, so you need to make sure that you choose the right bindings.
Properly fitting wakeboard bindings should feel tight, but not so snug that you're in pain and feel constricted. Your feet should still have some room to move, so you can adequately maneuver and perform any tricks you have up your sleeve.
We run through all the different wakeboard bindings styles, so you know what to look for when you're on the hunt for your next pair.
Closed toe
Closed-toe wakeboard bindings are normally fitted in a size-specific manner, same as with a regular pair of shoes. These bindings usually offer higher performance, and you can find them for a broad range of wakeboarding abilities and styles.
Pros
Fitted support
Increased comfort and performance
Your feet stay warmer in the water
Cons
Not usually offered in half sizing
More expensive than open-toe bindings
Less versatile
Open toe
These models offer great fit and support, with the added benefit of accommodating a broader range of foot shapes and sizes. If you are planning on sharing your bindings amongst your friends, these are an excellent choice.
Pros
Added versatility
Can be adjusted easily
More flexible
Cons
Fit may not be precise
Decreased level of performance
Closure
There are several types of closures that each have their pros and cons. These include laces, velcro, or BOA.
Laces
These laces work the same as any shoelaces, with the addition of a fastener which will keep the laces from loosening or coming undone while you're in the water.
Pros
Snug, secure fit
Customizable
Cons
Takes more time to fasten and loosen them
Not as durable as other options
Velcro
Velcro has become a popular choice for binding fasteners, as its quick to get in and out of them, and they can be adjusted to fit your foot as snugly as you prefer.
Pros
Highly durable and long lasting
Very convenient
Cons
Getting a precise fit is more difficult than with laces
BOA
This technology comes from the snowboarding industry, and it's a system that allows you to tighten and loosen your bindings super quickly.
Pros
Can be tightened or loosened quickly and conveniently
Lifetime warranty
Cons
Spare parts can sometimes be difficult to come by
Flex
The wakeboard bindings ultimate job is communicating the movement of your body to your wakeboard. There are various flexibility options, just keep in mind that softer, more flexible boots will give you more freedom of mobility. On the contrary, more supportive and stiffer boots will provide you with more ankle support while translating your body's movements more sensitively.