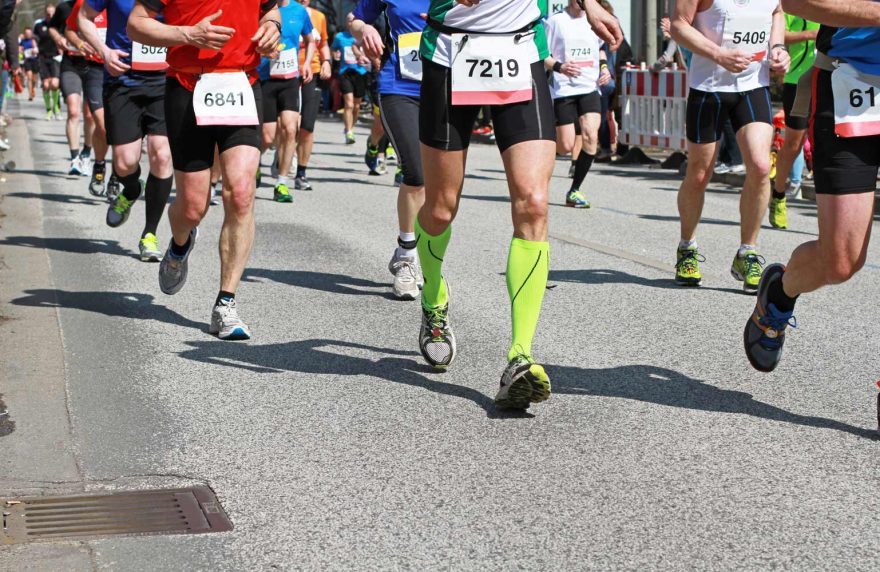 Covering long distances is one of the things that makes ultramarathons so challenging, but these races ramp up the difficulty level and then some. They are never held on easy terrain or moderate climates, and they challenge you not only physically but mentally as well.
For most running enthusiasts, finishing the New York marathon is enough of a challenge to test their limits, but these ultramarathons make endurance take on a whole new meaning. We've put together a list of some of the most grueling races in the world, both physically and psychologically speaking. Some of them go through incredible scenery, and one of them is just going around one block thousands of times. If you've ever had the ultramarathon bug, why not give one of these a shot?
Badwater 135 Ultramarathon, USA
This marathon has been called "the world's toughest footrace" and is infamous for covering 135 taxing miles. Not only will part of the race take you through Death Valley, but it will do so during one of the hottest months of the year: July.
Badwater begins in Death Valley, ending in Mount Whitney. According to their website, you will cover "three mountain ranges for a total of 14,600 feet of cumulative vertical ascent and 6,100 feet of cumulative descent." If this piqued your interest, be aware that you will not be allowed to compete if you've not finished the Badwater Salton Sea race, in which you run 81 miles non-stop, beginning at Salton Sea and finally ending at the top of Palomar Mountain.
Marathon des Sables, Morocco
The Marathon des Sables extends for 154 miles and takes six days. One of the things that makes it so challenging is that you're not able to actually run for a lot of it, as you'll be going through fine sand. The sand will absorb the momentum of your feet, meaning you will have to slog through significant sections of the race. And that's not all; since the race happens in April, you'll be subjected to temperatures of over 100 degrees.
The Jungle Ultra, Peru
Running 142.6 miles is never easy, but the Jungle Ultra makes it even harder. When you enter the Jungle Ultra, you'll be running through Peruvian cloud forests and rainforests, with temperatures reaching 90 degrees and 100% humidity. You'll also be faced with critters and bugs of all sizes, some of which may sting and bite.
While the race may be all downhill, the elevation change is still 9,000 feet, and you'll be crossing around seventy rivers. Not only that, you still need to carry your water, food, sleeping bag or hammock, and all other supplies for the entirety of the race. The upside is that you'll be doing this surrounded by some of the most fantastic wildlife and scenery, and you get to visit the villages of various indigenous tribes. If you can hack it, it really is a once in a lifetime experience.
6633 Ultra, Canada
Don't be fooled by the tame name; the 6633 Ultra has only been completed by eleven people since its inception in 2007. The race offers two courses, a 120-mile course or a 350-mile course, depending on your level of sanity.
The 6633 Ultra will take you from the Eagle Plain hotel right to the Arctic Circle while dragging your extra gear and supplies on a sled. Since it happens in March, you can expect hurricane-strength winds and below zero temperatures. The checkpoints where you can rest, recuperate, sleep, and eat are between 26 to 70 miles apart. The hosts describe the race as the "toughest, coldest, and windiest extreme ultramarathon on the planet," which seems like a pretty accurate description.
Self-Transcendence 3,100 Mile Race, USA
Don't be fooled into thinking that all ultramarathons are accompanied by spectacular scenery and landscapes. The Self-Transcendence 3,100 Mile Race is a real test of not only your physical stamina but your mental stamina as well. The race is held during the summer and goes on for two months.
The reason for this is that the race all happens in a single city block in New York, which means you'll be going around the same block until you reach 3,100 miles. That entails running around the block 5,649 times. To finish your miles, you have a grand total of fifty-two days, so you'll need to run, on average, 60.78 miles each day, for days on end.
If you're wondering what the point of all this is, Sri Chinmoy, the race's founder, believes that self-transcendence can come through running, as it is a fantastic way for people to overcome their predetermined limitations while challenging themselves. He believes that when you test yourself in this way, you will understand that you don't have to compete against others, only against yourself.