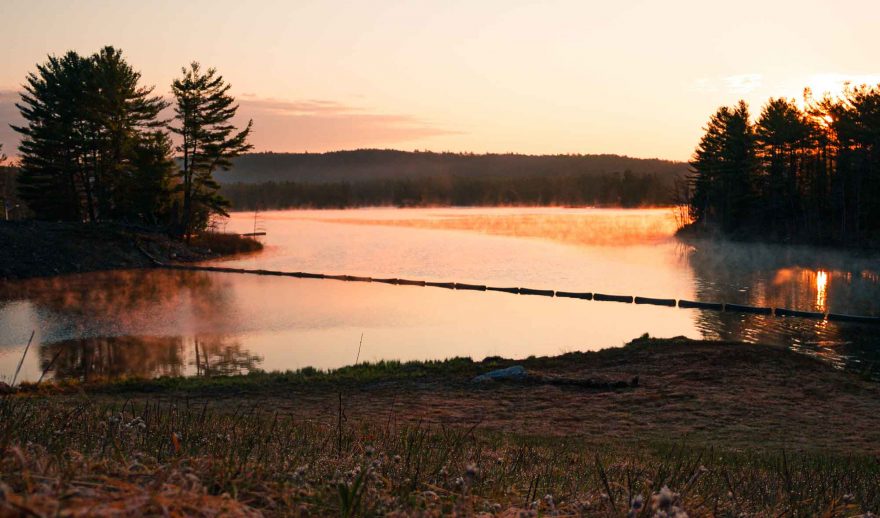 Far from the throngs of Boston tourists, this region is 'wicked' outdoorsy
---
It's natural that tourists push out only so far. The multitudes of people that hit Boston's Freedom Trail and other historical sites generally just stick to staying in the city itself. Some might reach a little farther to see sites in Cambridge or even cruise west on scenic Route 2 to Minute Man National Historical Park in Concord and Lexington.
This means that if you push even further west, to the north central part of the state, the tourists are all but gone. You'll enjoy the trails and waterways in this region, where Johnny Appleseed was born in 1881, generally in the company only of locals.
Hikes
The 22-mile Tully Trail passes through the towns of Athol, Royalston, Orange and Warwick, encircling the Tully Valley. The eastern portion of the loop is primarily a single-track footpath that brings you to a series of waterfalls and offers ridgeline views. The trail's northern section passes Royalston and Warwick State Forests and presents hillier terrain through dense forest canopy. Headed south, the trail passes through two wildlife management areas until it rises 1,163-feet to the top of Tully Mountain and rewards you with striking views of the entire region.
Tucked away in the little town of Shirley is the Farandnear Reservation, an 89-acre property that was once the summer retreat of a wealthy family from the seaside town of Quincy. The property is park-like, with easy, wooded trails that pass fields of wildflowers, an old cranberry blog and a parcel of hemlocks. The two loop trails are short (0.75 miles and 1 mile) but mellow, peaceful and accessible to families and older hikers alike.
About 15 minutes from Farandnear is the Fruitlands Museum. The 210-acre property includes five idyllic trails (between 0.3 and 0.9 miles) that meander past meadows, marshland, woodlands and a pine barren, as well as the remains of an old farmhouse and a brickworks, both from the 1800s. As the name implies, the property is much more than trails though. There are also five small museums to explore, including a farmhouse, a Shaker Museum, Native American Museum, the Wayside Gallery and the Art Museum, which includes a collection of works from the Hudson River School and 19th century folk portraits. A café offers farm-fare sandwiches, salads and spreads.
(Note that both Farandnear and Fruitlands, as well as sections of the Tully Trail, are managed by a nonprofit organization called The Trustees, which was founded in 1891. It's a brilliant concept where one, large, state-wide nonprofit manages more than 100 woodlands, parks, museums, campgrounds, farms and other special places, making them a great "one-stop shop" for a variety of adventures around the state.)
In the nearby town of Groton, Groton Place & Sabine Woods are two adjacent properties managed by the New England Forestry Foundation. Together, they offer some 200-acres of trails, sculptures and monuments, deliberate plantings of rhododendron, azalea, and other flowering shrubs and generally a park-like atmosphere. Keep an eye out for beavers, barred owls, deer, red foxes, coyotes and both Downy and Pileated Woodpeckers.
Riding
A former branch of the Boston & Maine Railroad, the Nashua River Rail Trail is now a 12-mile bike path that loosely parallels its namesake river, passing from Ayer, through Groton and Pepperell and into southern New Hampshire. It's also open to walking, rollerblading, cross country skiing and, along much of the route, horseback riding.
The trail rolls through deciduous forests, which provide shade in the spring and summer and brilliant fall colors in the fall. It passes several wetlands and bodies of water (such as Groton School Pond and Pepperell Pond) providing good excuses to take a break and spot birds, turtles and other wildlife.
The Twin Cities Rail Trail is a 4.7-mile stretch that connects the downtowns of Leominster and Fitchburg. This tree-lined trail also often parallels the winding Nashua River
Paddling
The Nashua River winds through the region, offering a variety of options to paddle this scenic waterway. Outfitter Nashoba Paddler in Groton offers rentals of canoes, kayaks and stand-up paddleboards, as well as wildlife watching, beaver spotting, birding and wildlife, and full moon tours.
Paradise Pond in the Leominster State Forest is a smaller body of water that doesn't allow motorized recreation. There are several small islands covered in pine and birch with little undergrowth, so they make for great picnic spots. They are especially beautiful in June when the mountain laurel is in bloom, and one island is home to the ruins of a mill building from the 1800s. Be sure to keep an eye out for beaver lodges.
Lodging & dining
For the full New England experience, stay a few nights at the Groton Inn. While the original structure (built in the 1600s and one host to Paul Revere) burned down several years ago, the new structure is modern, charming and accommodating in every way. For a truly inspired dining experience, be sure to check out their higher-end, award-winning Forge & Vine restaurant.
Or head to the town of Shirley, where the Bull Run awaits. This authentic restaurant has been a local stop for refreshment since the 1800s when it was the first stop on the Boston-to-Albany stagecoach route. There is often live music in the restaurant while a function area in the back offers up concerts, comedians and other entertainment.
If you're looking for more diverse dining options, downtown Ayer offers Italian, Korean, Japanese and a variety of establishments with pizza and pub fare.
For more accessible and outdoorsy lodging, check out the Spacious Skies Minuteman Campground in nearby Littleton, which offers sites for RV and tent camping, as well as several cabins.
---
'Chez' Chesak is an award-winning adventure travel writer, 20+ year veteran of the outdoor industry, Executive Director of the Outdoor Writers Association of America and chair of the Society of American Travel Writers' Central States Chapter.