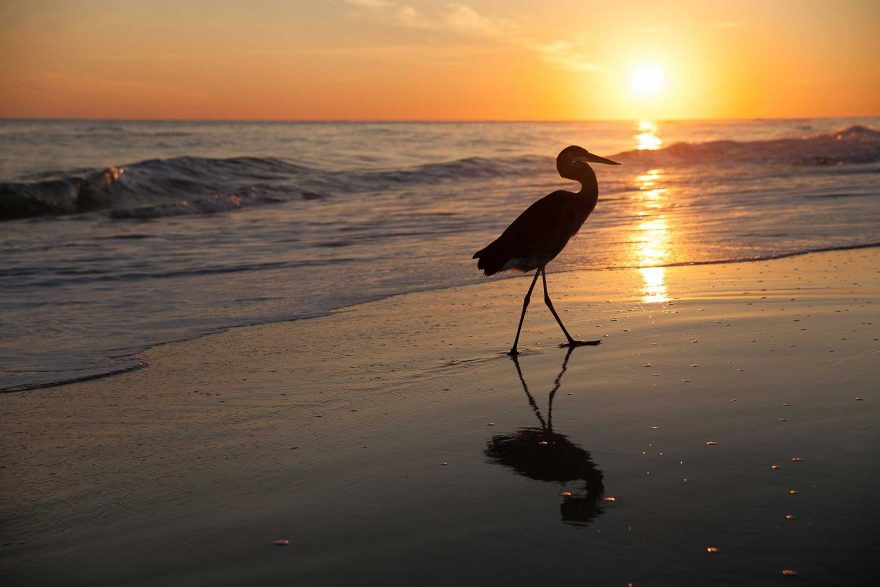 The adventure-filled Gulf Shores is way more than just a beach town
---
If Gulf Shores, Alabama, isn't already on your outdoor adventure radar, it certainly should be.
Located 32 miles west of Pensacola, Florida, and 54 miles east of Mobile and poised on the Gulf of Mexico, it boasts 32 miles of sugar-white sand beaches. Thus, there's no end to the availability of saltwater activities. But with plenty of inland waterways, parks and trails, it's also an outstanding destination for biking, hiking, paddling, birding and more.
Start your adventures at the 6,150-acre Gulf State Park. The park includes two miles of beaches, and there are vendors for parasail and kayak rentals. But most of the park lies beyond the beach to even encompass the 900-acre, freshwater Lake Shelby, which is great for swimming, kayaking, canoeing and stand-up paddleboards.
There are 28 miles of paved trails and boardwalks to explore the nine distinct ecosystems within the park. You'll enjoy oak trees draped in Spanish Moss — and you might just even spot a gator or bobcat. There's a restaurant/bar, an extensive nature center (complete with bunkhouses for group overnights) and even a parkour challenge course.
Birders can spot osprey, herons, rails, woodpeckers and owls in the park, as well as possibly a bald eagle. Storms in the Gulf of Mexico can even push pelagic birds to the shoreline, such as Northern Gannets and Magnificent Frigatebirds.
There are 496 sites in the campground, including full hook-up RV sites, ADA accessible sites, eleven primitive camping sites, and three tented "glamping" sites that come with cots, firewood and nearby sink and toilet facilities. Twenty cabins offer guests views of Lake Shelby or of the longleaf pines and palmetto forests. The 11 Eagle Cottages are perched on the shore of Lake Shelby, have three bedrooms and three bathrooms, accommodate up to six people, and include breakfast, bicycle rentals, and guided tours with a master naturalist.
Speaking of lodging, if you want to do your stay in Gulf Shores right, then consider a stay at The Lodge at Gulf State Park. The 350-room, beachfront lodge is not only bright, airy, and filled with comforts, but it's also a true eco-lodge, embracing the tenets of sustainable tourism at every turn. The buildings are designed to reduce energy use by 32 percent and water use by 35 percent (relative to a typical facility). Fifteen percent of the building materials used were recycled materials and 70 percent to 75 percent of the construction wasted was recycled. They even collect up to 2,000 gallons of water per day from the condensation of the HVAC system and recycle it to replace water in the pool. There are five restaurants in this Hilton property, some 40,000 feet of exhibit and meeting space, free bike rentals and a pedestrian bridge that connects the lodge to the state park.
Outside the state park, there are plenty of other outdoor opportunities. There is no end to the opportunities for saltwater fishing, including plenty of charters (the Gulf Shores website lists seven pages of fishing charters). There's also diving, snorkeling, sailing and jet-skiing to be had in the area. The Wind & Water Learning Center in nearby Orange Beach offers youth, small group and women-only sailing workshops, as well as introductory kayaking classes, and sailboat and kayak rentals.
WildNative Tours offers kayaking trips throughout the region, with trips focused on viewing wildlife, spotting dolphins, exploring cypress swamps, and investigating native American burial mounds.
There's also the Coastal Alabama Back Bay Blueway, which offers four distinct paddling trails (with 21 launch sites) to take paddlers around the waterways within Gulf Shores, Orange Beach and Fort Morgan.
As a popular regional beach destination, there are numerous opportunities to fuel up for all your outdoor activities (as they like to say down there, '"Bring your stretchy pants.").
DeSoto's Seafood Kitchen is a no-nonsense joint that serves up plenty of fresh seafood, pasta, homestyle sides, salads and sandwiches. Woodside Restaurant, located right in the state park, offers Southern cuisine and cocktails using locally sourced ingredients. There are a variety of backyard games, food can be taken to go, and packaged beer and wine are available for carry out. The Flora-Bama Yacht Club provides Southern and seafood options in a casual, flip-flops-and-board-shorts environment. They seek out local farms and fresh seafood for their dishes and participate in an oyster shell recycling program, that puts the shells back into local waters to help enhance oyster production.
Further, the iconic Flora-Bama bar is right across the street and has five stages for live music and the signature Bushwacker cocktail. It's a blended mix of ice, rum, spiced rum, Kahlua, amaretto, crème de cacao, vanilla ice cream and milk and the result tastes like a boozy Frosty from Wendy's. The local drink is so popular that there are tours, by both land and sea, to try the variations of the drink at several local establishments.
Since Gulf Shores is a popular regional beach destination, it can get quite "lively" during their high seasons, which are from June to August and December to February (when the "snowbirds" descend from the north). So, the "sweet spots" to visit are fall and spring when the crowds dissipate.
Regardless of the season you visit though, you'll find no end of opportunities to play outdoors.
---
'Chez' Chesak is an award-winning adventure travel writer, 20+ year veteran of the outdoor industry, Executive Director of the Outdoor Writers Association of America and chair of the Society of American Travel Writers' Central States Chapter.