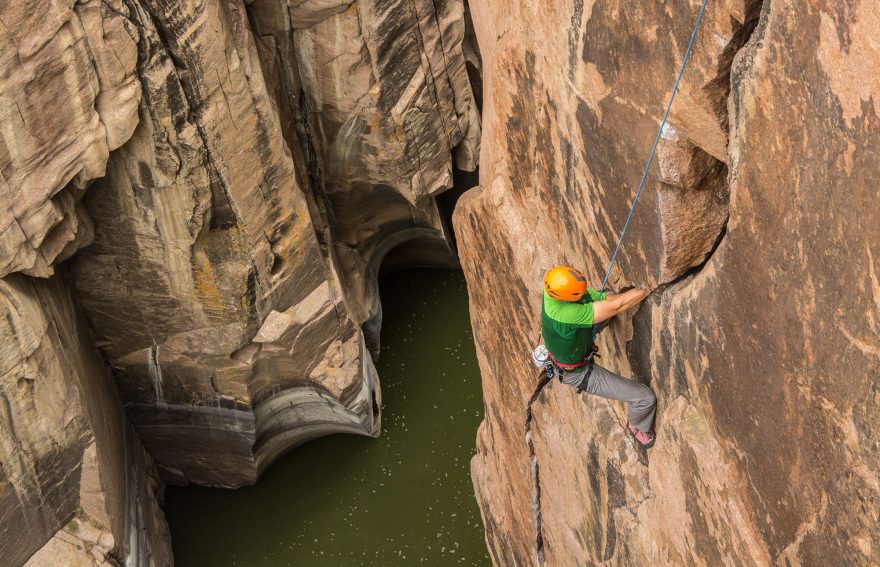 If you're taking a road trip to Wyoming — known as the Cowboy State — visiting Yellowstone National Park or Grand Teton National Park is probably on your list of things to do. And, of course, those are both amazing places to visit. Seeing the rising peaks of the Teton range is a bucket list item for a lot of people, and Yellowstone is home to nearly 300 species of birds, more than 25 species of fish, amphibians and reptiles and more than 60 species of mammals — including grizzly bears.
But there is a lot more to see and do in Wyoming in addition to visiting Yellowstone National Park and Grand Teton National Park. You have chances of seeing wildlife throughout the entire state. And If you want to see the American West without huge crowds, traveling beyond the parks is a great way to experience Wyoming's landscape.
One such amazing place is the area surrounding the city of Casper.
According to Wyoming's Bureau of Land Management leadership, the BLM manages nearly 18.4 million acres of public lands in Wyoming — offering you abundant opportunities for free camping (known as boondocking) in addition to recreation.
If you're planning a trip to Casper, Wyoming, the Visit Casper website is a good starting resource. On their website, you'll find tips for making the most of your trip for winter, spring, summer and fall. In addition, you can view a list of restaurants, bakeries, breweries and more. You can read about recreating responsibly and check out local events that may be going on during your stay.
It can be hard to choose what to do with your time when you're vacationing or working from the road in Casper. Here are five outdoor adventure things to do near Casper, Wyoming, that could be added to your list.
 

 

View this post on Instagram

 
Float the North Platte River
The North Platte River is known as the crowning jewel of central Wyoming and flows in and around Casper, running more than 700 miles. It's the 23rd longest river in the United States and stretched out it would run nearly as far as Casper to Las Vegas.
You'll find several public access points like By the Way Ranch, Morad Park and Robertson Road. One way to enjoy the scenic views from the North Platte River is to spend a summer day floating it. Simply buy or rent an inner tube and a lifejacket. (Some local places along the river let you borrow a lifejacket for free.)
You can also get a shuttle to drop you off and pick you up through a local shuttle service like Cowboy Drifters so you can simply enjoy your float.
---
 

 

View this post on Instagram

 
Hike the Garden Creek Waterfall Loop
Hiking to a waterfall in the mountains is worth adding to your list of things to do while you're in Wyoming. According to AllTrails, "This 1.3-mile loop trail is near Casper, Wyoming. Generally considered an easy route, it takes an average of 50 min to complete. This trail is great for hiking and walking, and it's unlikely you'll encounter many other people while exploring. The best times to visit this trail are March through October."
It's a fairly easy hike to the waterfall on a wide trail. If you want more of a challenge, there's a bridge that leads you to a steeper, more challenging trail that gives you incredible views from a higher vantage point.
---
 

 

View this post on Instagram

 
Take the Pilot Butte Wild Horse Scenic Tour
If you want to sightsee in the West with a chance to see wild horses, a self-guided tour along a 24-mile dirt road is an adventure in itself. Still today, thousands of wild horses roam free on Wyoming's landscape. You can view them with binoculars (or sometimes even closer up) and photograph the wild horses along the Pilot Butte Wild Horse Scenic Tour.
Since the tour is free and self-guided, you can take your time and go at your own pace. For directions and more details of the tour, visit the BLM website. You'll also have the opportunity to catch a glimpse of pronghorn, deer, coyotes, elk and other wildlife that share the terrain with the wild horses.
---
 

 

View this post on Instagram

 
Bike Eadsville Trail In Winter
Casper is home to some winter fat bike trails, and it's become a popular activity. Similar to mountain bikes, fat bikes are made for off-roading use on mountain trails. But the tires are oversized so they can essentially "glide" over fresh snow.
You can download a map of groomed nordic trails in Casper on the Casper Mountain Trails Center website, with the Eadsville Trail route included. It's about a 4-mile loop open year-round.
If you have your own fat bike, you'll find plenty of opportunities during your visit to Casper to ride. If you need a fat bike, you can rent one for the day from a local bike shop like the Crazy Pedaler Bike Hub.
You'll also need a winter trail pass, which you can purchase online starting in October.
---
 

 

View this post on Instagram

 
Go Rock Climbing On Fremont Canyon
If you're a fan of rock climbing, Alcova is about 30-minutes from Casper. There you'll find the nearby Fremont Canyon with steep canyon walls nestled between the Alcova and Pathfinder reservoirs.
Visit the Mountain Project website, to research the climbing routes and gather in-depth information about the area. From classic, most popular, and highest-rated climbing routes in the area, you're sure to find one that best fits your climbing ability.
---
Suzanne Downing is an outdoor writer and photographer in Montana with an environmental science journalism background. Her work can be found in Outdoors Unlimited, Bugle Magazine, Missoulian, Byline Magazine, Communique, MTPR online, UM Native News, National Wildlife Federation campaigns and more.