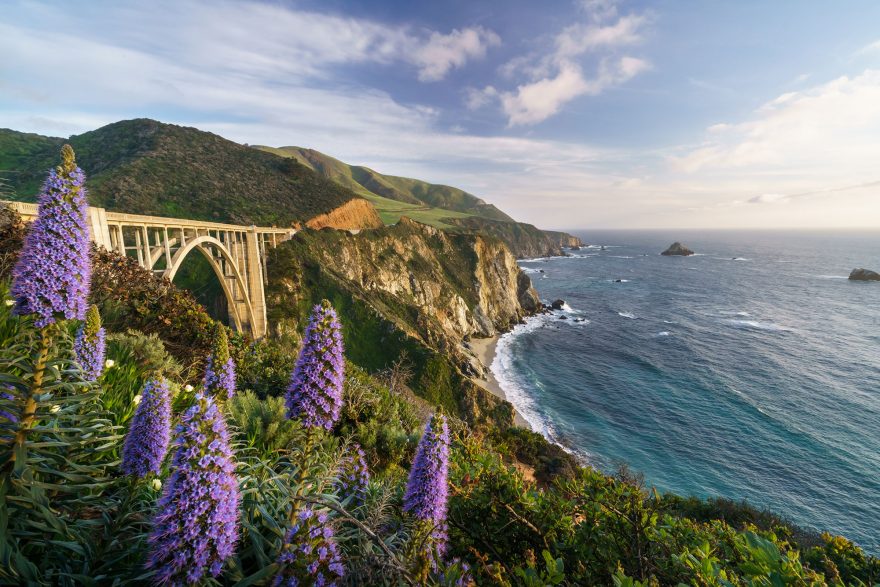 It's no wonder Big Sur rivals Yosemite National Park for annual visitors. That may be shocking to some, especially for those who have yet to experience the central coast of California.
The combination of open-air coastline and thick redwood forests is a sight to behold. Gone are the days when Big Sur was a secret getaway destination and residents could live more freely and safely with a "no rules" kind of vibe. In the 1980s, residents fought off the federal government from making Big Sur a national park, said Ryne Leuzinger, Vice Board Chair for Community Association of Big Sur.
The word is out, however: Big Sur is an amazing place and gives you a chance to visit a plethora of parks and activities from coast to forest. Social media influencers flock to the famous Bixby Bridge and other hot spots along Highway 1. And although Big Sur gains attention for its natural beauty, it unfortunately can also be a hotbed for wildfires and landslides.
Yet for as much as these dangers can be a threat, the mix of stunning coastline, thick green vegetation, and redwoods and ponderosa pine trees galore make Big Sur is one of the gems of the West Coast.
Thanks to the many different organizations and community efforts, Big Sur still stands with a proud, chest-held-high attitude, and there are still many things to explore and learn from.
Here are five of the best, unique activities and destinations in Big Sur that embody the area's  spirit and are beneficial learning opportunities for visitors:
 

 

View this post on Instagram

 
1. E-Bike Ride on Old Coast Road
Do you enjoy bike rides with epic views? Look no further than the Old Coast Road eBike Tour, hosted by Big Sur Adventures. This is not your average stroll down Main Street, but an unforgettable journey through redwoods and high mountain cliffsides as coastal central California exposes its full beauty to riders.
If you're lucky enough, Joaquin Sullivan, Big Sur Adventures owner and Big Sur returnee, will be your guide for the day. He is a walking history book for all things Old Coast Road and Big Sur. A woodworker by trade, Sullivan didn't disappoint as he arrived in style, sporting an open-air Army-green truck that provides a military-like chariot experience as my group made our way to a dirt access road. Sullivan is the only one taking e-bike tours up the famous Old Coast Road, the former gateway, and only way for travelers to get to Big Sur from the north.
Sullivan said that the road was created by the indigenous Rumsen and Esselen peoples and that French naval officer and traveler Jean La Perouse found the Old Coast Road as a means for transportation as he used the area as a resupply port for his trade with the Philippines.
 

 

View this post on Instagram

 
The 2,000 feet of elevation gain on this e-bike ride made for quite the scenery both up and down the historic trail. The first approach as the ride starts takes you high to reach the climax of this ride as you are greeted with a breathtaking ocean view, a panoramic shot of Monterey Bay and beautiful Big Sur backcountry. The e-bikes, buzzing through open air as if operated by jetpack fuel, provide an experience perfectly matched with the terrain of Old Coast Road. A long dirt path, littered with pebbles and spotty obstacles, make for an excursion an amateur mountain biker could appreciate.
If you're an outdoor enthusiast, this trip has it all — whether you're trailblazing downhill or steady pacing yourself uphill toward overlooks, no experience is required for this diverse bike ride in paradise. Making the way down trail is just as good of an event as the climb up, for those curious. Snaking through forests of redwoods and oak trees while creekside called for numerous stops to take in the contrast between sea and woods. Nearing the end of the trip, one last steep pedal down the Old Coast Road is required as the Sullivan's  military truck awaits your return from an adventure packed with exploration.
---
 

 

View this post on Instagram

 
2. Point Lobos State Natural Reserve
Point Lobos State Natural Reserve is rooted in history, and many conservation efforts are being made both on land and at sea. It also just happens to be a beautiful coastal park with numerous beaches, walking trails and wildlife sightings! It doesn't take long for the sea lions to make their presence known. Point Lobos gets its name, lobos, which is Spanish for wolves, from the indigenous Rumsen people, who originally thought the seals' barking was a pack of wolves.
While on this tour, visitors are greeted with the mystical and unique Allan Memorial Grove, which Kathleen Lee, executive director for the Point Lobos Foundation, points out is one of only two native cypress groves in America. Volunteers spend hours working to protect native species as well as hand-pulling invasive species to keep the grove healthy. Continuing down Cypress Grove Trail takes you to Headland Cove, a great spot for sea-lion and sea-otter viewing. What once was a rather accessible cove is now a from-a-distance vantage point, which has allowed for a resurgence of harbor seals that make their home on rocks closer to the trails, Lee said.
For a more exposed and coastal feel in the cove, checkout Sea Lion Point Trail.
 

 

View this post on Instagram

 
Along the rest of this coastal trail you'll come across Pinnacle Cove, a spectacular lookout point for whales of all sorts! You may see several spouts on the trip (even orcas are known around the area).
Pinnacle Bay provides an outstanding view of Carmel Bay and the famous PGA tour course, Pebble Beach. Around the corner you'll see more neat vegetation on land as you become engulfed in a sea of orange algae-infested trees. The eye-catching algae is called trentepohlia and is able to flourish in Big Sur's Monterey County due to its clean air, Lee said.
For more activities in the reserve, head to Whalers Cove for diving and kayaking, and Weston & Hidden beach for direct coastline access. Remember when you visit, find one of many volunteer docents, ask away, and learn all there is about this magnificent place!
---
 

 

View this post on Instagram

 
3. Partington Cove
Your perfect sunset and picnic spot lies at Partington Cove, just a half mile hike off Highway 1. This short trail is your quintessential "out of a romance film" destination hike. A few peeks of the ocean toward the start of the trail tease visitors, but it would be a shame to rush this type of experience.
The anticipation is worth every step both down and back up a winding concrete road path. Soon enough, the trail turns to dirt and viewers are yet again reminded of Big Sur's beautiful greenery that surrounds the coast.
 

 

View this post on Instagram

 
The remains of a late 1800s tanbark transporting dock reminds hikers of the history this area is built upon. On the way to the cove's pivotal vantage point you'll come across a very exciting, 100-foot-long tunnel that goes through a rock prominence. Turn your flashlight on to soak in all the excitement this wood-crafted tunnel has to offer, as prohibition era vibes linger all throughout. On the other end of the tunnel, the entrance to the cove greets you as the sun shines down bright and the crashing of waves introduce you to an unforgettable view.
Stay for a minute, stay for hours, or simply lose track of time and yourself among the ocean swell and capture what it feels like to be at the center of the universe in the face of a never-ending horizon.
---
4. Hiking Pfeiffer Falls Trail
After 13 years, this relatively easy and short (but breathtaking) trail just reopened to the public. We have been missing out, needless to say. This is a trail experience not to be skipped as the deep and lush, green forest and layers of redwoods take on that of a fairytale scene.
In 2008, the Basin Complex Fire burned more than 162,000 acres. Then, the 2016 Soberanes Fire made its way through the area burning nearly the same amount. The second fire pushed back even further a long haul of trail maintenance and regeneration. With the fires came major cleanup, mudslides, and a need for new trail construction.
Removal of concrete, replaced by dirt, a rock causeway preventing mudslides, and an abundance of switchback staircases make up the bulk of years of conservation corps work. The beginning of the trail starts next to the famous Big Sur Lodge, which is filled with history itself, dating back to 1884.
 

 

View this post on Instagram

 
You likely won't get lost out here, but maybe mesmerized by the maze-like structure of bridges and stairs that take on an aura of a forest version of M.C. Escher's famous painting. Past the bundle of wooden staircases lies a 50-foot waterfall that elegantly flows down a creek, indirectly guiding you toward the turnaround point of the loop trail. The quietness of the trail, mixed with the calmness of the falls, combines for a therapeutic walk.
The trees may not talk, but the trail will have you talking as you look back on a magical trip into Pfeiffer Big Sur State Park.
---
 

 

View this post on Instagram

 
5. Kayaking Moss Landing in Elkhorn Slough
If you're looking for a close-up of marine wildlife, rent a kayak from Kayak Connection and explore Moss Landing, at the mouth of the Elkhorn Slough, California's second largest estuary. It is also a top 10 wildlife viewing destination in the country.
While Point Lobos Reserve provides stunning views and distanced vantage points of wildlife, a kayak trip out on Moss Landing will you get you as close as you can get to the area's friendly and welcoming sea otters, as well as harbor seals!
As always, visitors should keep respectful distances and remember both of those marine mammals are protected by The Elkhorn Slough State Marine Reserve. It won't take too long to spot out the wildlife as harbor seals pack a nearby mudflat, right across from Moss Landing Harbor. Pedal just around the bend and dozens of seals can be found sunbathing in their natural habitat.
 

 

View this post on Instagram

 
Through Elkhorn Slough, migratory birds and calm waters can be explored as the waters take you through piers and passages underneath and along the Pacific Coast Highway. The estuary flows into Monterey Bay at the head of the submarine Monterey Canyon, one of the deepest submarine canyons on the west coast of the United States.
Heading inland through Elkhorn Slough is where things get real entertaining as sea otters galore pop out of nowhere like prairie dogs and their burrows. It's a real showcase on display as otters run rampant — playing, bathing and frolicking for all visitors to witness.
---
Ian Marcus is an outdoor writer based in Colorado and is a member of the Outdoor Writers Association of America. He shares his passion for the outdoors and conservation with everyone he reaches.