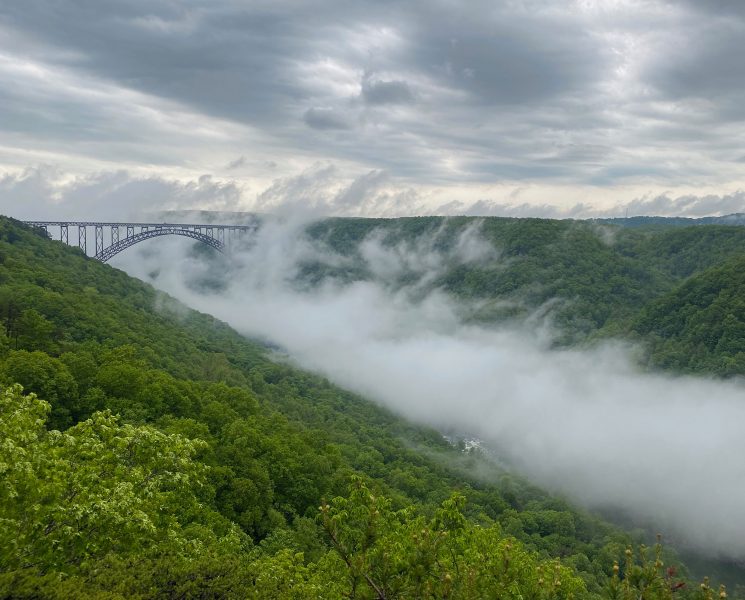 The fledgling New River Gorge National Park & Preserve lives up to West Virginia's 'wild and wonderful' reputation
---
If you've spent much time in West Virginia, you know that "holler" doesn't mean to yell or shout. It's either a remote geographic location (someone can live "up the holler") and/or a unit of measurement (something can be a "hoot and a holler" away). Some suspect that it's a derivation of "hollow," which is land between two mountains were people often live.
Regardless of the origin, the newest gem in the National Park Service crown, New River Gorge National Park & Preserve, will allow you to enjoy all the manifestations of the word. Located in the southern part of the state, the park encompasses more than 70,000 acres of land along the New River, which has been a national river since 1978. This area became a national park in 2020.
The region is rich in both cultural and natural history and offers an abundance of outdoor activities. And it features the iconic New River Gorge Bridge, a span that once held the honor of being the longest steel arch bridge in the world. 
First and perhaps foremost, we must "dive" right into the whitewater opportunities here. The New River flows for 53 miles within the park. The river's upper section consists of long pools and relatively easy rapids up to Class III. Thus, it's great for families, less experienced paddlers, and those looking for a more relaxing float.
The lower part can get intense with some colossal, holler-worthy rapids, ranging in difficulty from Class III to Class V. Many of the rapids are the result of large boulders in the river that create powerful currents, crosscurrents, hydraulics and undercut (and thus very hazardous) rocks. There are some half dozen local commercial rafting operators, such as Ace Adventure Resort and Adventures on the Gorge.
Nine campgrounds offer primitive sites (no drinking water or hookups and limited restroom facilities) and are all located along the river. There are more than 100 miles of trails in the park, but the NPS notes that they're best suited for day hikes. Their website says that backpacking here can be challenging, due to, "Historic site considerations, very steep terrain, and private property within park boundaries." Hikers and backpackers both are often rewarded with majestic views of the New River Gorge though, from a variety of lookout points.
The gorge's hard sandstone rock has provided for some 1,400 established rock-climbing routes within the park (ranging from 30- to 120-feet in height). It's not necessarily a place for beginners however, as most of the routes are 5.9 and harder with sport routes in the 5.10-5.12 range.
There is also some cycling within the park, plenty of fishing opportunities, and hunting is allowed within approved areas.
The park is also rich in history, thanks to the boom-and-bust nature of decades of mining throughout the region. Be sure to explore the (almost) ghost town of Thurmond. While it once boasted a population of several hundred, it now has a population of about five. The Dunglen Hotel stood across the river from the town and, as noted in the Guinness World Records book, once housed the world's longest-running poker game, which stretched on through an incredible 14 years.
The Church Loop Trail is nearby (just "up the holler") and leads to one of the area's first churches for the Black community. Red Ash Island was used to quarantine people during a smallpox epidemic, and you can still see the gravestones of the outbreak's victims (along with those who died in various mine accidents). The founder of Black History Month, Carter G. Woodson got his start here as a coal miner before becoming a local teacher, then receiving his doctorate from Harvard University, and eventually becoming a famous historian.
For your accommodations, outfitters such as Ace Adventure Resort offer RV and tent camping, rustic cabin tents, and rentals of cabins and chalets. Adventures on the Gorge offers an even broader array of lodging options, including "glamping" tents, deluxe cabins, and vacation homes, in addition to their own tent and RV sites.
There's a surprising array of excellent dining options, particularly in and around the town of Fayetteville. The Cathedral Café & Bookstore is absolutely worth a stop, especially for some power breakfast food (but get there early on weekends). The 304 offers up great sandwiches, wings, burgers, and other munchies. Arrowhead Bike Farm offers up new twists on German street food (including various vegetarian and vegan options) with craft beers on tap and coolers full of local brews. There are also picnic tables and firepits in the biergarten, a full-service mountain bike shop that offers clinics, camping on site and a pump track for the little ones.
Thanks to the region's striking terrain, range of available recreational activities, and rich history, the New River Gorge National Park & Preserve is entirely worthy of its ascension to U.S. National Park status. And it will absolutely get you to holler.
---
'Chez' Chesak is an award-winning adventure travel writer, 20+ year veteran of the outdoor industry, Executive Director of the Outdoor Writers Association of America and chair of the Society of American Travel Writers' Central States Chapter.