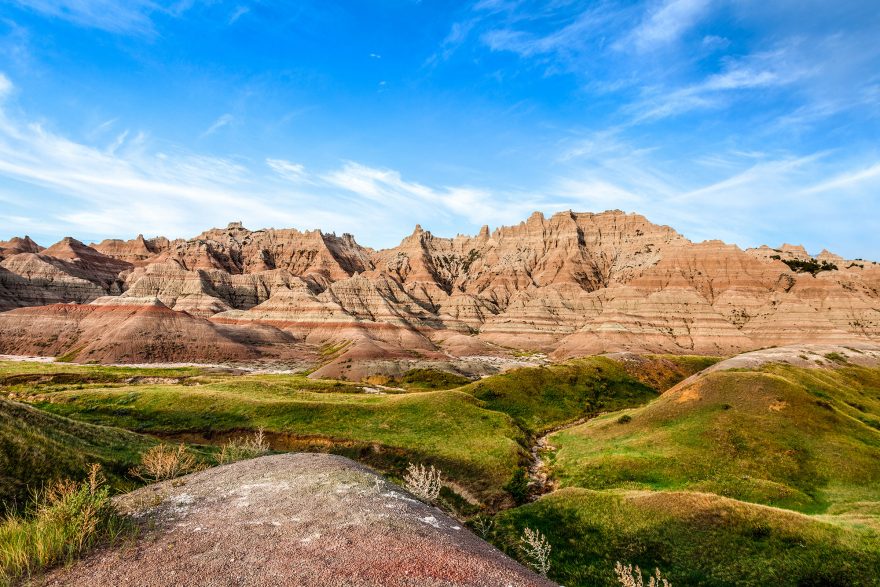 The Badlands in South Dakota is easily one of the most underrated national parks in the U.S.
---
Despite its unwelcoming but well-deserved name — summers are extremely hot, winter brings intense winds and extreme temperatures, and there's practically no water — Badlands National Park has a ton to offer.
Tucked into western South Dakota, the Badlands is defined by colorful, otherworldly spires and buttes, incredible wildlife viewing opportunities, magical sunrises and sunsets, and epic campsites. And the best part? There are virtually no crowds. Ever. In 2019, Badlands National Park welcomed less than 1 million visitors. By contrast, nearly 4.5 million people visited Zion in Utah.
There's no question about it, this is easily one of the most underrated national parks in the U.S. Let's dive into all the best things to do in Badlands National Park to get the most out of your visit.
Tips for Visiting Badlands National Park
Badlands National Park is divided into two sections, the North Unit and the South Unit, which is often referred to as the Stronghold Unit. The vast majority of attractions are in the North Unit, including most hiking trails and the main scenic drive.
The Badlands has an "Open Hike Policy." This means visitors are not only allowed, but encouraged, to hike off-trail! If you can safely get to a part of the park, you are allowed to hike and explore it. While this is a unique and awesome policy, it's important to use common sense and be respectful of your surroundings.
There are plenty of things to do in Badlands National Park that you can enjoy in just a single day or even several hours. However, to fully enjoy and experience the park, try to give yourself at least one full day or better yet, two days.
Consider getting an annual National Parks Pass, or America the Beautiful pass, for your visit. South Dakota has several other National Parks Service units (including Wind Cave National Park), so it could pay for itself in just one trip!
Free-roaming wildlife is a major part of the Badlands. Drive and hike carefully, and do not feed the animals.
6 Things to Do in Badlands National Park
1. Badlands Loop Road
This 30-mile scenic road traverses the North Unit, following one of the park's predominant geological features known as "The Wall." The Wall is a literal rock wall that spans about 60 miles and separates the lower and upper prairies. Along the road, you'll find several of the best attractions and things to do in Badlands National Park, including scenic overlooks and easy, paved boardwalk trails.
We recommend this as one of the first things you do in the park so that you can get a lay of the land. This strategy also allows you to identify any areas you'd like to come back to and spend more time at.
2. Channel your Inner Paleontologist
Part of the Badlands' fascinating history is that the park has one of the oldest and highest concentrations of mammal fossil beds in the entire world. The super short 0.25-mile Fossil Exhibit Trail is a wonderful way to learn about them, featuring replica fossils and interactive displays.
3. Take a Hike
With its unique "Open Hike policy," hiking is one of the best things to do in Badlands National Park. You can explore the park intimately, getting (very) up close and personal with the badlands themselves, not to mention wildlife.
Of course, under the Open Hike policy, you can very literally hike wherever you want in the park. However, if you'd prefer to stick to official hiking trails, here are a few of the best.
Door Trail — 0.75 miles roundtrip, easy to moderate
Despite being so short, this trail allows you to experience the badlands and fossil beds up close. You'll start off on a boardwalk, then actually hike down through a fossil bed the rest of the way.
Notch Trail — 1.5 miles roundtrip; easy to moderate
Hike through a short-and-sweet canyon, then climb a unique wooden ladder set into the rock. At the top, walk along a narrow cliff to jaw-dropping, panoramic views of the badlands.
Castle Trail — 5 miles one way or 10 miles roundtrip; moderate
This is one of the longest trails in the park and really takes you into the very core of the badlands. Because it's a point-to-point hike, you'll need to either have two vehicles (one at both the starting and finishing points) or arrange for someone to drop you off and/or pick you up. Alternatively, you can do it as a 10-mile out-and-back hike or simply hike a single section of the trail.
4. Watch the Sunrise and Sunset
There's something truly magical about early mornings and dusk here. Maybe it's the ethereal lighting or the general stillness. Either way, watching the sunrise and/or sunset is one of the best things to do in Badlands National Park. Best of all, the most spectacular viewing points are conveniently located along Badlands Loop Road.
For sunrise, head to Big Badlands Overlook, Panorama Point, or the Door Trail.
For sunset, you'll want to be at Pinnacles Overlook or the Conata Basin Overlook.
5. Wildlife Watching
The unique geology and distinct lack of crowds at Badlands create an ideal environment for many wildlife species. Bison, bighorn sheep, prairie dogs, pronghorn, coyotes, and rattlesnakes all call the park home, not to mention countless bird species.
Hopefully it goes without saying, but exercise extreme caution around wildlife in the Badlands. Not only are they wild and unpredictable, but it's also important that they don't get too comfortable around humans. The National Park Service offers up the general rule that: "If wildlife reacts to your presence at all, you are too close."
While you may spot wildlife anywhere in the park, there are some areas where you have much better chances.
Sage Creek Rim Road — This gravel road on the far west side of the park passes through prime bison habitat. It starts with typical badlands scenery, colorful mounds and pinnacles, and gradually makes its way into gently rolling prairie. The road is not heavily traveled, so you very well may enjoy it (and the views!) all to yourself.
Cedar Pass area — Trails including Castle, Door, and Window start from this area, and it's not at all uncommon to spot bighorn sheep and antelope. Rattlesnakes are also common, so keep your eyes (and ears!) open!
Roberts Prairie Dog Town — This one's pretty self-explanatory. Prairie dogs are very social creatures that create "towns" of elaborate tunnels and homes. Roberts Prairie Dog Town, just off Sage Creek Rim Road, is a wonderful example of one of these towns, where you can watch the prairie dogs run around and socialize.
6. Visit Wall Drug Store
Although it's not technically part of the park, Wall Drug Store is a must-stop on any visit to the Badlands. Wall Drug started out as a tiny drug store in the just-as-tiny town of Wall, South Dakota, back in the early 1930s.
Today, it's a sprawling "roadside attraction" that's really more of a small town in and of itself. There are several restaurants, gift shops, galleries, tours, and other activities. Wall Drug is just a short distance from the Badlands' western entrance, so it's an easy stop for food or souvenirs.
Best Time to Visit Badlands National Park
Badlands National Park is open and accessible year-round. Having said that, there are certainly "better" times to visit. Mid- to late fall and spring are the best, when weather is mild and crowds aren't nearly as heavy as in the summer. Wildlife viewing opportunities are also the highest during these seasons.
Summer brings extreme, unpredictable weather including regular temperatures in excess of 100 degrees, as well as wind and thunderstorms. Similarly, winter in the Badlands is a harsh season with temperature extremes and a high likelihood of storms. You can, of course, visit during these seasons, but be prepared for rapidly changing conditions, dress appropriately (especially if you're planning to hike), and always have a backup plan.
Taryn Shorr is an avid outdoor enthusiast, frequent traveler, and wannabe photographer based in southern Arizona. She lives for the opportunity to explore The Great Outdoors, both at home and in new destinations, and firmly believes that nature is a form of both therapy and religion.