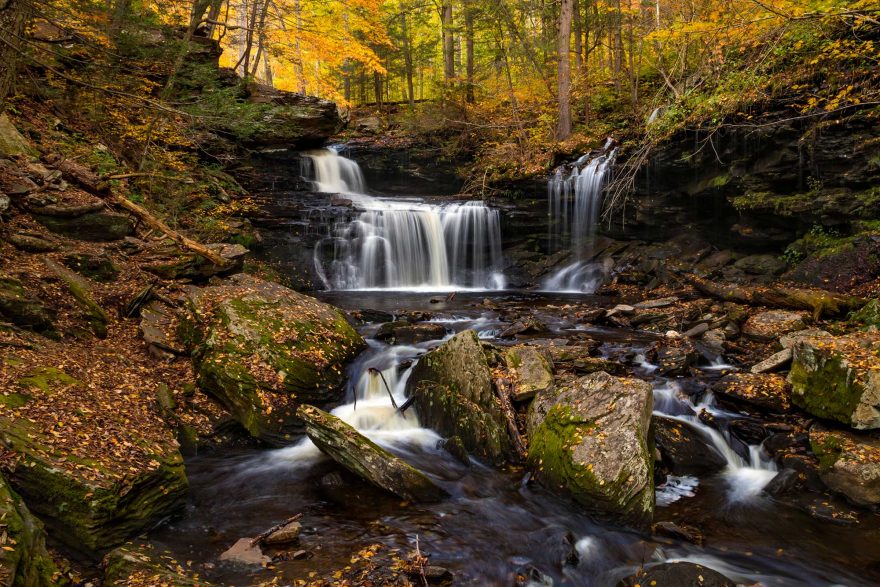 When people who are unfamiliar with Pennsylvania think about the state, they often think of one of the following things: Amish country and hit sitcom, The Office. Both are great, and yes, both are here, but the Keystone State has a whole lot more to offer, especially for people who love the outdoors. And autumn is a particularly great time to see the region.
The Pocono Mountains, or Poconos, are one of the loveliest fall destinations in the northeast U.S. Spanning four counties in the northeastern corner of the state, the Poconos region boasts fiery autumnal colors that can rival Vermont's storied fall foliage, along with a wide variety of activities throughout its nearly 2,400 square miles of forests, peaks, valleys, and waterways.
If you have the opportunity to visit, here are a few of the ways you can spend your time soaking up some crisp fall air in the Poconos:
Hiking
If you like to hear that satisfying leaf crunch beneath your hiking boots, there are endless trails available throughout the Poconos' natural areas, preserves and state parks.
One of the most well-known hiking destinations is the Delaware Water Gap National Recreation Area — a federal park that highlights the Delaware River's winding passage through the Appalachian mountains, situated on the border between Pennsylvania and New Jersey. The western side of the river, in Pennsylvania, is surrounded by rocky mountain ridges and rolling forests of oak, maple, birch, hickory and more, all flashing their fall colors for lucky hikers. The 70,000-acre park is packed with more than 100 trail miles of varying lengths and difficulties. You can also section hike the Appalachian Trail during a Poconos visit — about 45 miles of the famous hiking route comprise the southern border of the region.
---
Waterfalls/Swimming
It's almost hard to hike in the Poconos without running into a waterfall. Bushkill Falls, also known as the "Niagara of Pennsylvania," is perhaps the most impressive. Bushkill is actually a series of eight waterfalls, cascading one after one another, and accessed by several trails and bridges on private land just outside Delaware Water Gap National Recreation Area. Visitors must pay a fee to enter the park and see the falls, with ticket prices ranging from free for children under the age of 3, to $18 for adults on weekends and holidays. Considering that the tallest waterfall is more than 100 feet high, most visitors find the ticket price well worth it.
There are also plenty of smaller waterfalls, too, like Choke Creek Falls in the Pinchot State Forest, that are great destinations for an autumnal afternoon jaunt. Autumn may be a bit late in the year for swimming, but hear me out; without the usual summer crowds, a deep swimming hole beneath a rushing waterfall, yellow and red fallen leaves floating and swirling along the surface, is a pretty inviting place to take a brisk plunge if you really want to feel alive. The swimming hole at Choke Creek Falls is deep enough to safely jump into from some high rocks or off a slightly intimidating rope swing.
---
Boating
If a late October polar plunge doesn't appeal to you, the Poconos also present a lot of opportunities to enjoy the water from the relative warmth of a canoe or kayak. There are more than 150 lakes in the region.
Man-made Lake Wallenpaupack is the largest in northeastern Pennsylvania, with 52 miles of shoreline to paddle around. You can bring your own or rent a boat to get out on the water and check out the fall colors from a new vantage point. Gouldsboro and Tobyhanna State Parks also feature lakes for eager boaters to explore, with a variety of rentals available.
---
Scenic Foliage Drives
If you'd rather enjoy some fall sights from the comfort of your own vehicle, perhaps with some snacks and a hot apple cider, that's easy to do in the Poconos, too. Because the region is so large, there's plenty of time to catch those elusive peak fall colors. There are three distinct color zones in the Poconos, which means the trees throughout the area display their most vibrant colors gradually as you move from north to south through the month of October.
Several quaint and historic towns, like Stroudsburg, the main gateway to the Poconos for East Coast visitors, dot the map throughout the region, making for nice stops along the way of a leaf-peeping cruise. Trying hopping on Pennsylvania's Route 6, which has been called one of America's "most scenic drives" by National Geographic.
---
Any way you slice it, the Poconos are a beautiful fall destination, easily accessible from major cities like New York City and Philadelphia. Just like Vermont, upstate New York's Adirondacks, or southeastern New York's Hudson Valley, they're worth a spot on your autumn leaf peeping bucket list.
Sam Weber is a Philadelphia-based student and former newspaper reporter who believes that writing about skiing is almost as good as actually getting to ski. She loves to explore all types of nature and go camping with her dog, Fergie, whenever possible.