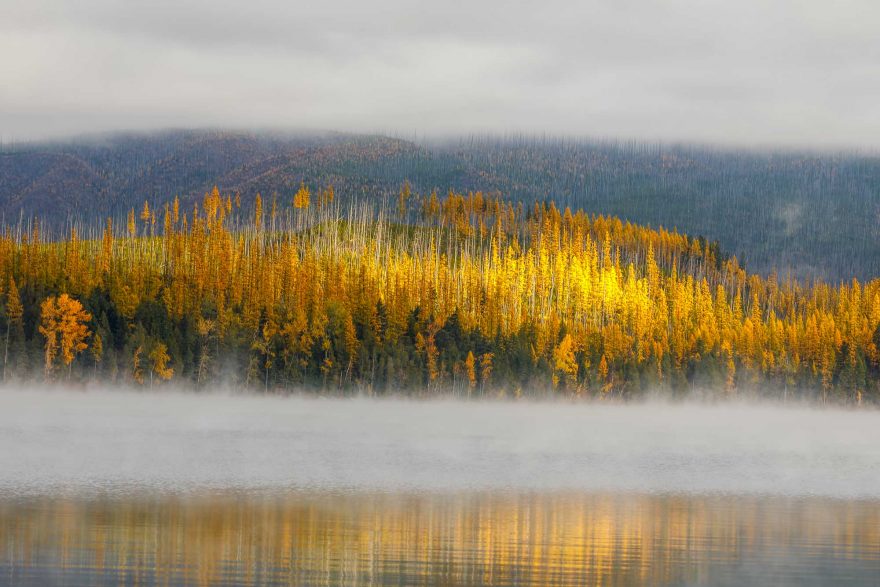 When you think of the western United States, what comes to mind? It's likely vast deserts, impossibly steep canyons, soaring mountain ranges, enormous and unusual rock formations, and colorful sunsets.
While seasonal fall foliage may not be at the top of that list, it would be a mistake to overlook it. It's true that it may be easier and more common to find bold pops of fall color in the eastern U.S., but there are plenty of spots to catch it west of the Rockies, too — specifically at national parks in the west.
As an added perk, fall is the low season at many national parks in the west. Once summer crowds have thinned out, you can enjoy leaf-peeping at a much quieter pace!
National Parks in the West with the Best Fall Color
From one of the most famous parks in the country to one of the least visited, these five national parks in the west should be at the top of your fall bucket list.
---
Glacier National Park, Montana
It's hard to imagine that one of the country's most spectacular national parks could possibly get any better. And yet each fall, that's exactly what happens.
Glacier, which sits in far northwestern Montana on the U.S.-Canada border, is one of the best national parks in the west for fall foliage because it experiences not one but two distinct fall "seasons." The Continental Divide runs right through the park, separating it and creating different biomes.
First, the aspens and cottonwoods at slightly lower elevations turn, typically in mid- to late September. Shortly afterward in October, the western larch, also known as Tamaracks, turn from deep green to blazing yellow just before dropping their needles completely. Generally speaking, the aspens blanket the east side of the park and sections of Going-to-the-Sun Road, while the Tamaracks are more abundant in West Glacier.
To make the most of fall color in Glacier, hike, bike, or drive Going-to-the-Sun Road (note that it typically closes for the year by early October, once heavy snowfall begins). Be especially bear aware during autumn, as bears spend more time near trails scavenging for berries to fatten up for their winter hibernation.
---
Great Basin National Park, Nevada
Nestled in far eastern Nevada right up against the Utah border, Great Basin is easily one of the most underrated, overlooked national parks in the U.S. It also happens to be one of the best national parks in the west for fall color, particularly because of its high elevation.
Wheeler Peak is the park's crown jewel, soaring 13,064 feet above the surrounding (largely flat) landscape. The stands of bright golden aspen trees add plenty of drama in the fall, punctuated even further by the dark green pines they're interspersed with.
For the best views of both the mountain and the fall color change, take a drive up Wheeler Peak Scenic Drive. This delivers you to the base of the mountain, sitting at an elevation of about 10,000 feet. Park and take one of the many hiking trails here, or simply enjoy the colorful views. Be aware that the road closes for the season in mid-October.
Although it may not appear to be the case at first, there's a lot more to Great Basin than Wheeler Peak. Head underground to tour Lehman Caves, the only one open to the public out of about 40 total. Above ground, check out one of several bristlecone pine groves, the largest living trees on Earth. While they don't change color in autumn, they're still incredibly impressive.
---
Guadalupe Mountains National Park, Texas
A national park in Texas probably isn't what comes to mind when you think of fall foliage. Heck, let's be honest — Texas as a whole probably doesn't come to mind when you picture the colorful changing of the leaves. But don't be so quick to dismiss Guadalupe Mountains National Park in far west Texas, because it's full of surprises.
Guadalupe Mountains doesn't have any bodies of water running through it, and it's admittedly in the middle of, well, exactly nowhere. What it does have, though, is the Lone Star State's tallest peak, the 8,749-foot-tall Guadalupe Peak, and diverse terrain that includes everything from low-lying desert to high alpine forest.
That diversity is precisely what makes Guadalupe Mountains one of the best national parks in the west for fall foliage. While the park isn't blanketed in shades of gold and red the way some others are in autumn, the sporadic pops of color make it almost more impressive.
Head to one of the park's crown jewels, McKittrick Canyon, for the best show of fall color. Here, the park's single stream flows, allowing a diverse group of trees to flourish. Unexpectedly, you'll find ash, oak and walnut trees, plus big-tooth maples and the native Texas madrone. The entire hike is seven miles round trip, but it's incredibly accessible, not to mention well worth it — the canyon is widely considered the best place in the entire state to leaf-peep.
---
Olympic National Park, Washington
Few national parks in the west can top Olympic, situated on Washington's far northwest peninsula. Containing one of the only true rainforests in the United States, the Hoh Rainforest, Olympic National Park is incredibly diverse and an absolute must-see anytime — but especially in autumn.
Olympic's old-growth forests, with trees covered from root to leaves in green moss for much of the year, come alive with fall color starting in late September. The color comes primarily from maples, dropping leaves bigger than hands in brilliant shades of gold, red and copper. And being that this is a rainforest, Olympic has another fall surprise in store: mushrooms. Autumn coincides with the park's rainy season, bringing mushrooms of all varieties (and colors!) up from the ground.
Hiking is a major attraction year-round in Olympic, but fall is an especially great time for it, with cooler-but-not-too-cold temperatures and spectacular, ever-changing scenery to take in. If time allows, pick a few trails so you can hike up in the mountains, through the rainforest, and along the coastline to experience a wide variety of terrain. Don't forget a rain jacket!
Wildlife viewing is also at its prime in Olympic National Park during the fall. The Roosevelt elk, one of the largest unmanaged herds in the entire country, are in rutting, or mating, season during this time. They're extremely active and put on quite a show for potential mates, so keep your eyes and ears open for their distinct bugles and behavior, like rolling in the mud or draping their antlers in moss.
---
Yosemite National Park, California
Yosemite is jaw-dropping all year long, but there's nothing quite like splashes of vibrant fall color against its enormous granite formations. The majority of the park's trees are evergreen, meaning they literally stay green from season to season, but patches of dogwood trees, oaks, and maples have leaves that turn and create pockets of rich color.
Hiking, of course, is a wonderful way to see firsthand why Yosemite is one of the best national parks in the west during the fall, but it's far from the only way. Stargazing is fantastic during autumn, so long as the sky is clear of wildfire smoke. Look for moonless nights if possible, or at the very least, nights with a smaller crescent moon.
Fishing is also an excellent fall activity in Yosemite, with fewer crowds and calmer bodies of water. Try Tenaya Lake and the lower Merced River for brown trout beginning in September.
As an added bonus, fall is considered one of the "shoulder seasons," when the park is still completely open but summer crowds have thinned out. Just be prepared for unpredictable weather conditions! Autumn weather is typically mild in Yosemite but can change quickly, so dress in layers and bring rain and cold weather gear.
Taryn Shorr is an avid outdoor enthusiast, frequent traveler, and wannabe photographer based in southern Arizona. She lives for the opportunity to explore The Great Outdoors, both at home and in new destinations, and firmly believes that nature is a form of both therapy and religion.