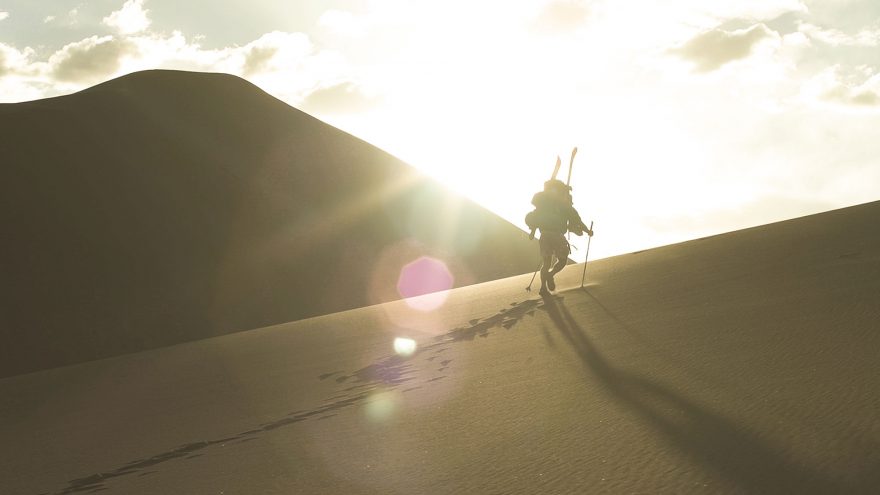 Every skier lives for face shots. Face shots of that fluffy, buttery, white stuff. But what if in the near future, we're living in a world where sand replaces snow?! That dystopian future might not be that far off.
The facts are there. The Earth is warming at alarming rates. June 2021 was the hottest month in North America's recorded history. Winters are getting shorter and milder. The United Nations Environment Programme identified the ski industry as one of the most vulnerable industries to climate change worldwide. The world is changing for the warmer.
I grew up as a competitive freestyle mogul skier in Montana. When I was growing up, I remember Montana had bitter cold winters and snow storms that absolutely poured for days. Storms that left cars under a blanket of snow, school getting canceled due to hazardous conditions, and skiing that became the stuff of legends. In my early ski days at Bridger Bowl, there was so much snow that you'd be riding the chairlift and see only the top of a snorkel curving its way down the mountain. Yes, that was a person underneath all that snow.
Mogul skiing led me to Colorado — Ski Country USA, baby! In Colorado, I was introduced to North America's highest sand dunes, the largest at the time being Star Dune. This otherworldly environment (the largest alpine desert in the world) seemed about as alien a landscape as I could imagine. The dramatic rocky peaks juxtaposed with striking high desert, with little to none of the iconic forestry that's quintessentially Colorado. It occurred to me what if this becomes the future of skiing?
As an adventure personality, my belief is using my platform to enact radical action — so why not go attempt to ski the sand dunes and show how the global warming crisis might shift the sport.
I hauled my gear out into the desolate dunes outside of Mosco, Colorado. I skied those dunes to get a taste of what a world without snow would be like. Yes, it was beautiful and unforgettable experience, but once the skis were off, it was grueling, hostilely arid, exhausting, and felt almost nothing like the sport as it is now.
Snow is forgiving. Sand, on the other hand, is not. When the wind starts to howl (which is all hours of the day), sand feels like a million little rocks relentlessly pelting you all over your body.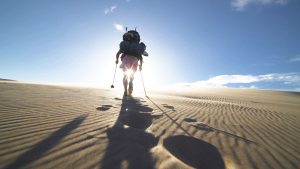 I wore shorts and a tank top, but I totally underestimated that level of exposure with this sand. Every crevice of my body had tiny grains of sand wedged in it, and this was just from the hike to Star Dune. If you've ever walked on a beach, you know it can be slow moving. Now add a backpack with boots, skis, and equipment, and hike up a steep mountain face of sand under the blistering sun.
Once at the top of Star Dune and looking over a vast sea of sand, I couldn't help but think of all livelihoods that would be adversely affected if the ski industry had to shift this dramatically.
I strapped my skis on, chose my line, and tried bombing down the mountain, but I immediately realized this was nothing like snow. It felt like I had sandpaper on my feet. It was a struggle picking up momentum and maneuver with the same ease I'm accustomed to.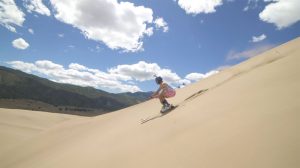 I eventually found a rhythm, but this was not any contemporary understanding of skiing. This was something else. This wasn't the cold smoke that I fell in love with as a kid in Montana. Ski and snowboarding filmmaker Warren Miller would say, "Skiing is a dance, and the mountain always leads." There was no elegant dance here. This was more like trying to do the tango underwater.
I won't mince words. Today we are beyond climate change — we're in a full-on climate crisis. Over my lifetime, I've watched the lesser-known slopes around the American West disappear. As winter storms fail to bring in fresh powder, artificial snow-makers have become a necessary insurance policy that resorts need to invest in to stay in business. While some legends of the sport are forming organizations (like Jeremy Jones' Protect Our Winters) to preserve the sport as we know it, some major gear companies have gone on the record saying they're shifting focus from developing new snow sports equipment to developing more water and land-based sports gear.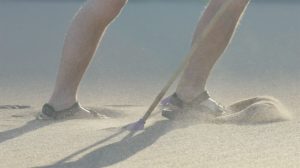 The world is working around the clock to return to normal and people are working aggressively to make up for the lost time. With any luck, they'll do so with a shared acknowledgement that if we're not all careful, we the occupants of this small blue ball will soar upward to the sun with reckless abandon — only to fall hard in a barren and desolate pile of sand where the great outdoors of our generation once stood. Take it from me, sand is an absolutely miserable substitute for snow.
This article was contributed by Wade Holland, an Emmy-nominated filmmaker and adventurer. More about Holland and his life and work can be found at WadeHolland.media. You can also see more of his videos here on Vimeo.
All images by Wade Holland