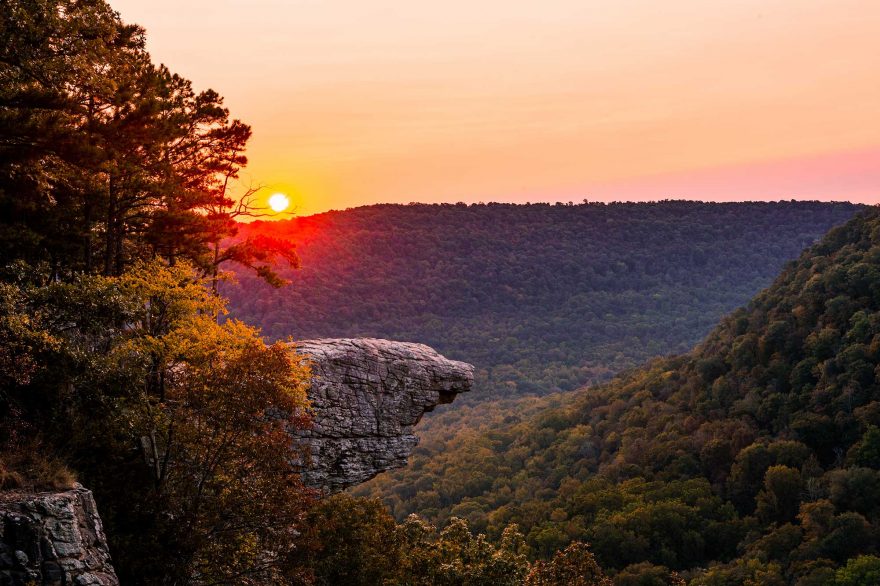 A destination for adventure, Arkansas has more than most bargain for as The Natural State. While winners of the 2021 Backcountry Aviation Trip Giveaway had gotten the chance for a three-night/four-day aerial adventure in Arkansas, the fact is, outdoorsy folks with a variety of interests can have a blast any time they want.
With tens of thousands of square miles on which to roam, visitors to Arkansas are hardly precluded to any one type of recreation. From youth shooting sports and hunting, to fishing tournaments, to those who simply go off the beaten path, folks who enjoy the great outdoors are sure to return to Arkansas on a regular basis to practice their passion.
Multiple state parks offer not only trails, but history lessons, paddle sports, and, in one case, diamond digging. Meanwhile, southern hospitality is at its finest at the restaurants and hotels, as well as numerous entertainment venues.
And there's no reason to think of any of these activities as solitary events. The great thing about the Arkansas outdoors is that the activities all seem to stream together like the Buffalo National River. Dressed with tree-covered mountains, rivers run wild amid the trails and fields. It's easy to make Arkansas' offerings a weeklong vacation and bounce from biking the trails to an outdoor restaurant beside a river checked with canoes. Lodging opportunities abound at highly rated hotels or RV sites.
As the Backcountry Aviation Giveaway demonstrates, outdoor adventuring and those related activities are indeed a specialty. Whether by the Feet, by Water, or in a quest to fulfill that need for Speed, Arkansas has a great cast of partners to help visitors maximize their stay.
Repeat visitors tell the tale of success, and we're sure your family will want to come back again and again for the same reasons.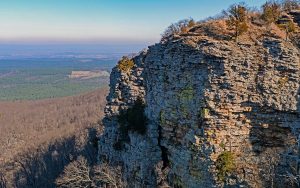 Feet: Hiking, Camping and Trail Running
Whether wanting to compete or simply enjoy nature, there's no question hiking and trail running are top activities enjoyed by people the world over. Arkansas' natural splendor is on display year-round at its 52 state parks, seven U.S. National Park Service sites, and three national forests, which comprise 2.9 million acres and contain more than 200 camping sites and recreational areas.
As a southern state, Arkansas weather stays a bit warmer longer than most northern states. Fall foliage is indeed a sight to behold, and hiking the state's trails is always a different experience as seasons change the mountainous scenery.
Irrespective of your goals, the Gearhead Experience Center offers high-quality equipment as well as trip-planning. The center is part of a family of outdoor retailers composed of Gearhead, Uncle Dan's, and Rock/Creek Outfitters. Anything from trail books to backpacks, sleeping bags, and water bottles for men, women and kids can be found within the groups' multiple locations.
Gearhead Outfitters was founded in 1997 by Arkansas native Ted Herget in a friend's living room — as a way to nurture the mountain lifestyle in Arkansas. The outfitter has since expanded throughout Arkansas and even into nearby states.
Brands carried include Patagonia, The North Face, Marmot and Adidas Outdoor.
---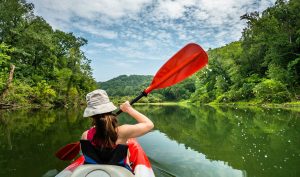 Water: Kayaking and Rafting
Whether floating along or hitting the waters hard, the Buffalo Outdoor Center and Buffalo River Outfitters have access to gear and instruction. Visitors have an opportunity to use cabins while accessing the river, zip lines, and RV camping adventures all along the upper Buffalo National River country.
Floating season is typically March through June, although good rainfall can keep rivers high through July occasionally. The outfitter offers a river level report with both levels and flow rates. Different float and kayak trips are available daily and could include the Ponca-to-Kyle's Landing route of 10.7 miles, or the Steel Creek-to-Kyle's Landing route of eight miles, or Pruitt-to-Hasty at 6.8 miles.
Instructional videos and professional guides are available with launch times varying with conditions.
Whether for family vacations, romantic getaways or trips for friends, the Buffalo Outdoor Center and Buffalo River Outfitters have the cabins, gear and instructors to help.
---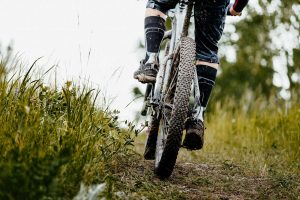 Speed: Zip Lines, ATV, Mountain Biking
The need for speed is real indeed. For those seeking outdoor action and the adrenaline rush it brings, Arkansas has a number of great options and outfitters to help. Byrd's Adventure Center offers everything from motorcycle rides to camping along the Mulberry River within Ozark National Forest. The mighty Mulberry River begins in the Upper Ozarks near the mountains of Fallsville, descending 60 miles through forests and crops. House-sized boulders make the river fun for whitewater boaters.
Meanwhile, ground activities include biking, flying, 4×4 adventures and ATV/UTV and motorcycles riding. The grounds include private trails on 800 acres with wooden single and double tracks, along with play areas full of jumps, mud pits and obstacles. The award-winning Beech Grove Bandit race, part of the Arkansas Hare Scramble Championship Series, is hosted here. The same is true for off-road vehicle trails.
Fans of flight will find a primary 1,900-foot airstrip suitable for single-engine planes, as well as a 1,000-foot strip for ultralight aircraft such as powered parachutes and trikes. Fuel and other support gear are available. Meanwhile, Byrd's Adventure Center also offers lodging, cabins and RV camping, as well as a restaurant.
Nearby, the Loco Ropes and Buffalo Outdoor Center in the Ozark Folk Center State Park, offers climbing, swinging, and zipping amid the treetops between March and November. Tower adventures are also available.
The grounds feature more than 35 different obstacles, as well as lodging, a swimming pool and restaurant, among other provisions. Special youth activities for children 12 and younger are available, as well as group programming.
Located outside Mountain View (or "Mountain Do"), Arkansas, the entire town was ranked one of the top 50 Great Adventure Towns by National Geographic Adventure Magazine. Complete with drive-in movie theaters, the town also features Ozark heritage re-enactor villages full of pioneer crafters. The Arkansas State Fiddle Championships and Bluegrass festivals are also a big draw for those who have spent a day on zipping about Loco Ropes.
---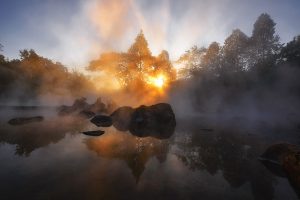 The Natural State
There's nothing quite like hitting the trails on a 4×4 all day and then eating over an open campfire. But irrespective of the activity, fans of the great outdoors can find it all in Arkansas. Too many options to mention in any one conversation, the best course of action might well be to simply investigate in person. The Backcountry Aviation Giveaway is but one of many exciting opportunities in a state full of action.
In checking out the numerous offerings, you'll be sure to notice there's plenty of crossover. Each adventure just naturally seems to merge into another, with yet another right up around the bend. Being in the south, Arkansas has enviable weather even in the winter months, and there's just no better place to call a regular destination point. Whether for hunting, kayaking, mudding on an ATV, or just lounging about the campsite, Arkansas is an ideal place to spend outdoors with your family.
Brian Boyce is an award-winning writer living on a farm in west-central Indiana. You can see more of his work at Boyce Group Inc. This article was published on behalf of Arkansas Tourism.
Feature image by ksnyd_10, Shutterstock; Secondary images by Wildnerdpix, shuttersv, sportpoint and YP_Studio, Shutterstock