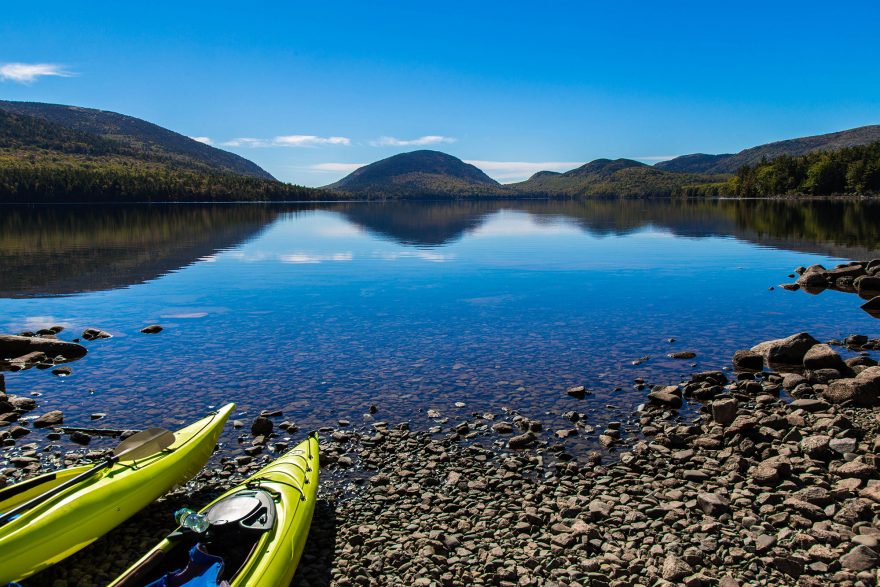 Comprising the northeastern-most section of the U.S., New England is a scenic region with a history and culture very literally rooted in waterways. The six-state area, consisting of Connecticut, Maine, Massachusetts, New Hampshire, Rhode Island, and Vermont, has thousands of miles of coastline, plus countless rivers, lakes, and ponds.
It comes as no surprise that paddling (i.e., kayaking and stand-up paddleboarding) are extremely popular pastimes in New England, especially in the summer. With an amazing and unique combination of major cities, mountains, rural farmland, forests, historical sites, protected wilderness areas, and (of course) all that water, the best kayaking spots in New England are unlike any other in the country.
Things to know before heading to the best places to SUP and kayak in the Northeast
Whether you're a local or planning a paddling trip, there are a few important things to know before putting your yak or SUP in the water.
Understand local boating laws. Boating requirements and guidelines vary drastically between states. Especially in New England, where it's very easy (and common!) to cross state borders on a waterway, it's important to never assume anything about a state's boating laws. For example, Massachusetts has a law requiring kayakers/canoeists to wear life preservers at all times from September 15 through May 15.
Don't skip the personal flotation device (PFD). We know, we know — life vests sometimes seem like overkill when you're on a paddleboard or in a kayak, especially on flatwater. However, the sole purpose of PFDs is to save your life in an emergency situation, and it's simply not worth the risk. Always wear a PFD, even if local law doesn't require it. There are many low-profile options available today designed specifically for paddlers.
Consider getting an inflatable kayak or SUP. It's becoming increasingly difficult to find kayak and paddleboard rentals, especially on busy weekends. There are a dizzying number of options on the market at all price points, so give some serious thought to getting your own. You can travel with one in many instances!
Best places to paddle in New England
New England has numerous options ranging from adrenaline-pumping sea kayaking to leisurely paddling around mirror-still lakes. Whichever you prefer, you're certain to find a favorite among these best kayaking spots.
IN CONNECTICUT
 

 

View this post on Instagram

 
Squantz Pond State Park
Squantz Pond may be a bit of a misnomer, as it's about 2.5 miles long. Sounds more like a lake, right? It is adjacent to the substantially larger Candlewood Lake, so perhaps the name is to prevent any sort of confusion. In any case, Squantz Pond State Park is one of the best kayaking spots in all of Connecticut.
The park is truly beautiful, with a pleasant — and somewhat surprising — contrast of broad, sandy beach and thick forest. You'll feel like you're tucked deep into the mountains, and the abundance of wildlife and nearby hiking trails only adds to the aesthetic. The water on Squantz Pond is generally extremely calm, although there is often wind, thanks to the valley created by the wooded hills.
Finally, note that if you go to the state park with the intention of strictly paddling, you can use the boat launch for free. However, if you want to use the beach, you'll pay for admission and parking. Kayak rentals are available from Memorial Day through Labor Day.
---
IN MAINE
 

 

View this post on Instagram

 
Acadia National Park
Anywhere paddling is permitted within a national park, you can count on it being one of the best kayaking spots around. After all, national parks are designated as such for a reason. In the case of Acadia National Park, paddling is a particularly unique experience because it's situated on the Atlantic Ocean and has several lakes and ponds.
While kayaking on the ocean should generally be attempted by experienced paddlers only, several private companies offer guided tours through the park's bays and coves. Popular destinations include Frenchman Bay, Seal Cove, Hadley Point and Bass Harbor. There are public boat ramps and rental outfitters in most of Acadia's harbors.
You can also paddle on your own in one of the ponds or lakes, which is an excellent option if you're seeking calm waters. Pristine Jordan Pond is a highlight, with spectacular views and an easy-to-follow loop trail around the perimeter. And Mount Desert Narrows/The Ovens is perhaps one of the best kayaking spots in the entire park. This calm, unique waterway separates Mount Desert Island from mainland Maine and is home to "The Ovens," hidden sea caves. The caves are only accessible via kayak, but the paddle is an easy 1.3 miles one way! To explore the narrows and sea caves, launch your kayak from Lamoine State Beach.
Fun fact: Acadia National Park gets the first sunrise in the continental U.S. Consider an early morning paddling adventure to witness this spectacular sight (and bundle up if you do!).
---
 

 

View this post on Instagram

 
Debsconeag Lakes Wilderness Area
As impressive as Acadia National Park is (especially in terms of being one of the best kayaking spots in the state!), it's just one very small part of Maine, which is world-renowned as paradise for adventure enthusiasts. With over 2,600 lakes and ponds (and an additional 1,000-plus that are either unnamed or too small to be considered lakes or ponds), it would be a shame not to explore some of them and stick only to paddling in coastal Maine.
Debsconeag Lakes Wilderness is tucked deep into Maine's famed North Woods, close to Baxter State Park and the 5,269-foot-tall Mount Katahdin, the highest mountain in the state. The wilderness area of over 46,000 acres has very few roads, but it does have an abundance of pristine, calm lakes, ponds and rivers.
There are countless paddling routes here, but one of the best is Rainbow Lake, the largest in the Wilderness. Regardless of where or how much you plan to explore, there are only a few accessible put-in areas in Debsconeag Lakes: Little Holbrook Pond, Hurd Pond and Omaha Beach, on the West Branch of the Penobscot River. Note that as this is a remote wilderness area — you won't find kayak or paddleboard rental facilities onsite, but you can rent them in nearby Millinocket, a gateway town for Baxter State Park.
---
IN MASSACHUSETTS
 

 

View this post on Instagram

 
Plum Island Sound
Many people associate Massachusetts with Boston, the witches of Salem, and the resort island of Martha's Vineyard. However, Massachusetts also has one of the best kayaking spots in all of New England, the Plum Island Sound. This estuary separates Plum Island from the mainland and is home to sandy beaches, coastal marshes, and the Parker River National Wildlife Refuge.
There are several accessible put-in points for paddlers in this area, including along the Merrimack, Parker, and Rowley Rivers, as well as near the Wildlife Refuge main entrance and visitor center. If you start near here, you can take a leisurely four-mile (roundtrip) paddle down to the island's southern tip, Sandy Point State Reservation Beach. Plan ahead and be mindful of tide times though, because you can easily end up beached or stranded in the sound during low tide.
As you might expect, the sound is incredibly scenic and many, many species of wildlife live here. There are countless bird and fish species in the Plum Island area, but it's also not uncommon to spot snapping turtles, beavers, seals and deer.
Less-experienced paddlers should take care to stick close to the island side of the sound. Three different rivers empty into it, and the waters can be dangerous right at the river mouths. In fact, the U.S. Coast Guard was born in nearby Newburyport because of this area's sometimes dangerous conditions. Paddle near the shore and you won't have anything to worry about. Better yet, go out on a guided tour with Plum Island Kayak. The company offers kayaking and SUP tours, including popular Seal and Full Moon Paddles.
---
IN NEW HAMPSHIRE
 

 

View this post on Instagram

 
Androscoggin River
New Hampshire is a haven for nature lovers, with the entire state covered in postcard-worthy scenery. One of the best kayaking spots in all of New England is here also: the Androscoggin River. Spanning 168 miles from Lake Umbagog to Merrymeeting Bay in Maine, the Androscoggin has over 40 public access points. There are also a variety of water types, ranging from calm to Class III rapids.
Being so accessible, you can absolutely explore the Androscoggin River from a kayak or paddleboard on your own. You'll find several river outfitters renting and selling gear, plus offering guided tours. Depending on whether you're looking for flatwater or whitewater and how much time you have to spare, you can get out on the river for anywhere from a couple of hours to multi-day trips.
Mollidgewock State Park makes an excellent basecamp for paddling the Androscoggin. It's situated just south of Errol on a stretch of the river that's unbelievably calm, but is within a short paddling distance of several tributaries that each have unique characteristics. This is a paddling trip where you'll want your fishing gear, and you should keep your eyes open for moose!
---
IN RHODE ISLAND
 

 

View this post on Instagram

 
Napatree Point
With the nickname "The Ocean State," the bar is set high for paddling in Rhode Island. Fortunately, the smallest state in the U.S. delivers in a big way with one of the best kayaking spots in New England, Napatree Point.
Napatree Point is a 1.3-mile-long sand spit along the southernmost point of Rhode Island that separates Little Narragansett Bay from the Atlantic Ocean. While sea kayaking isn't for beginners or the faint of heart, the water here is calm, sheltered by Napatree Point itself. The area isn't large to begin with, but paddle close to the shore to be safe (and for the best views).
If you need to stretch your (sea) legs, head onto land and check out Napatree Point's beaches. They're absolutely immaculate, and said to be among the most unspoiled on the entire East Coast. And don't miss century-old Fort Mansfield sitting on the tip of Napatree Point (you have to hike a bit to find it)! You can rent sea kayaks from Watch Hill Outfitters in Westerly and put in at the private launch directly behind the store.
---
IN VERMONT
 

 

View this post on Instagram

 
Battenkill River
Vermont is well-known for its rolling green hills, quaint farm towns, and generally over-the-top gorgeous rural scenery. The spring-fed Battenkill River allows paddlers to experience a little bit of all of that firsthand, navigating under covered bridges and passing by farms and B&Bs.
The Battenkill has one major claim to fame: it runs directly through Manchester, Vermont, widely considered "Orvis country" because it's the home of the legendary fly-fishing outfitter's flagship store. Even if you're not much of an angler, though, the Battenkill is one of the best kayaking spots in New England (and best SUP and tubing spots …). The 11.5-mile stretch from West Arlington to Shushan, New York is especially calm and picturesque, with four covered bridges.
There are several accessible places to launch your yak or paddleboard along the river, and near the bridges tend to be some of the easiest spots. If you need rentals or shuttle services between put-in and take-out, Vermont River Runners is the best in the area.
Want more inspiration on epic places to kayak and SUP? Check out our guides on the Pacific Northwest and the Upper Midwest!
Taryn Shorr is an avid outdoor enthusiast, frequent traveler, and wannabe photographer based in southern Arizona. She lives for the opportunity to explore The Great Outdoors, both at home and in new destinations, and firmly believes that nature is a form of both therapy and religion.
Feature image by Trevor Fairbank, Shutterstock