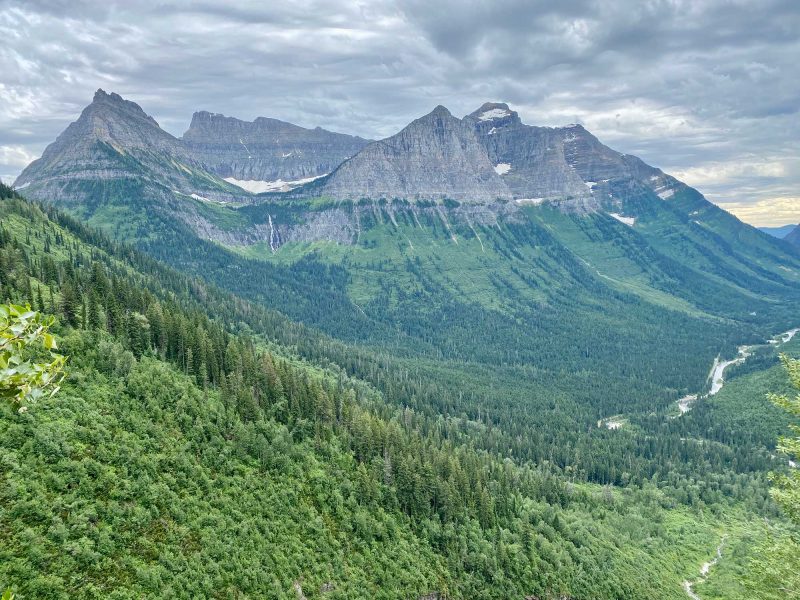 Glacier National Park in Montana continues to amaze park visitors. It's known as the Crown Jewel of the Continent and is a million-acre park. You've probably seen photos of pristine lakes, mountain views and wildlife on social media sites — like Lake McDonald at sunset, a bear cub in a tree or a moose crossing a large lake silhouetted by mountains. So many of these photos capture the essence of Glacier National Park, but in a photo you can't breathe the fresh air, smell the pine trees and feel the slight breeze of cool mountain weather on your face. It's something that's a better experience in person.
With more than 700 miles of trails and home to more than 70 species of mammals and 260 species of birds, a trip to Glacier National Park is ideal if you're a nature lover, birder or wildlife photographer. From grizzly bears to elk, the wildlife in Glacier is abundant. These wild animals continue helping preserve the ecosystem by offering a diversity of habitat types — leading to the opportunity for you to see a wide range of animals.
» CLICK HERE to view a map of the park
When you visit Glacier National Park, you'll also see a variety of plants. The park is home to more than 1,100 species of vascular plants. According to National Park Service managers, there are 20 tree species, 93 woody shrubs or vines, 88 annual or biennial plant species and more than 800 types of perennial herbs.
You can explore Glacier by road, water or hiking trail. And there is a lot to think about when you're planning your trip. You could spend weeks at Glacier and not experience everything you'd like to. So plan ahead. Know what you'll want to do before you arrive so you have a plan. There really is something for everyone to enjoy. From a laid back relaxed scenic drive to a more adventurous route like white water rafting on a river, both types of travel allow you to experience the beauty of the park.
Here are five recommendations for things to do in Glacier National Park:
 

 

View this post on Instagram

 
Take a Scenic Drive on the Going-to-the-Sun Road
There's a reason people get up early to drive on the Going-to-the-Sun Road in Glacier National Park. It's breathtaking. On this 50-mile road, you'll cross the Continental Divide and wind around a mountain with views of glacial lakes and jagged cliffs. There's a lot of photo opportunities with pull-off sections along the way.
If you start your drive early in the morning, you'll beat main traffic and your chances of seeing wildlife will greatly increase as most animals are active at dusk and dawn.
Make sure you plan ahead and fill your fuel tank. There are no services (including cellphone service) for most of the 33-mile stretch of road between Lake McDonald and the Rising Sun Motor Inn. You'll want to have enough food and water for your entire day. You may even want to get out and picnic at Logan Pass or one of the scenic turnouts along the way.
One tip is to take your time. You'll want to stop and see sights along the way, and that could extend this 50-mile trip to 4 to 5 hours. Sights like Heaven's Peak, The Loop, Bird Woman Falls and Wild Goose Island will be worth the drive.
---
 

 

View this post on Instagram

 
Hike to St. Mary Falls
There are hundreds of waterfalls scattered throughout Glacier National Park. St. Mary Falls is one of the most stunning waterfalls. You can also easily access the falls by way of a 2.4-mile hiking trail.
The trailhead to St. Mary Falls is near East Glacier Village about 10 miles from the St. Mary Entrance Station on Going-to-the-Sun Road.
Summer is the best season to see the waterfall. And along the trail, you'll also see wildflowers, wildlife and an additional waterfall called Virginia Falls. St. Mary Falls drops nearly 35 feet in three separate tiers. And, you can even get fairly close to the waterfall. The trail is less crowded during the week, and it's best to start your hike early in the day so you have a better chance to see wildlife.
---
 

 

View this post on Instagram

 
Go Whitewater Rafting Through Glacier National Park
There are a lot of outfitters that'll take you white water rafting through Glacier National Park. You'll find half-day and full-day trips ranging from a variety of skill levels. If you're new to whitewater rafting, there are sections with four miles of relatively calm water so you can take the entire family.
But no matter what route you choose, you'll see a different side of Glacier. From a water viewpoint, you'll see incredible views that aren't available by foot or car. The dramatic terrain of Glacier is sure to impress.
The GetYourGuide website is a good place to check out what whitewater rafting trips are available in Glacier National park. On this website, you'll find tips like rafting Glacier National Park's wild and scenic border river, the Middle Fork Flathead with a friendly, interpretive river-guide where you'll adventure through the river's iconic whitewater section, with rapids that are typically rated class II and III.
---
 

 

View this post on Instagram

 
Rent a Bike or E-bike for the Day
Riding a bike through Glacier National Park is another great way to see the sights. There are a variety of bike rental places along the way to the park like Glacier Guides Montana Raft, where you can rent a hybrid road-mountain bicycle designed specifically for the Going-to-the-Sun Road for around $50 a day. And, you can also rent bike carriers if you want to take small children along for the ride.
You'll also find e-bikes for rent with pedal assist power that makes riding through the park a lot easier for around $130 a day. Most rentals include a helmet and a repair kit so you'll be safe along the way.
The best time to bike in Glacier National Park is in May or June since the famous Going-to-the-Sun Road is closed to cars. In most years (depending on weather), you can bike large portions of the road without cars from around Mother's Day until mid-late June when the alpine section of the road typically re-opens for cars.
---
 

 

View this post on Instagram

 
See the Sunrise at Lake McDonald
Known as Big Sky Country, Montana has some of the most beautiful sunsets on Earth. But the sunrises are also not to be missed. When you visit Glacier National Park, waking up early to see the sunrise at Lake McDonald should be on your list of things to do.
If you're staying at one of the park's hotels or camping inside the park, heading to Lake McDonald for the sunrise will be a breeze. In the morning light, everything in the park is serene and very quiet. You may even see a bear, an elk or moose out on the lake in the early morning — something that's rarer to see during the day when the park is crowded.
When the sun rises above the horizon, Lake McDonald slowly turns into a golden hue of pink and orange. Although the sunrise happens fast, you'll have time to take photos and take it all in. And, when you catch the sunrise, you'll have a great head start to your day at Glacier National Park.
Suzanne Downing is an outdoor writer and photographer in Montana with an environmental science journalism background. Her work can be found in Outdoors Unlimited, Bugle Magazine, Missoulian, Byline Magazine, Communique, MTPR online, UM Native News, National Wildlife Federation campaigns and more.