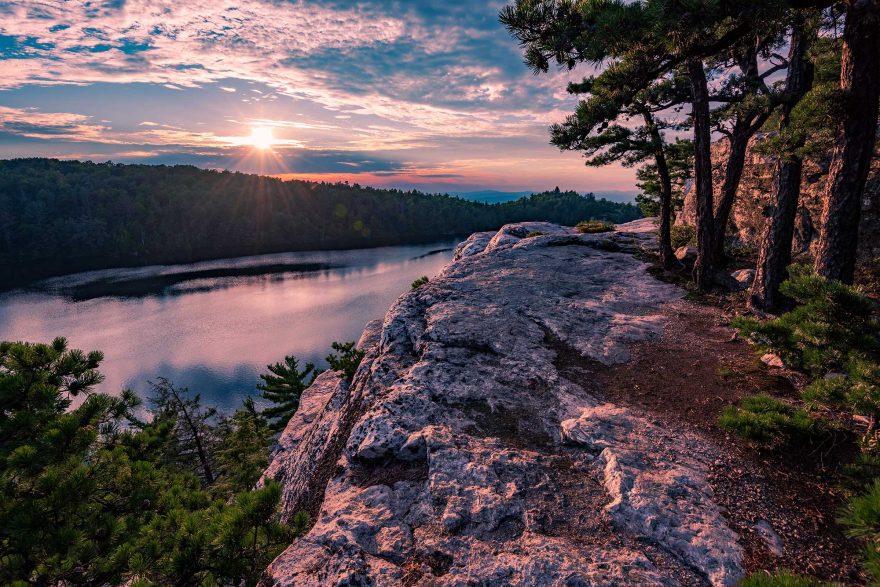 After a few times of hiking on the same trail, the novelty wears off and it feels like it's time for you to find some new adventures. And my home state of New York has plenty of amazing trails to explore, especially if you've exhausted the ones closest to your home. But how does one even start looking for the best hiking trails in New York state?
Being an avid hiker in New York for more than 20 years and having knowledge of and done extensive research on hundreds of trails through books, websites and reviews, and via the New York Department of Environmental Conservation, I've chosen what I believe to be the five best trails in New York state: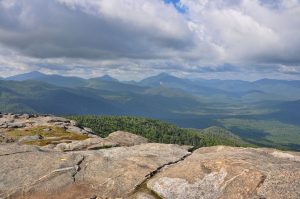 1. Located near Keene, New York, the Cascade Mountain and Porter Mountain via Cascade Mountain Trail provides awesome 360 views of the High Peaks Region of the Adirondack Mountains. The seven mile out and back trail has a river and, like most trails, allows you to bring your canine friends (but they must be kept on a leash). The trail is relatively easy to follow due to the popularity of the hike.
2. Located near Gardiner, New York, the Gertrude's Nose Trail features magnificent rock outcroppings with a lake. The eight-mile loop trail is best used from April until October, however there is a fee associated with this moderately difficult-rated trail since it's in the Minnewaska State Park Preserve. It is not recommended to bring dogs due to the rocky terrain.
3. Located near Bear Mountain, New York, the Bear Mountain Trail has sections where you will need to scramble up steep inclines, but the view at the top is incredible. The four-mile loop has a parking lot that fills up fast and uses both the Appalachian Trail and the Major Welch Trail. This can be done in either direction, but many hikers tend to choose the counterclockwise moderate route.
4. Located near Woodstock, New York (yes that Woodstock), the Overlook Mountain Trail features wildflowers and some ruins, however, check the operation of the fire tower as it is closed sometimes. The five-mile out and back trail is a long steady incline, but it is a wide gravel path. Be sure to try and find the old bathtub!
5. Located near Cornwall-on-Hudson, New York, the South Beacon Mountain via Breakneck Ridge and Wilkinson Memorial Trail is rated as difficult and features a river. There are rocky cliffs and has great views of the Hudson River. The 10-mile-long loop can be modified by using another trail in the area or just by turning back earlier.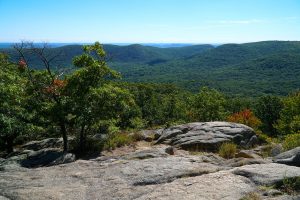 While those trails are widely considered among the state's best, I have a few personal favorites, which may or may not be known to a lot of hikers. They are:
The Gorge Trail and Indian Trail Loop is in the Watkins Glen State Park. It is a three-mile loop trail that offers great views of waterfalls and geological formations. It is rated as moderate.
The Bald Mountain (Rondaxe Fire Tower) Trail is in the Fulton Chain Wild Forest. The two mile out and back trail has a fire tower at the summit and is quite enjoyable for your canine partners tagging along. It is also rated as moderate.
The Rudl Loop Trail is just outside of Skaneateles, New York in the Skaneateles Conservation Area. The one-and-a-half-mile loop is extremely kid friendly and during the spring there is a waterfall. It is also rated as moderate.
The Seneca Trail at Montezuma is in the Montezuma National Wildlife Refuge and provides great birding opportunities, especially for a photographer. The one-mile loop trail is very kid friendly as it is stroller accommodating.
The Avalanche Pass and Avalanche Lake Trail is in the High Peaks Wilderness and is not for beginners. There are numerous boulders and ladders with steep drop offs. It is a 12 mile out and back trail that is rated as difficult yet very worth it in my opinion!
It had always been a challenge for us to find new hikes. Although most people are willing to give their recommendations, some locals do not like to give up their hidden gems. An additional helpful tool from some websites is that they allow you to find out almost real time trail conditions or helpful hints that others leave in the review section for you to have a better experience. Hopefully, these websites and others like it will allow you to expand your hiking trips and you can leave your comments on the top five hikes in New York state.
Joel M. Herrling is a freelance outdoors writer/photographer in central New York. He enjoys spending time in the outdoors with his family.
Feature image by Stef Ko, Shutterstock; secondary images by ian Tessier and BrandonKleinVideo, Shutterstock