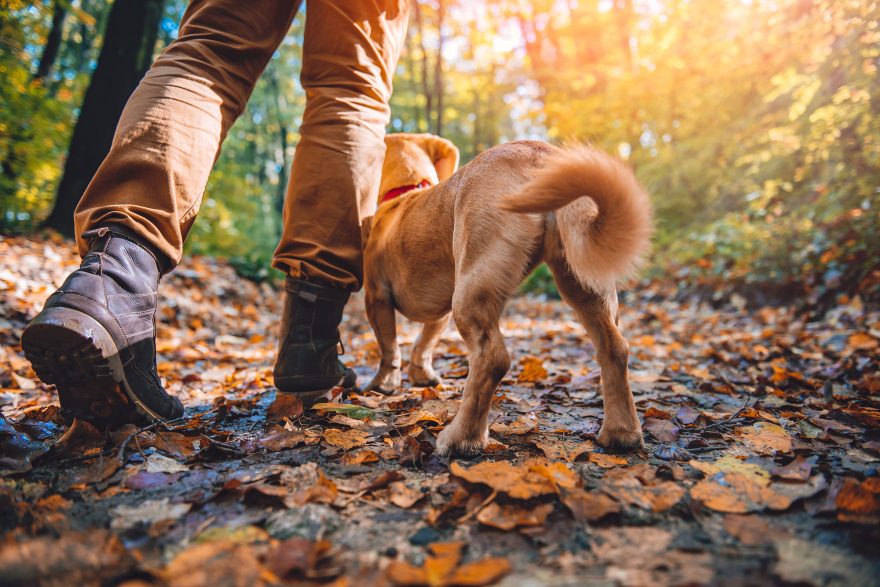 There are numerous benefits to hiking with dogs, both for you and for your canine partners
---
It's been years since I've gotten to go hiking with my dogs — since the days when their paws would have left indentations on the trails throughout our woods or when they would survey the miles atop the peaks of the Adirondack Mountains. Being 14 and 13, these two dogs don't hike a lot anymore, as their worn-out bodies won't allow it, despite their spurts of puppy-like energy at times. Now they are more content to lay on the porch, watching our sons play ball in the yard.
Trekking various landscapes, traversing logs and climbing rocks with our canines were some of the best adventures before we had children. I can recall carrying them up minor vertical rock faces to reach the summits of a few mountains — at the time I thought we were crazy, but I was determined for all of us to make it. My wife and I would take them on vacations and even planned our honeymoon with them in mind, searching for a cabin rental that would allow pets.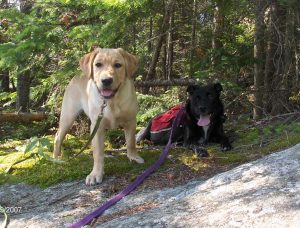 After several trips we realized that our oldest dog needed a task, so my wife picked up a backpack for her. It was like a saddlebag for horses but built specifically for dogs. She would carry her own dog treats, a bowl, and her own water, despite her drinking out of mountain creeks and mud puddles. It gave her a function, which we found helped her maintain good behavior and channel her energy in a positive way. She would walk down the trail, resembling a pack mule, with her tail wagging and head held high.
We had numerous positive encounters with other hikers commenting on how great of an idea it was. There was only one woman who belittled us — she claimed it was cruel and didn't like my reasoning that since I always carried a backpack when we hit the trails to carry stuff, why couldn't our dog! It was providing her a job to do. It wasn't like I was making the dog carry my alcoholic beverages to enjoy at the top of the summit.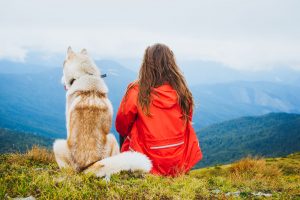 After a little research, there are numerous publications that point to several benefits of hiking with your dog:
Inexpensive form of outdoor recreation. Allows escaping from urban stress and the daily grind spending time in the woods.
As a dog owner, you have the privilege of having a live-in natural hiking companion.
A dog's curiosity will allow you to notice and appreciate more of the natural world around you.
Their alertness and intuition can provide an added sense of security if hiking by yourself.
Provides quality bonding between you and your dog, free of daily distractions and demands.
An enjoyable way for people and dogs to stay fit. It keeps a dog's spirit soaring and their body agile, trim, and toned.
It can be excellent prevention for several physical and behavioral disorders and in some cases may help reduce the symptoms of other ailments. Obesity can trigger more serious health problems, such as heart attack, high blood pressure, diabetes, or even arthritis.
Mentally, the natural smells, sights and sounds off the beaten track are invigorating and rejuvenating for both of you.
Reduce destructive behavior or depression associated with boredom.
Regular exercise in the outdoors can help mellow out high-strung dogs and dogs prone to overt dominance and aggression.
Once we reached the top, they would rest; our lab would always find whatever standing water remained atop the mountain, collapsing in it to cool off. It was a fun and rewarding experience for us all.
Grab the leash, lace up your hiking boots and hit the trails with your favorite canine. It will be a great time; my wife and I will always remember our adventures, hiking in the Adirondacks with them.
Joel M. Herrling is a freelance outdoors writer/photographer in central New York. He enjoys spending time in the outdoors with his family.
Feature image by Zivica Kerkez; secondary images by Joel Herrling and by sashafolly, Shutterstock
We are committed to finding, researching, and recommending the best products. We earn commissions from purchases you make using the retail links in our product reviews. Learn more about how this works.