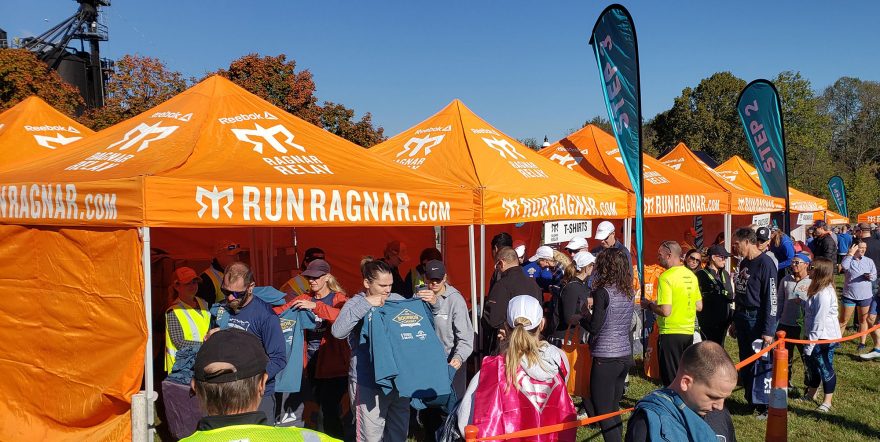 Whether you're doing a trail relay, road relay, or one of the shorter sunset runs, a Ragnar Relay offers a unique opportunity to challenge yourself and commune with fellow runners.
---
Training for and participating in a Ragnar Relay is no small feat — yet the payoff is immensely rewarding. Whether you're doing a trail relay, road relay, or one of the shorter sunset runs, a Ragnar Relay offers a unique opportunity to challenge yourself and commune with fellow runners. There are lots of tips and tricks for making the most of your race, and we hope that some of the advice videos featured here translates well to your experience running in a Ragnar.
What is a Ragnar Relay?
This is probably the biggest question for a lot of people, especially if you're somewhat new to running. Ragnar itself sums up the overall philosophy by saying: "Set a crazy goal. Gather your tribe. Divide and conquer. Bask in the joy of achieving something together that you could never do alone." Having been there and done that, I would agree, and the result has been one of the best running experiences ever.
To give a synopsis of each Ragnar, here's what you need to know:
Roads: Teams of 12 run roughly 200 miles — from point A to point B — on city streets, country roads, sidewalks, and bike paths. You'll run day, and night, and day again, lounging in vans, grassy fields, or perhaps a high school gym.
Trails: Teams of 8 run roughly 120 miles — in three repeating loops rated easy, medium and hard — on wilderness trails that wind through forests, valleys and mountainsides. You'll run day, and night, and day again, sleeping (maybe) in a temporary tent city known as Ragnar Village.
Sunset: Teams of 4 run about 26 miles in one evening — one runner at a time on a single loop — hoping to cross the finish line before the sun sets, where an epic party awaits. Ragnar notes that it "basically took a marathon, turned it into a team sport, and added live music and food trucks."
Each race has awesome medals associated with it, and if you complete 12 Ragnars in a calendar year, you'll have earned yourself the coveted Immortal Medal.
Ragnar Road Relay
The most logistically complicated Ragnar is the road-race format: 12 runners in two vans running a total of 200(ish) miles. The exact duration of each one varies based on the strength of your team, how well you do on little-to-no sleep and how close to that 200-mile mark the race itself actually is. But you can expect to finish somewhere in the 30- to 36-hour range, and the start times are staggered so that teams finish somewhat close to each other (after all, everyone wants to be taking part in the big post-race party together). 
Especially if this is your first Ragnar Road Relay, there are some important insights for you to consider — and the next three videos below spell out most of them. Some pieces that we'd like to highlight:
If possible, get a hotel room midway through the road relay. Getting a mid-race shower and having a bed to lay in for even an hour is absolutely wonderful and helps your teammates recharge.
A road Ragnar is going to be more expensive than an trail Ragnar because of van-rental costs, fuel and hotel rooms on the front and back end, just to name a few things.
Pack your race outfits into separate large Ziplock bags — that way you don't have to search for each article of clothing when it gets time for you to run, and (more importantly) you have an air-tight place to pack your smelly, sweaty cloths after you finish each leg.
Each van should have a garbage bag for whatever you need to toss out: Make sure it's a Febreeze-scented trash bag. That way, you get the benefit of a van air freshener while also not leaving a bunch of wrappers and other trash cluttering up what is likely an already messy van.
Make team magnets. Most teams will tag other vans with their team magnet, and it's fun to have a ton of magnets from fellow competitors as keepsakes after the race. 
First-Timer's Tips
Packing List Tips
The Big Picture, Including Cost
Ragnar Trail Relay
Typical trail running tends to be harder than road running, and each Ragnar Trail Relay is going to have a lot of elevation associated with it. So expect some bigger challenges on the trails. The teams here are smaller (only eight runners), but everyone runs the same legs, so you can't get away with giving your best/fastest runners the longest/hardest legs like you can on the roads. But that just means teams need to work all that much harder to cheer on every runner on the team as they make their way to the finish line. The total distance of the races are around 120 miles.
If you're tackling a Ragnar Trail Relay, these two videos will get you well on your way to having the best race experience possible:
From the Mouth of Ragnar Itself
Breaking Down What You Should Know
Enjoy your Ragnar Relay! Hopefully, it'll be an experience you won't soon forget.
Ryan Tipps is Managing Editor for ActionHub and has experience in a variety of digital and print media. Ryan lives along the Blue Ridge Mountains, is an avid hiker, backpacker and runner and has been a part of the wilderness search and rescue community since 2005.