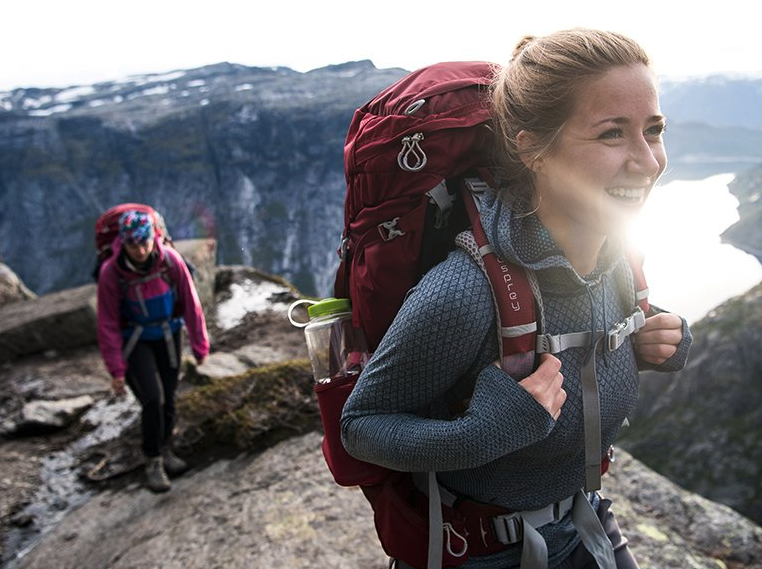 When it comes to creating modern hiking packs that last, nobody does it quite like Osprey. The company has been crafting quality packs for about 40 years, and they continue to push the boundaries of hiking technology. Their unique lifetime guarantee and impressive customer service have set them apart, and Osprey's products truly speak for themselves.
Packs For Every Adventurer
 Osprey is well known for their technical packs. These sturdy backpacks use innovative frames and suspension technology to create one of the most comfortable carries on the market. The Atmos AG™, Aura AG™, Aether AG™, Ariel AG™, Exos, EJA, and Lumina packs are just some of the series available, all with unique features to fit your backpacking needs.
Everyday and hydration packs, as well as luggage and travel options, are also available in Osprey's line. Their Hikelite™ series is a perfect option for day hikers or everyday pack users. Osprey also carries a line of pack accessories, including organization packs, hydration accessories, and pack protection gear.
No matter which pack you select, you can always expect quality from Osprey's products.
Custom Fit and Suspension Technology
The perfect pack needs to have a perfect fit, and Osprey's products deliver. The company says that nearly 90% of their packs come in multiple sizes, and many of the packs have adjustable hipbelts and harnesses. This means that you can size and adjust your pack to perfectly fit your torso. Osprey packs are also available in women's fit. These models have a shoulder harness and hipbelts specific to a woman's build, creating more comfort for all body types.
Perhaps the most impressive feature of Oprey's collection, the suspension technology redistributes the weight off the pack. This takes the stress off of the neck and shoulders, allowing various muscle groups to share the load. The redistribution all happens through Osprey's Anti-Gravity™ technology. Pack's with this feature have a layer of mesh that contours to the back, creating an easy carry for treks of all lengths.
Reliability at All Levels
When you purchase your first Osprey backpack, you can expect to enjoy your pack for life. These products are built to last through mountain treks, camping trips, and kayak excursions, setting a high expectation for the backpacking gear of the future.