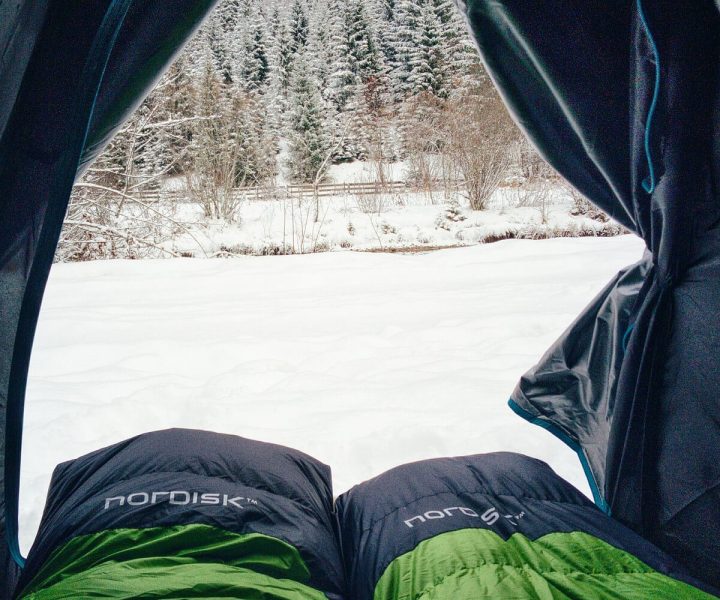 Two person sleeping bags are a fantastic solution for adventurous couples who like to snuggle together after a long day of hiking and exploring the outdoors. There are lots of things to consider when the time comes to choose a two-person or double sleeping bag, such as the filling, the shape, inner lining, and more.
How do you know which two-person sleeping bag best suits your needs? We've put together this handy guide with some pointers, so you can make an informed choice and spend your next camping trip comfortable next to that special someone.
Why a two-person sleeping bag?
Double sleeping bags are not something you come across everyday, but they do offer plenty of benefits, including the following:
Less to pack: This one is kind of obvious, but if you only take one sleeping bag instead of two, then you will have less to pack. Ideal if you're looking for areas where you can save on space.
Combined body heat: Since there are two of you sharing a sleeping bag, the combined body heat you produce will help keep you and your partner warm and cozy through the night.
Extra room: One sleeping bag does not mean less room. In fact, there's plenty of space in there for you to move around and find a comfy position to sleep in. The extra space it provides also makes it popular with families, as there's often enough room to share the bag with your little ones.

Temperature ratings
The main thing a sleeping bag has to do is to keep you warm throughout the night. However, when it comes to camping you will be facing different environments depending on where you stay, along with varying temperatures, so it's not a matter of one size-fits-all.
Seasonal rating
The seasonal rating is based on which seasons you can use the sleeping bag, using the standard spring, summer, fall, and winter. The seasonal rating comes in four categories:
1 season: These sleeping bags are only recommended for summer use, or in places where the temperature during the night doesn't fall below 40 degrees Fahrenheit.
2 season: Sleeping bags with a 2 season rating are best suited for spring and fall, or areas with a nightly temperature of around 32 – 37 degrees Fahrenheit.
3 season: These sleeping bags are the most common amongst campers, as they can be used during all seasons, and will keep you warm in colder temperatures (around 20 degrees Fahrenheit).
4 season: Four season sleeping bags are the warmest, and are designed for use in freezing conditions. They are designed to maintain warmth in temperatures between 14 and 20 degrees Fahrenheit.
To ensure that your sleeping experience is as comfortable as possible, it's vital that you know the season rating of the sleeping bag, so you choose the one that most suits the temperature of the area you most frequent.
Sleeping bag filling
The filling is another feature which you need to take into consideration, and it refers to the type of insulation the bag is filled with. Most commonly, insulation comes from two materials: synthetic or down.
Synthetic: This material is man-made from poly fibers. One advantage is that it's commonly a cheaper option than down, as it will dry more quickly if it gets wet, and it is also machine washable.
Down: Down is a fluffy feather lining found underneath geese or duck feathers. This filing is warmer than synthetic and longer lasting. However, it is more expensive than synthetic and does not dry out as well, so be careful never to get it wet.
The filling you choose ultimately is a matter of personal preference, as they both have their advantages and disadvantages.
Lining
It's important to think about the inner lining of the sleeping bag, as it gives you an added layer between the outside of the sleeping bag and your body. There are loads of types of linings, including reflective lining which is really useful, as the body heat is reflected back to the body. The inner lining is common in two-person sleeping bags, but you should only use them if you're planning on camping in colder temperatures.
Outer shell
This is the part of the sleeping bag that you can see from the outside. It can be made of different types of materials to give you different insulation levels. Typically the outer shell will be made of a water-repellent material called DWR, and the available materials are:
Dry-Loft: Dry-loft is excellent for spring and summer, as it is water-repellent and gives you a reasonable breathability level.
Microfiber: This material is perfect for summer, as it's not that water-repellent, but is super breathable.
Gore-Tex: Gore-Tex is the most waterproof material, and is most commonly used on three and four season bags, as it's not a very breathable material and therefore is very warm.
Shape
Single sleeping bags come in a wide range of shapes, anything from snug mummy styles to the classic rectangle shape. However, two person sleeping bags only come in two shapes: envelope or rectangular, as these are the shapes that work best when creating that required extra space.
The most basic shape is rectangular, and its great for campers that like their neck and head to have lots of room to move around. One downside of this is that you can feel some breeze around your shoulders, so if this is an issue, look for a double sleeping bag that comes with a hood.
Basic features
Hood: As we mentioned previously, some double sleeping bag come with hoods so the heat you lose through your head is protected, and you maintain the heat and stay warm and cozy.
Two-sided zippers: It helps when you have a zipper on both sides of the sleeping bag, as you can get up and move around if you need to (such as going to the bathroom in the middle of the night) without disturbing the person next to you.
Inner pockets: Having some inner pockets at the top of your two-person sleeping bag come in handy when you need to store valuable or important items, such as your phone, wallet, or keys.
Compression sacs: We'll talk more about packing in a minute, but it should be noted that two person sleeping bags can be harder to pack, and here's where compression sacs come in as they will reduce the size of the sleeping bag, making it easier to pack and store.
Packing
An important feature you need to consider before purchasing your first double sleeping back is the size and weight of the bag. Two person sleeping bags take up loads more room when packed and folded, so always check the packing size and weight, making sure its suitable for the particular conditions in which you will use the sleeping bag. For example, a large pack weight will be more cumbersome during extended camping trips, particularly when space is an issue.