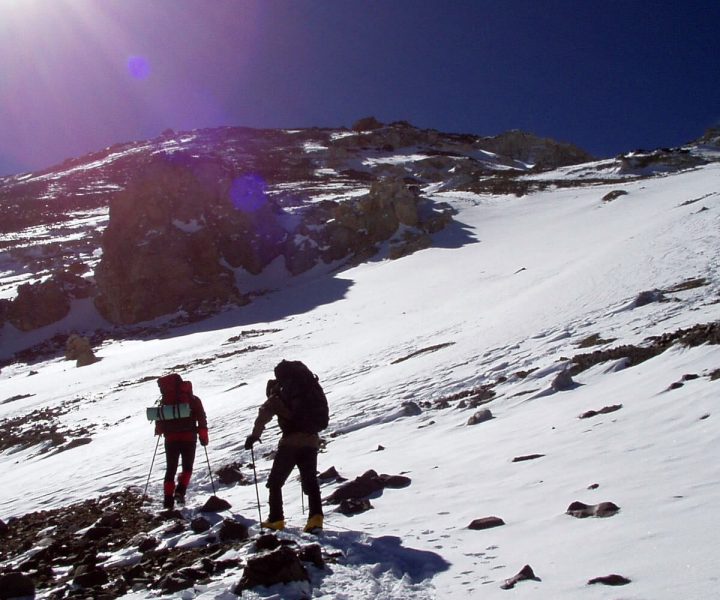 Climbing Aconcagua is one of the most challenging things anyone can experience. The climb will challenge your whole being, pushing you to the edge both mentally and physically. At an altitude of 22,841 feet, Aconcagua is the second highest mountain of the seven summits, after Everest.
Aconcagua got its name from the Incas, and it means the stone sentinel. Beginner trekkers not wanted, this trek is reserved for adventurers who are in prime physical shape, as it's a demanding and strenuous climb, which also requires previous altitude experience.
The normal route, which is the most popular route amongst climbers, is all about acclimatization and endurance trekking through rises and rocky trails while dealing with harsh and freezing weather.
Bear in mind that while no concrete records of the success rate are kept, on average, 50% of climbers who attempt the climb reach the summit.
Routes
Aconcagua has two main routes, the normal route and the Traverse, which also goes by Two Faces, Traverse Route, Ameghino Traverse, Upper Guanacos, or Polish Traverse. Both ways take about the same amount of days to reach the summit, between 18 to 21 days.
Normal route
This route is the most popular, as well as the most practical when attempting the summit. Almost all guides and tour operators will use this route as standard. For this reason, it has gained a bad reputation for being too crowded, but in our opinion, it's not well deserved.
The camp at Plaza de Mulas can accommodate over 200 people with services including the internet and hot showers, so that shouldn't be a concern, as you will welcome these services when you've been trekking for over two weeks. Also, the breathtaking views and the welcome rest will mean that other people will not take away from your experience.

The Traverse
This alternate route ascends through the eastern side of the mountain and returns via Plaza de Mulas, which means the route is more circular instead of a back-and-there trek. Your base camp is Plaza Argentina, and this experience is more wild, with fewer comforts and services than the normal route.
Hazards
The weather is ever-changing, and it can change at any moment on the summit, coupled with brutally strong winds. You will face strong exposure and a sense of vulnerability, coupled with UV rays beating down on your exposed skin through the dry, thin air.
Why climb it?
Despite the challenges you will face on the route, the number of hazards that await, the beauty, scenery and the opportunity to see the snow frosting the summit, you should undoubtedly attempt climbing Aconcagua if you have the chance. There are only so many opportunities to climb a 22,000+ feet mountain peak, and the opportunity to look down and see all the surrounding peaks will make the effort well worth it.