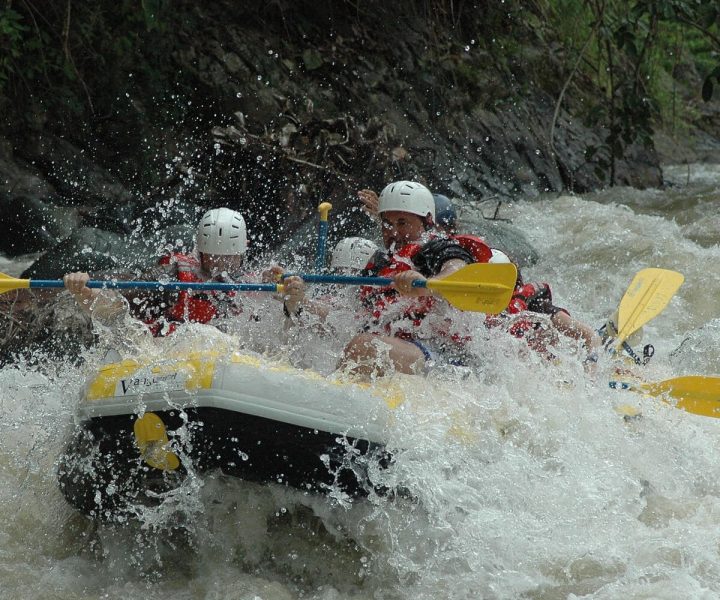 Latin America is an unexplored paradise awaiting all adrenaline junkies. If you're looking for active and unique experiences that won't break the bank, stunning photography opportunities, and fascinating cultures, Latin America has you covered as the ultimate extreme sports playground.
We've put together a list of the best destinations for your next brag-worthy adventure, from driving down Death Road in Bolivia to surfing in El Salvador. These adrenaline-inducing adventure sports may sound exhilarating and terrifying, but they're still safe enough for adventurers of any level.

Puenting in Baños, Ecuador
Ringed by over sixty waterfalls in the foothills of the still active Tungurahua volcano, Baños is where any self-respecting adrenaline junkie wants to be when traveling to Ecuador. The most extreme is swing jumping or puenting, where you leap off a bridge over a deep canyon. It's related to bungee jumping, but instead of the harness being attached to your feet, it's connected to your waist, and you swing from side to side instead of bouncing up and down.
Surfing the Amazon River in São Domingos do Capim, Brazil
The Pororoca tidal bore only hits the Amazon River twice a year, so expect experienced surfers to flock to the area to be able to ride the longest wave on earth. The wave can be a strange sight due to its milk-chocolate color, but that and the 12 feet in height it can reach doesn't deter the surfers, who ride it several miles into the Amazon River basin.

Scuba Diving in Isla de Coiba, Panama
Isla de Coiba is often referred to as the Galapagos of Panama, and it is an up-and-coming dive spot, as rewarding as it is challenging. Divers brave enough to endure chilly waters and strong currents will be rewarded with sightings of sturgeon schools, turtles, manta rays, and loads of sharks The sharks are why Isla de Coiba was a prison colony in the past, as prisoners didn't dare escape and face the sharks. A National Park has now replaced the prison, and divers now flock to the water instead of fleeing.
Sandboarding in Huacachina, Peru
Once you've tried the all-sand version of snowboarding, you'll have a tough time going back to the original adventure sport. Huacachina is a minute desert town along the southern coast of Peru, where the main attraction is sandboarding. Hitch a ride on a buggy in order to reach the tallest dunes, and copy the locals by using a candlestick to add wax to the bottom of your board, ensuring you reach high speeds while zooming down the sandbanks.

Rockboarding down a volcano in Leon, Nicaragua
You'll find Cerro Negro, a 2,400-foot active volcano whose steep sides are covered in black volcanic rocks the size of a pebble, in Leon, Nicaragua. The rockboarding adventure on offer here won't come easy; you'll need to hike to the top before donning your protective jumpsuit and glasses, sit on top of a wooden sledge, and zoom down the mountainside, reaching a speed of up to 40 mph.
Mountain biking in Death Road, Bolivia
Despite the terrifying name, mountain biking down Death Road is one of Bolivia's top attractions. This road earned its name when the road was the only link between the capital of Bolivia and the jungle, and the winding road full of twists and turns was responsible for hundreds of deaths every year.
A new road was constructed in 2006, so Death Road is now almost free of cars, and if you're brave enough to make the 11,000 feet descent starting from a high mountain pass, you will just have to watch out for other bikers (oh, and the twists, turns, and cliffs, of course.)

Whitewater rafting in Pacuare River, Costa Rica
There's no shortage of places to go white water rafting in Costa Rica, but the Pacuare river remains a firm favorite. Reach Class III and IV rapids along the 12 miles of river cutting through pristine rainforest. You'll be bordering the Talamanca mountain range, so sightings of butterflies, birds, sloths, and monkeys are part of the adventure.
Submarine Diving 2,000 feet in Roatan Island, Honduras
You and another person are taken via a two-passenger boat piloted by Stanley Submarines and plunged 2,000 ft under the sea, into interminable darkness. If you're still seeking something more adrenaline-inducing, they also have an option which involves fastening bait and then awaiting the stiff tug of a sixgill shark which is bigger than the boat.

Hang gliding in Rio de Janeiro, Brazil
Hang gliding in Rio de Janeiro is the best way to get all your sightseeing done if you're short on time. In a single session, you can scratch off your list; Ipanema, Copacabana, Sugar Loaf, and Corcovado beaches, along with the world-renowned Cristo Redentor.
While hang gliding you will pilot a light aircraft, and its a must do when you find yourself in Brazil. There are more than 10,000 flights taking place each year, and it's easy to see why: mountain air in your lungs and the tropical sea breeze caressing your face is every adventurer's dream.
Glacier trekking in El Cafayate, Argentina
After strapping some metal prongs to your hiking boots, you set out on a breathtaking walk on top of the Perito Moreno Glacier, where you'll be surrounded by a cerulean glow that comes from the ripples in the surface of the ice. You may not encounter a Saint Bernard while on the hike, but you can always look forward to the shot of whiskey that is often a reward for completing the glacier tour.
Surfing in Costa del Sol, El Salvador
Fishing villages line the shore and volcanoes loom in the distance in El Salvador's east coast, one of the premier surfing destinations in Latin America. Both beginners and experts can find gentle surf and white beaches. If you're just starting out, get some surf lessons and then move on to the world-renowned and challenging waves of La Libertad beach, and be amazed by the black sand.
Drysuit diving in Ushuaia, Argentina
Ushuaia Divers, located in Tierra del Fuego, which is the tip of southern Argentina gives scuba diving enthusiasts the opportunity to plunge into the frigid waters of the Beagle Channel, and surround themselves with lion seals, Antarctic crabs, and even shipwrecks.

Swimming with rays and sharks in Caye Caulker, Belize
Tour companies entice the stingrays and sharks with buckets full of fish at the Hol Chan Marine Reserve, giving people a chance to swim amongst them with nary a sting or bite. The moment the rays and sharks hear the motors, they swarm towards the boat, and that's when you can dive in the shallow water, landing right in the heart of Ray-Shark Alley.
Tow Diving in Fernando de Noronha, Brazil
Tow diving, or aquasub, is a snorkel and mask adventure where divers steer themselves across the ocean water using a compact board being rapidly pulled by a motorboat. The paradisiacal island that is believed to have inspired Utopia Fernando de Noronha is the birthplace of the sport, so where better else to practice it?
Underwater cave diving in Tulum, Mexico
There are countless cenotes or underground caves in the Yucatan Peninsula, loads of them full of freshwater. Various cenotes such as Dos Ojos give you the opportunity to explore the underwater caves filled with stalactites and stalagmites as you've never seen them before.

Piranha fishing in Amazon and the Pantanal
No worms needed for this adventure, as piranhas are only enticed with red meat. You can fish for piranhas in most of the tourist sections of Pantanal and the Amazon, and if you're brave enough to try your spoils, the feisty fish are unexpectedly delectable.