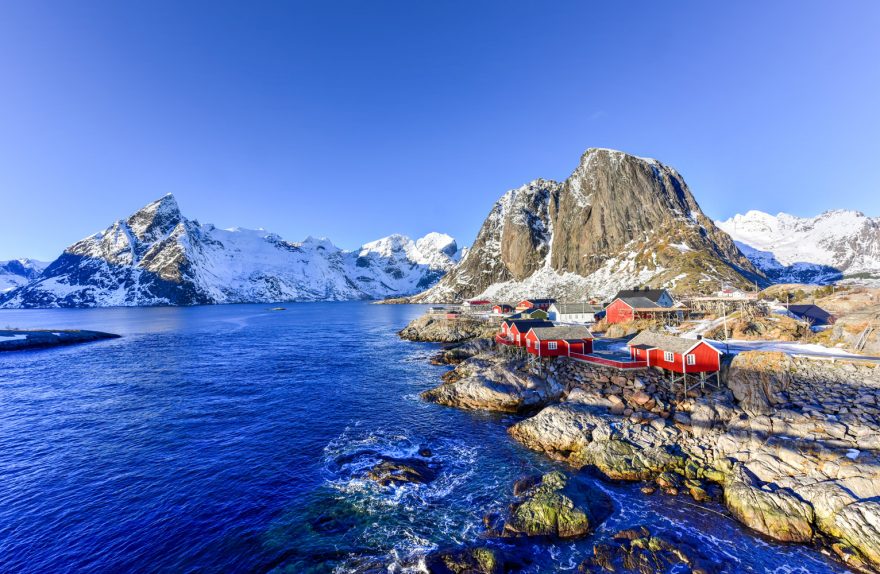 If you've missed the social media buzz recently about the Lofoten Islands then where have you been? It seems that just about every adventure Instagrammer has taken at least one trip there and posted about it online for the next year. We don't blame them, either. Situated off the west coast of Norway, the Lofoten Island are uniquely dynamic and the hikes, beaches, and mountains available are an outdoor lover's paradise.
Norway, as a whole, is a beautiful country but there's something magical about the lifestyle and landscapes of Lofoten that take it to another level of special. No matter what time of year you visit, you'll be rewarded with a fulfilling experience and you'll most certainly fall victim to its alluring charm. Here, we're going to take you through some of the reasons you'll fall in love with it.
Its golden hour is like nothing else
Something about the clean air and lack of clouds leads to spectacular sunrises and sunsets. Due to the mountainous landscape, it is usually best if you can enjoy the golden hour from the top of a hill or mountain otherwise it'll go down pretty quickly.
The charm of its villages
The islands are full of quaint little fishing villages and upon visiting, it's a bit like being transported back in time. Each village is full of colorful wooden houses which belong to the locals and are now often holiday homes. You'll also see peculiar looking wooden structures which are actually used to hang fish up to dry during the fishing season.
Endless hiking trails
If you're a fan of hiking up hills then you'll not be at a loss when visiting Lofoten. Here, there are climbs for every level of climber. At first glance, many of them appear sharp and aggressive but they're often nowhere near as intimidating as they may seem. One, for example, leads you to a remarkable beach which is only accessible after a couple of hours of walking but is well worth the trip.
The Northern Lights
I was lucky enough to visit the Lofoten Islands earlier this year for 6 nights. Out of the 6 nights I was there, I was treated to a magical display of the northern lights on the first 3 nights. Now, not everyone is this fortunate but if they do come out to put on a show, you'll be mesmerized. Head out once it's dark and look at the north sky to see if there are any green hues dancing around the sky.
Beautiful fjords
A fjord is a long, narrow inlet of water that is surrounded by high cliffs and Norway has no shortage of them. One of the best ways to experience the fjords is by an organized boat trip. The fjords are one of the many influencing reasons people choose to visit here, making you feel tiny and giving you a sense of perspective.