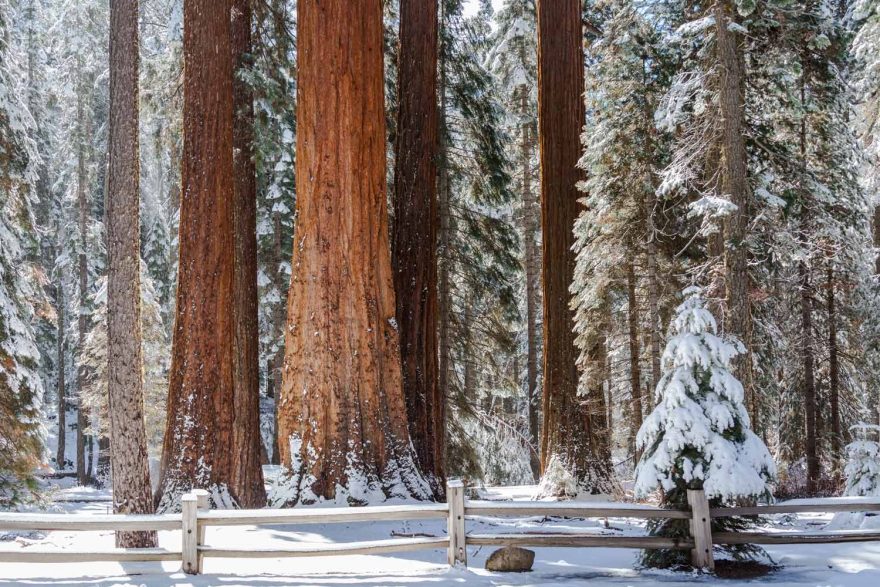 Sequoia National Park is a feast for your senses year-round, and an excellent place for all sorts of outdoor activities. During winter, the park gets a magical feeling when it gets blanketed by snow, opening up new playgrounds for winter sports.
If you're planning on heading out there this season, here are some tips to enhance your visit and make sure you have a fantastic winter getaway.

Transportation
Sequoia National Park regularly closes some roads during the winter, including those to Cedar Grove and Mineral King. Some main roads are commonly plowed, but we recommend checking the park's website to check the road conditions before heading out. You're required to have chains in your car, and if you don't already have some, the park will provide a list of nearby places to buy or rent some.
What to do
There's a variety of activities to be done in Sequoia National Park, as the snow has hidden the dusty summer trails and given way to cross-country trails. You can snowshoe, cross-country ski and sled your way through this winter wonderland.
Go on a ranger-guided snowshoe walk
These guided walks require no snowshoeing experience, and the Rangers will even provide the snowshoes. All you need to bring is your gear, including warm layered clothing, water, snacks, and waterproof boots. There is no set schedule for the walks, as they start as soon as enough snow has fallen, and end when the snow begins to dissipate. Check the Ranger-led program schedule to find out which activities they are offering this winter.
If you feel like exploring on your own, you can also do that, provided there's enough snow. All visitor centers have trail maps, and all popular paths are marked, just make sure to stay off the ski tracks!
Cross-country ski
When enough snow has fallen, you can access a lot of the park areas by skiing. The Grant Grove and Giant Forest areas offer ski trails, through sequoia groves. You can purchase ski trail maps at any visitor center, or online.
Camping
Some of the camping sites in Sequoia National Park close during winter, but three remain open. If you are looking for a more mild camping experience, head over to South Fork or Potwisha campgrounds, as they are at the lowest elevations (3,600 and 2,100 feet, respectively).
Azalea and Wolverton Winter campgrounds are more elevated at 6,500 feet and 7,800 feet, so make sure you bring the required gear to survive winter camping. Note that if you are planning on camping away from a designated campground, you will need a wilderness permit.