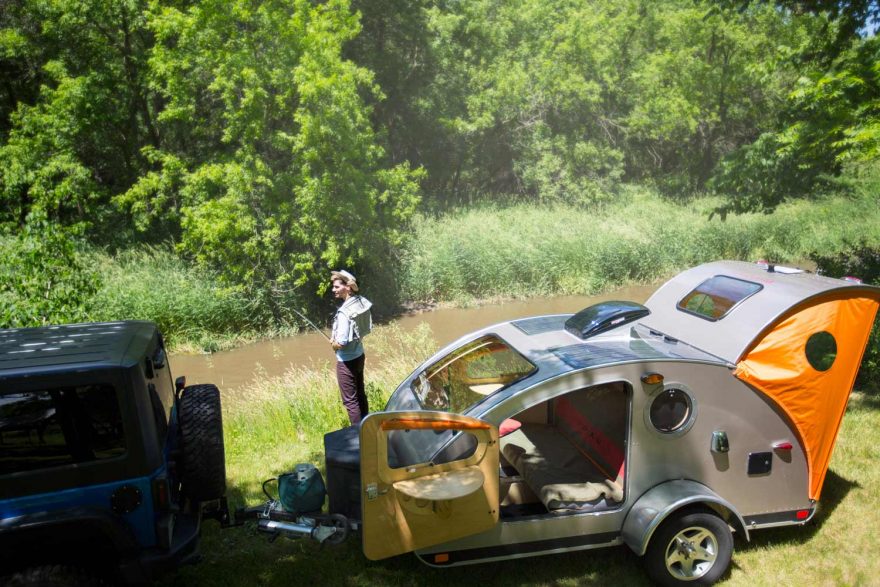 Adventurers may be able to go even further off the grid thanks to a collaboration between Vistabule, a manufacturer of tear drop trailers, and Sunflare, a solar powered company. Minnesota Teardrop Trailers manufactures Vistabule trailers, and you can now line them with a flexible solar panel on their rooftop.
The bendy solar panels produced by Sunflare are only a few micrometers thick and can be taped to pretty much any surface, making them a fantastic solution to adhere to the top of tear drop trailers, as they can be adapted to their unique shape. Since the solar panels are also lightweight, they will not add any weight to the trailer.
Using solar energy, you can charge your phone, cook in the full kitchen inside the trailer, turn on the lights, etc. These solar panels can be retrofitted to old trailers, or installed on new ones.
The teardrop trailers are inspired by the shape of 1950s trailers, and feature loads of indoor space for outdoor enthusiasts to cook dinner, have a good night's rest and store their gear. Inside the trailers, you'll find drop-down nightstands, a collapsible coffee table, and a full-size sofa bed, along with a fully equipped kitchen. The kitchen has running water and a stovetop, making cooking meals even simpler. The trailer, which can be towed by practically any car, also has lots of large windows, so you won't miss the view when you're inside.
The Sunflare solar panels on top of the Vistabule trailer can charge laptops up to 30%, run a heater for three hours a day, allow its users to turn on a fan and the lights, and fully charge two smartphones. You can also continuously run a small refrigerator for two and a half days on a full charge. Only then would you need to recharge the battery of the solar panel.
So if you're looking for a way to expand the time you're off the grid and enhance your camping experience, this new generation of tear drop trailers is here to help.