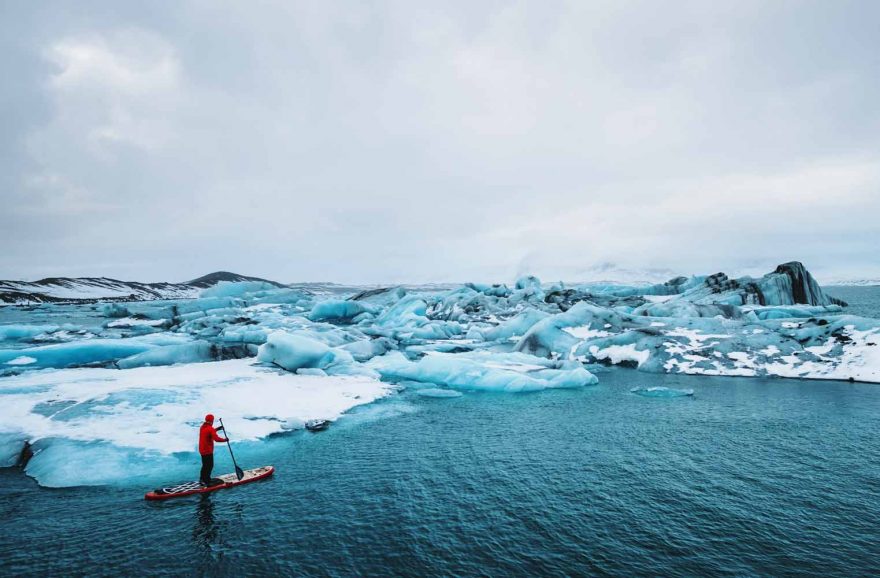 Paddling during cold weather conditions presents all sorts of challenges, especially if you're not sure what to wear to stay warm. No matter if you're in mild conditions on calm waters or braving colder weather and rougher conditions, you need to make sure you're dressed appropriately for cold-water paddling!
First, you need to remember the two rules for dressing for cold weather:
Nix the cotton. Cotton will soak up water and hold it against your skin, becoming useless as an insulator, on top of growing very heavy.
Layer, layer layer. Layering appropriately will help you trap the heat and repel water. As you arrange your layers, remember "wick, warmth, and weather." Your light wicking fabrics should go first, then warm fleeces or sweaters, finishing with a waterproof outer layer.
We take a look at what else you'll need if you're planning on going cold-water paddling.
Wetsuit
The wetsuit is a paddling classic, and it's pretty useful in keeping you warm and happy. A good wetsuit will retain body heat, and you're still able to layer a fleece jacket or other insulator on top of it. Your wetsuit will act as an evaporation barrier, as it will trap a thin layer of water between the neoprene and your skin.
Wetsuits come in different neoprene thicknesses, and we recommend you avoid the thickest options as they are generally too bulky for paddling. For cold weather, stick to a suit that has 2 or 3mm of neoprene.
Drysuit
For cold-water paddling, or if you're paddling through rough rapids in lousy weather, a dry suit will offer the best protection. Dry suits are made of nylon with a Gore-Tex laminate and will prevent any water from entering, even if you unexpectedly end up in the water.
The downside to dry suits is that they don't provide any insulation, so you will need to pair them with a specially designed fleece liner or long underwear if you want to keep warm.
Footwear
In cold weather conditions, if your feet get wet, you'll get cold. Keep your feet completely dry by opting for calf-high rubber boots, or put on a pair of Gore-Tex socks inside your shoes or boots. Another option is thick-soled neoprene boots. Your feet will get wet, but the insulation protection will keep them warm.
Accessories
Gloves
An inevitable part of paddling is going to be wet hands, so you have two options: neoprene mitts that wrap over your fingers while still leaving contact with the paddle or full neoprene gloves which are warmer, but offer less feel.
Hats
Pack an insulated hat whenever you're heading out in cold weather. Some of the most popular options include wool caps, face masks, full neoprene hoods for severe conditions, or a fleece cap. The choice is up to your personal preference, but always remember to wear a helmet if you're going to be out in rough waters.