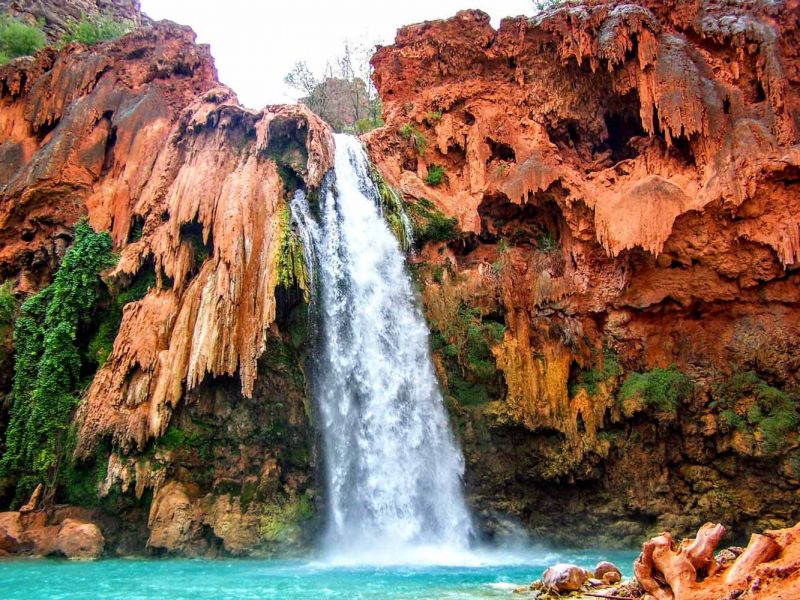 Havasu Falls is one of the most well-known waterfalls in the world and is also referred to as the Garden of Eden in the Desert. This incredible attraction can be found at the bottom of the Grand Canyon, and while it may seem short at only 10 miles, it's not your regular day-hike.
That's why preparedness is key. You can't just head out there without a permit and a plan. Our guide will help you get ready for your backpacking trip to Havasu Falls, so you can enjoy the spectacular waterfalls and incredible turquoise pools that make it worth the trek.
Location
The trailhead to Havasu Falls is located at Hualapai Hilltop. There is a large parking lot with bathrooms at the trailhead, but be warned, there's no water available, so make sure to bring your own.

Permits and camping fees
Getting a permit may be your biggest obstacle when planning your Havasu Falls backpacking trip. You will need an advanced reservation, and normally permits for the entire year sell out in the first couple of months. The best chance you'll have to score a permit will be to call the camping office at the Havasupai Reservation at the beginning of the year, the moment the reservation lines are open. Starting this year, you can also make online reservations.
Havasu Falls 2017 Camping Fees
Camping Fee: $25 per person/per night
Environmental Fee: $10 per person
Entrance Fee: $10 per person
Tax: 10%
You can lower your cost per night by staying a few nights, as your environmental and entrance fee is spread out over the course of your payment. The above fees are correct for 2017, but these may change in the future, so make sure to ask when making your reservation.
If you've been lucky enough to get a permit, your first visit upon arriving at the trailhead is to find the office. Once your fees have been paid, each person will receive a wristband that they must wear for the duration of your visit. Make sure to wear it at all times, as a ranger will be checking wristbands on a daily basis.
Please note that day hiking is not allowed. You can get more information on the reservation process at the Havasupai Reservations website.
Trail
Total distance: 9.5 miles (19 miles round trip)
Elevation change: -2,400 feet
The trail starts at the Hualapai Hilltop parking lot, and as soon as you start off, there is a descent of 1,000 feet over the first mile, gradually descending until you get to the village of Supai. It's a long hike but not terribly difficult, and the descent is made through a series of switchbacks, which are well maintained. Hiking once you reach the riverbed can be a bit slower as the path is sandy gravel, but it's easy to follow.
The hike on the way back takes the same trail, but since you'll be ascending, it can be more tiring. Make sure you bring plenty of snacks and water for your return. Due to the lack of shade, the sun can be blazing hot. Depending on the time of year, make sure to bring plenty of sunscreen and sun protection. If you're hiking during the summer, plan to start the trek as early as possible to avoid the noon heat.

Campground
The camping area, which is located between Mooney Falls and Havasu Falls around a mile long, with plenty of campsites scattered around. All campsites have a picnic table and toilets, though there are no showers. Since there are lots of trees, this campground is fantastic for hammocks; just make sure to bring a tarp if there's a chance of rain!