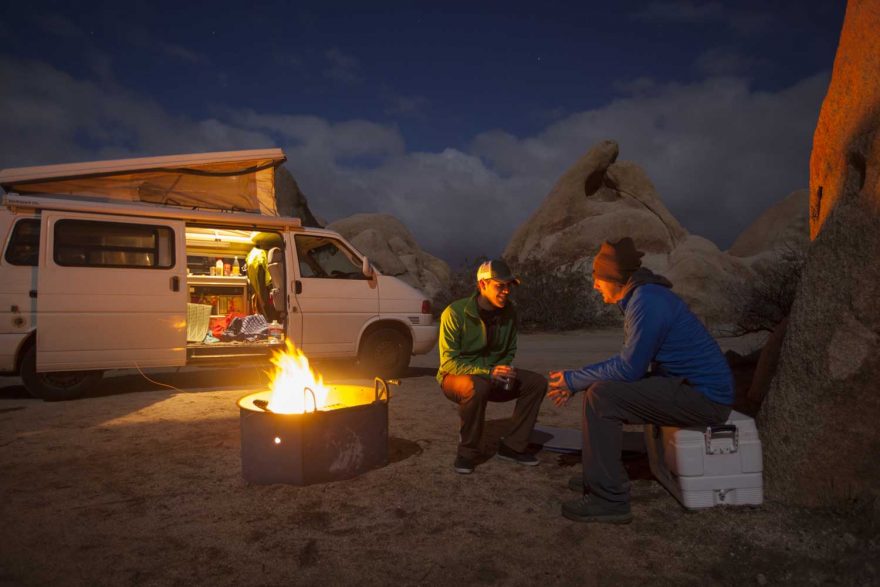 Sometimes you want the feeling of "real" outdoor camping, setting up your tent and sleeping on the ground, curled up in your sleeping bag. Other times, you would like something a bit more upscale, and perhaps even sleep on an actual bed, while still enjoying the outdoors.
In the past few years, the amount of camper van options has boomed, and there is something out there for everyone. There are trailers, vehicle-mounted tents, as well as up-cycled, retrofitted and just plain awesome looking camper vans for the avid outdoor enthusiast.
Here are some of our favorite camper vans (and everything in between) for every budget, to get you geared up for your next outdoor adventure.
Newell Coaches
Budget: $$$$$
Newell coaches go beyond camper vans, they are more like a penthouse apartment on wheels, and they cost about the same (if not more!) as an actual apartment. Newell custom builds each camper van, or motorhome, more like it, and they are so exclusive that each one has an individual number.
This model is out of most of our price range, but it's still nice to dream. So, what would you get if you were able to purchase a Newell coach? You would enjoy 45-feet of space, four slide-out rooms, two 40-plus inch TVs, real marble, top-of-the-range appliances, and a washer and dryer.
Airstream Land Yacht
Budget: $$$$
Airstream is one of the most revered and iconic names when it comes to camper vans and RVs. Airstream first started producing the sleek aluminum trailers in 1936, and they are still producing some of the most luxurious camper vans on today's market. The Land Yacht is the most modern Airstream in production, and its built to emulate the upscale yacht.
On the outside, the shell is classic Airstream aluminum style, while inside sleek furnishings abound. The furnishings were created by Tecnoform, an Italian cabinetmaker, and include Corian counters, LED lighting, teak woods, and soft leather. Up to five people can comfortably sleep in the Land Yacht, while still being light enough to be pulled by a pickup.
Forest River Rockwood Tent Camper Trailers
Budget: $$$
One of the most budget-friendly ways to experience the outdoors in a camper van is a folding-tent pop-up camping trailer. They are compact and lightweight, and while the Forest River trailer runs a bit more expensive than most, you can still find some for under $10,000.
They are light enough to be safely towed by most SUVs, and once you fold them out, you get two beds, a full kitchen, a dinette and a shower. When you close them, they are under six feet tall, making them aerodynamic, which means less money spent on gas, and more on gear.
Cricket Trailers
Budget: $$
If you are in the market for a more modern camper van or trailer, the Cricket trailer is for you. The eye-catching angular design is not just meant to look cool; it also serves a purpose. Garrett Finney, Cricket's founder, previously worked as a NASA habilitation module designer, meaning that he created the small spaces aboard the International Space Station.
He took his knowledge of designing small spaces and applied it to this small and lightweight camper van, so no space is wasted. The lightweight trailers, only weighing around 1,250 lbs, can easily be towed by most cars.
Autohome Maggiolina Carbon Fiber Rooftop Tent
Budget: $
If you're looking for a camper van, but don't have the budget, a great option is a rooftop tent. You will be able to sleep above ground without having to break open the piggy bank. Most rooftop tents can be mounted to just about any crossover, pickup or SUV, as well as loads of cars.
The tent itself only weighs around 100lbs and comes in various sizes, so is able to accommodate different camping party sizes. No need to worry about how to get up there, most come with height-adjustable alloy ladders.