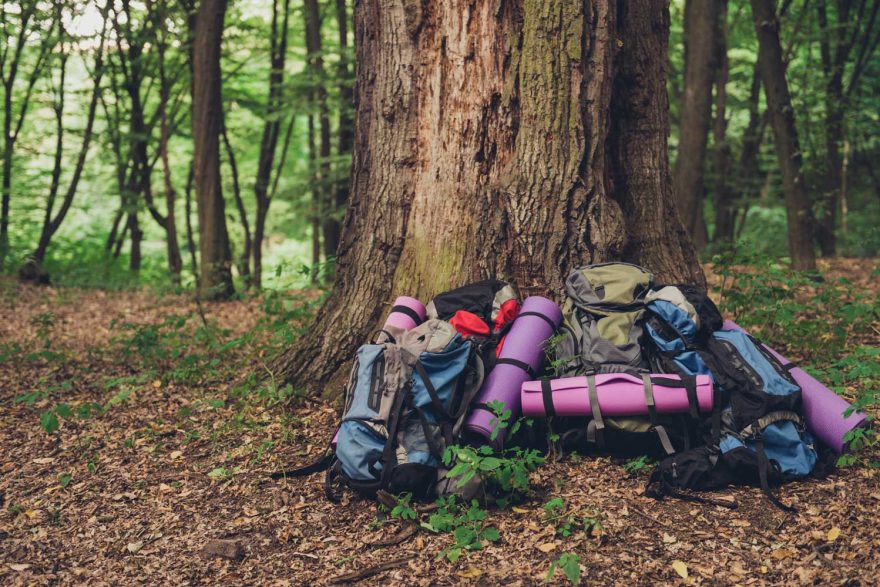 As the days get shorter and the temperatures continue to go down, we make different considerations when buying our gear. Temperature rating and wind protection, as well as waterproofing, become main factors. Layers become your best friend as the temperatures during the day are so different from the night. Here are some of our recommendations for the gear as fall finally sets in.
Kammok Firebelly Synthetic Trail Quilt
Synthetic $199 / Down $299

This trail quilt packs down well, to fit well into a daypack or crush into your backpack and, if you're looking for it to take up even less space, Kammok offers a down version that packs down even further. The synthetic version is rated to 40°F / 4°C and the down is 30°F / -1°C. Both have a shell of nylon ripstop. Kammok is really tilted more toward the hammocking through the outdoors, so they also offer cool ways to stay warm if you're camping in a hammock like the Koala Underquilt.
Grand Trunk Parachute Nylon Print Double Hammock
$74.99

Since we recommended a brand to help keep you warm in your hammock, we thought it'd be a good idea to recommend a hammock too. We still love a good Grand Trunk. Priced similarly to it's competitors, this double hammock takes the win for us because of the variety of prints. They also have a single hammock line of flag prints in case you want to show some hometown (or state) pride.
Toad & Co Airvoyant Puff Jacket
Women's $179 / Men's $189
This jacket is the perfect insulating layer for a multi-day trip or a dayhike. Made from recycled polyester, the coat is quick drying and has a water repellent finish, should wear it as your outermost layer. The men's version has a decent collar to pull up against the wind and the women's has an adjustable hood (and fleece-lined pockets). Comfortable and lightweight, this jacket is a must!
Read our review on the women's version here.
Black Diamond Spot Headlamp
$39.95
We've noticed that those new to the outdoors tend to undervalue light in their gear, and by that, we mean light from their headlamp and we decided to take Switchback Travel's advice in recommending a Black Diamond headlamp. As the days get shorter, you'll still need light. This headlamp packs 300 lumens, includes dimmed settings, and a red light setting.
Granite Gear Crown 2 60
Women's Fit / Men's Fit $199.95

This 60-liter backpack is chock-full of options. With three different torso sizes, there is also a men's and women's fit version (which features differently shaped shoulder pads and hip belt). The hip belts are fully adjustable with durable water repellent treated zippers and the entire bag weighs somewhere between 2-2.25lbs–depending on the torso size.