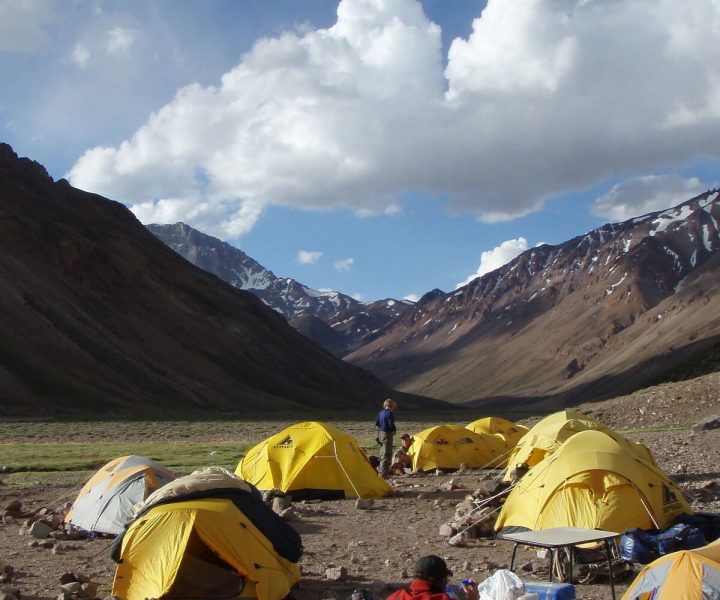 Mount Aconcagua is the goal of many mountaineers, being the second highest of the Seven Summits, and considerably cheaper and less technical than attempting to climb Everest. Conquering this summit may be on your bucket list for a good reason, but even though it's less expensive than summiting other mountains, there are some financial things you need to take into consideration before taking the plunge.
Flights
Getting there will take a big chunk out of your budget, as you will first need to fly to Santiago, Chile before reaching Mendoza. There are several bus companies that will take you from Santiago to Mendoza, and the total bus trip takes around 7 hours.
Total cost: Around $1,000 for return airfare plus a $30 bus ride
Permits and visas
If you hold a U.S. passport, you don't require a visa to enter Chile, but your passport must be valid for at least another six months. To enter the Aconcagua National Park, you will need a permit,  which you can obtain in Mendoza. How much you will have to pay for the permit will vary depending on the season.
The permit itself will absolve the Argentinian government of any liability during your adventure and will also cover the possibility of helicopter evacuation due to a life-threatening condition such as frostbite, cardiac problems or serious edema (swelling).
Total cost: Around $1,000
Gear
This is an expedition where you won't get away with a couple of pairs of pants, two shirts, a cheap pair of running shoes or hiking boots and a raincoat. You'll need serious equipment, including a sleeping bag that can handle extreme weather, lots of layers, and a great pair of hiking boots.
You can keep the cost of gear down if you already own several of these items, and if you purchase anything new, remember that you should always test out your equipment beforehand.
Total cost: Upwards of $1,000, depending on any currently owned gear
Tour operators
It's not possible to climb Aconcagua without a tour operator. There are lots of operators to choose from, and while most of them cost around the same, beware of any super cheap tours. Most likely they can afford to be that cheap due to old gear, few radios, no access to weather services and lousy food. You are going to get what you pay for, so do your research and read plenty of reviews before booking your tour operator.
Total cost: $4,000 – $5,000
Fines
This is one cost we strongly urge you to avoid. There are steep fines (anything from $500 to $3,000) for defecating in the open to gathering native wood to build a fire. Just follow all instructions and remember to leave no trace behind.
Total cost: $0
Climbing Aconcagua means that you're looking at a bill of over $6,000, but if you can spare the money and you are on the lookout for an otherworldly adventure, it's worth every penny.