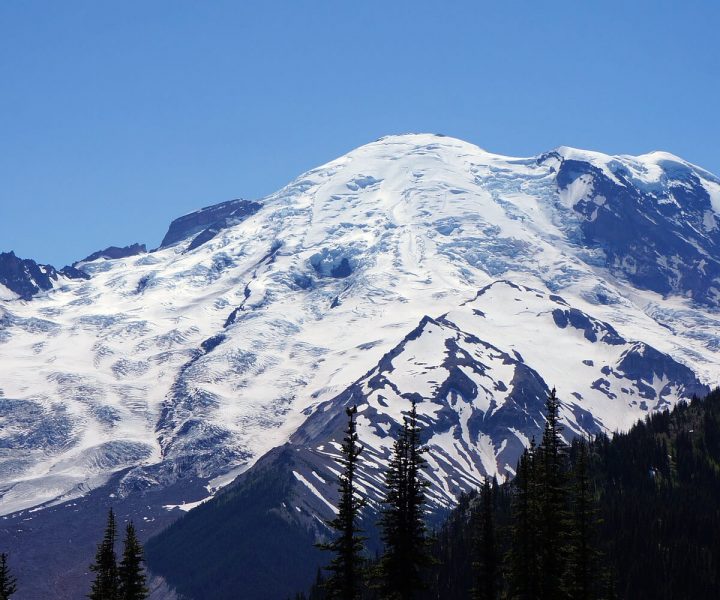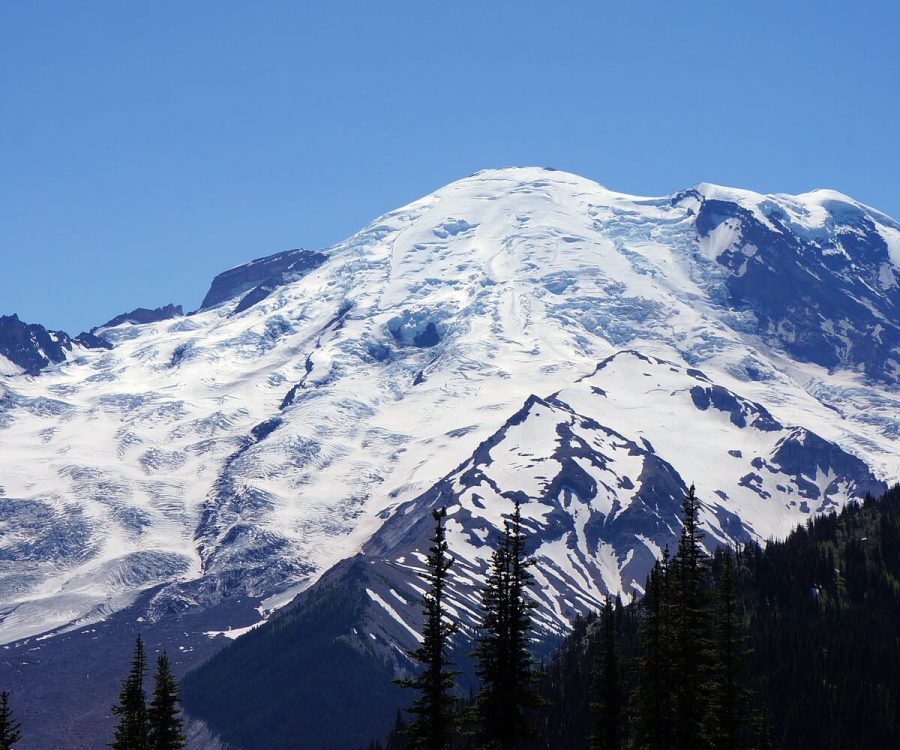 When you think of climbing mountains, you may think of ropes, ice axes, and dangerous conditions. While it is possible to climb such mountains, even in the northwest, most summits in Washington are actually easy-ish day hikes with fantastic views.
There's no need to have tons of experience or loads of expensive gear to reach these top five summits in Washington. You just need to deal with some serious elevation gain while exerting a lot of your energy. Most of these hikes are not suitable for beginners, but they can be a goal for all hikers, as the view from the top is well worth the elevation gain encountered. If you're ready to conquer these summits, pack your bags and head out on a fantastic adventure!
Mount Rainier
Elevation: 14,410 feet
Mountain Range: Cascade Range
Washington locals and those in the know refer to Mt Rainier as just "the mountain", as no further explanation is required. This active volcano (no need to worry, it last erupted in 1894) towers over the Puget Sound region, and reaching the summit is quite a feat. It is the fifth-tallest mountain in the continental U.S., and the most densely glaciated. The weather can change from mild to severe in just a few hours, and the more than 9,000-foot altitude between the trailhead and the summit makes this climb even harder.
If you don't feel prepared to summit, there are still some incredible hikes that you can take around the mountain. Paradise, a lookout point south of the peak with an elevation of 5,400 feet will still give you impressive views of alpine meadows, old-growth forests, and glaciers. There are some other easy-ish hikes all stemming from the parking lot, that wander through groves of alpine fir and glacial moraines, or over streams and amongst wildflowers.
If you want to attempt the climb, you need to pay a Climbing Cost Recovery Fee before coming to the park and obtain a climbing permit.
Glacier Peak
Elevation: 10,541 feet
Mountain Range: Cascade Range, North Cascades
Glacier Peak is a must if you are looking to really get away from it all. This peak sits in the middle of a 500,000-acre wilderness area and might be the least known of Washington's summits, even though it's close to Seattle (around 70 miles). For this reason, don't expect a lot of accommodation around this area; camping is your best bet. There are a lot of camping options on the way to the summit, including on the trailhead, at Glacier Basin, and even on Glacier Peak itself.
The more accessible access route was washed out in 2003, so getting to the start of the climbing route will require an 8-mile hike, and from then on you will have to do some high-altitude glacier travel, so come mentally and physically prepared.
You will need a Northwest Forest Pass to park at any of the trailheads, but there are no permits or fees required for camping or climbing Glacier Peak. We recommend this climb from May through October, with July being the best month as it has the least chances of avalanche danger, and the weather is at its best.
Desolation Peak
Elevation: 6,102 feet
Mountain Range: North Cascades
Two things make Desolation Peak famous: Jack Kerouac and a fire lookout. In 1956, this Beat icon author spent 63 days by himself working as a fire lookout for the U.S. Forest Service and contemplated the joy of being alive coupled with the void of impermanence. These two months of solitude inspired his 1960 essay "Alone on a Mountaintop": "Sixty three sunsets I saw revolve on that perpendicular hill—mad raging sunsets pouring in sea foams of cloud through unimaginable crags like the crags you grayly drew in pencil as a child, with every rose-tint of hope beyond, making you feel just like them, brilliant and bleak beyond words."
Reaching Desolation Peak is no easy feat, starting at the Ross Lake Dam trailhead, you'll need to hike 16 miles along Ross Lake, before spending another day ascending 4,400 feet to the lookout. While there is no camping at the summit, there are a few camping sites along the way. Bear in mind that the fire lookout is not open to the public, but with the jaw-dropping views of the snowcapped peaks of the North Cascades, the waters of Ross Lake and the Hozomeen Mountain, the hike is still well worth the effort.
Snoqualmie Pass
Elevation: 3,022 feet
Mountain Range: Cascade Range
Snoqualmie Pass is the most extensive east-west route in Washington, traveling through the Cascades mountain range. There are various fantastic hikes to reach the summit, along with some of the most hiked trails in Washington, as the area is accessible as well as beautiful. If you are hiking in this area, you should be aware of bear safety as there is a significant bear population.
Some of the best hikes in this area include:
Snoqualmie Mountain: Reach the top of this 6,240-foot summit and be rewarded with fantastic mountain views. Make sure to stay well hydrated and bring lots of snacks for energy; you'll need it as you'll gain more than 3,000 feet of elevation in just three miles.
Snoqualmie Falls: If you're in the area, you must travel to this location. Follow the short trail down to the lower viewing area to get a different perspective of the falls and visit the most famous waterfall in all of Washington.
Mount St. Helens
Elevation: 8,365 feet
Mountain Range: Cascade Range
Mount Saint Helens was always the smallest of the four volcanoes in Washington, even before a 1980 explosion which removed more than 1,300 from the mountain's height. Several glaciers melted, which contributed to massive floods, and sliding earth killed a great deal of wildlife while burying acres of forest as well as recreational facilities. This created a recreational climbing ban until 1987, when the south routes were reopened, but access to the crater is still forbidden.
The volcano lay dormant until 2004 when ash started spewing for the first time in two decades, but it's still accessible to hikers. The best time to climb is during the peak season (April through October) with the best conditions happening from May through September. However, you can still have a fantastic experience during winter, during February to early summer; this area is popular for snowboard and snowshoe summits while avoiding the ash that is the bane of summer hikers.
If you want to be above 4,800 feet in elevation, you need to have a climbing permit, which requires a bit of red tape.
One of the best hikes to take is the Harmony Trail hike down to the banks of Spirit Lake, where you will encounter scattered old-growth logs, chipmunks and an abundance of wildflowers. For an adventure that doesn't require much energy expenditure but is still adrenaline-inducing, try a helicopter flight, which will give you otherworldly views that can't be experienced otherwise.