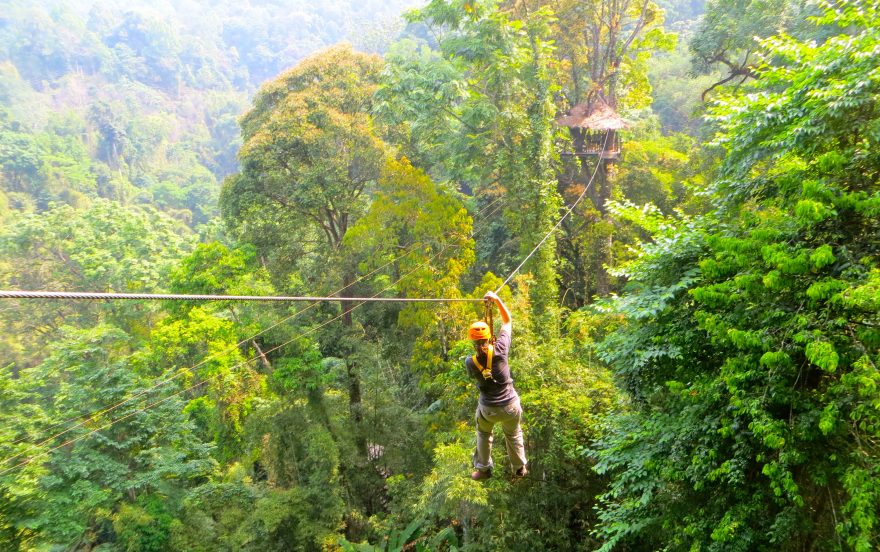 Few simple things can give you such an adrenaline high and a fun ride as a zip line. Historically, zip lines were created out of function, as they were used to deliver goods across distances mountainous countries. It wasn't until the 70s when some very creative minds in Costa Rica realized the potential of zip lines and began to string cables along the rainforests as a way to travel more quickly. Soon after that, they saw the adventure and tourism potential, and so the zip line as we know it was born.
Each zip line, with their different height, length, speed, angle and altitude variables has its own character. You can encounter zip lines that feel as if you're barrelling on a rollercoaster or one that's more slow and meandering.
What began in the rainforests of Costa Rica can now be found all over the world, and we've put together a list of must-visit zip lines around the planet to get you zipping!
Great Wall of China in Simatai, China
There's no better way to experience aerial and panoramic vistas of one of the Seven Wonders of the World than zip lining over this incredible landscape. Located about three hours outside of Beijing, this zip line provides an old-world adventure coupled with a good adrenaline thrill. It's one of the shortest zip lines on this list – the ride clocks in at around 40 seconds, but you'll be instantly rewarded with fantastic views the dam-formed Mandarin Duck Lake and a 360-degree view of the Great Wall of China.
Dragon's Breath in Labadee, Haiti
The Dragon's Breath Flight Line is the longest zip line above water in the world. The zip line starts 500 feet above the dark sapphire beaches of Labadee, and it reaches speeds of up to 50 miles per hour, during the length of its 2,600 feet. Experience breathtaking sea views while on a cushy seat back, with the ocean wind blowing your hair.
Icy Strait Point in Hoonah, Alaska
Icy Strait Point is on every must-see list for all the regions tourists. This zip line is touted as the world's longest, as it spans for over a mile and has a stomach-dropping 1,300 vertical feet drop over the 90 seconds length of the ride. Up to six riders can be accommodated on the rides parallel lines, which reaches average speeds of 60 miles per hour. Experience incredible views of the sea and tree enveloped mountains on your way down (if you manage to keep your eyes open!)
Arenal Volcano Park in El Castillo, Costa Rica
Arenal was one of the most active volcanoes in Costa Rica until 2010, and there's no better way to enjoy the ever-changing Arenal Volcano Park landscape than on this incredible zip-line tour, which runs for two and a half hours. Your journey begins in the open chassis Sky Tram, a gondola that will bring you to the peak of the mountain. From there, seven different zip lines await, ranging from 2,493 feet to a comparatively short 656 feet. Experience the ultimate (literal) height, and keep your eyes peeled for hummingbirds, indigenous monkeys, and the occasional toucan while you savor your mid-air excitement.
Flight of Gibbon in Chiang Mai/Bangkok/Pattaya, Thailand
This experience is a bit different than your standard exhilarating ride where you zip from treetop to treetop platforms. Flight of the Gibbon will take you on a multi-day adventure, where you absorb the local culture and experience a range of community activities such as animal safaris, rock climbing, river rafting, mingling with the locals at a home-stay and of course, zip-lining. 10% of the profits go towards the preservation of the endangered gibbons of Thailand, and the jungles they call home. The zip line is located in Mae Kampong, and it is the longest single zip line in Asia, at more than 2,600 feet long. What more do you need than a massive adrenaline rush coupled with helping out the environment?
Zip 2000 in Sun City, South Africa
Zip 2000 also claims to be the world's longest zip line spot. The staggering ride is 6,500 feet long, and regarding speed, comes in second to Gravity Canyon in New Zealand. You reach a dizzying speed of up to a hundred miles per hour while laying flat, strapped below a free-running trolley into two harnesses (therefore fulfilling any latent Superman fantasies you may have). Nothing quite compares to the adrenaline rush you'll get while zooming over the grasslands and the dormant volcano of Sun City. This mega-adventure has recorded a high measured speed of 114 miles an hour, all while boasting a 100% safety record.
Gravity Canyon in Taihape, New Zealand
Another adventure to make you feel like Superman awaits in Mokai Gravity Canyon's Flying Fox in New Zealand. Enjoy the experience of a lifetime while turned upside down and flying parallel to the incredible landscape beneath you. It claims to be the fastest zip line in the world, clocking speeds of more than 100 miles per hour during its 3,600 feet duration. Duck below the bridge, face a cliff and fly over the Rangitikei Canyon. Oh, and another bonus? You get to ride backward and forward until you're finally pulled back in.
Miss Sky Canopy Tour in Nosara, Costa Rica
The birthplace of zip lining deserves another spot on this list. Another claimant to the world's longest zip line, this course runs for almost 7 miles and is comprised of 21 separate zip lines. Begin in the middle of a rainforest, cross the Nosara River and reach your destination at a disco bar. Take in views of the spectacular 2,5000-acre rainforest preserve, the Pacific Ocean, and waterfalls as you're seated on a harness.
The Monster in Rio Grande, Puerto Rico
Yep, this is another zip line that claims to be the longest zip line on the planet, though this one is the only one that was verified by the Guinness Book of World Records. Spanning a mile and a half through the incredible jungle countryside of Puerto Rico, you can enjoy the views at a dizzying 90 miles per hour. This is another activity to warm your activist heart, as a percentage of the profits go towards the Ricky Martin Foundation, which aims to battle human trafficking.
La Tyrolienne in Chamonix, French Alps
Looking for some serious bragging rights? Then head over to La Tyrolienne in the French Alps. This zip line starts at the Val Thorens Ski Resort runs between two resorts and also spans across two snow peaks at an average altitude of 10,597 feet. At that height, this is the tallest zip line on the planet. Not for the faint of heart, you can enjoy a spectacular bird's eye view of the incredible snow-capped French Alps. Enjoy a luxurious experience, French style.