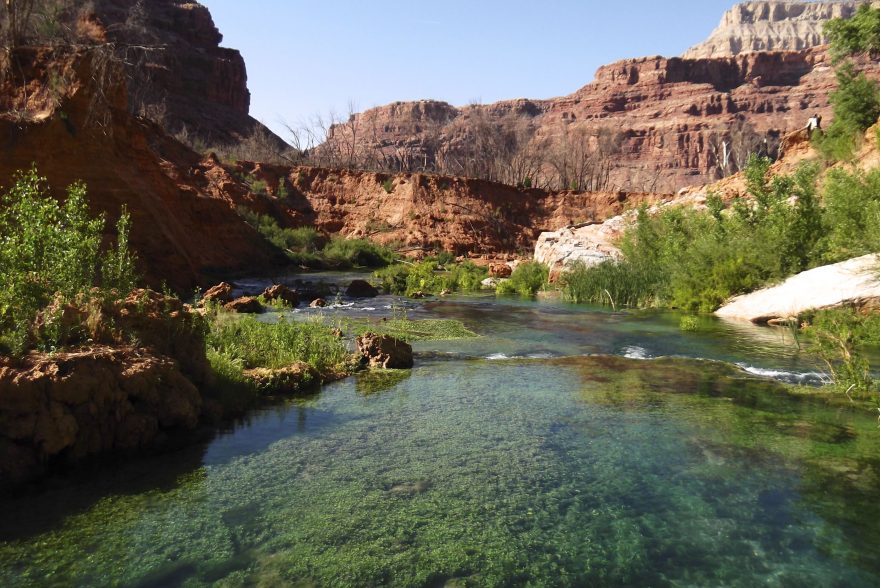 If you find yourself in the Grand Canyon, you must make the hike to Havasu Creek via the Havasupai Trail. The total hike may not be best for beginners, clocking in at 16 miles round trip, and all day long adventure which is best started at sunrise. Experience the incredible orange hues of the canyon walls towering over the turquoise blue waters of Havasu Creek. There is little, if any, signage on the trail, so make sure to bring along a map and compass or a GPS, and plan your permit and camping reservations in advance. There is sky-high demand for permits on this trail, especially during prime season in Arizona.
Your hike starts at the Havasupai campgrounds, which is an arduous 10-mile hike from Hualapai Hilltop. The first miles of the trail leads you through Mooney Falls and, at least four creek crossings, until you reach Beaver Creek. Be aware that while there is limited elevation gain, the route is still difficult to find due to the lack of signs–make sure you're looking out for the faintly drawn trail across the creek sides.
Once you've reached the serene and spectacular Beaver Falls, continue on the trail to the right of the creek. This part of the hike is the most challenging, as there are no trail markings, and the trail over and down the ridge is hard to find. From there, there are two options: find the spike on the cliff to your left, tie your bags to it and rappel down the cliff. If you're not up to rappelling, go up and over the ridge to your right. A few rock cairns will help you find your way to the path.
When you've reached the creek, follow it for 4 miles, until you reach the confluence of the river. It can be complicated to find the trail, but note that it will always follow the creek, so as long as you stay near the creek, you're good. There will be lots of creek crossings, so we advise you wear water shoes if you don't want to do the hike with soaking running shoes or boots.
When you're nearing the confluence, the orange canyon walls will start to become rife with greenery, so that's when you know you're close. Another sign that you're reaching your destination is you start to hear a mighty roar as the water from the Colorado River crashes into the tributary.
Enjoy the breathtaking views once you've arrived, and experience firsthand the raw power of the Colorado River.