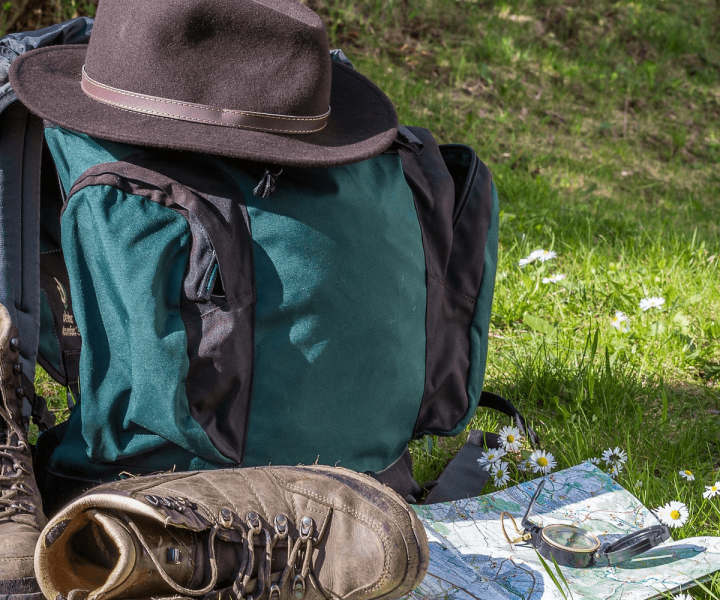 There are loads of questions that come up when you're packing for a hike. You might be wondering what you need for a day-hike, and apart from a tent – what else should you bring for a multi-day hike? Are you packing too much? Too little? Is it going to be too heavy? What are the must-haves?
What ends up in your backpack will vary depending on the time of year and terrain you'll be hiking on, but there are some essentials that every hiker needs in their bag.
If you're just heading out for the day, you can get away with a smaller bag that can fit the essentials. We recommend something between 25 and 40 liters in size, and possibly even smaller if your hike is less than 4 hours long.
Personally, we like daypacks with a lot of external side pockets and internal storage compartments. That way, everything you need can stay outside of your bag (such as your water bottle, snacks, map and a raincoat), and everything else can go inside the pack.
Day Pack Hiking Essentials
Map and Compass
In this age of GPS and smartphones, you might not think you need a map and compass, but phone signal is not always available, and your GPS can run out of battery. Therefore, we recommend carrying a map of the area you'll be hiking and learn how to find your location based on trail junctions and landmarks. It's also important to learn how to use a compass. You can start by figuring out how to find north, and orient your map from that direction. REI offers orientation skill classes, so they're worth looking into. Having said all that, we do recommend that you carry a cell phone, as it can always come in handy.
Sun Protection
When you're out in the open, you should prevent sunburn, even if it's not a particularly sunny day. Therefore, you should always have sunscreen, lip balm and a hat in your pack. To prevent sun blindness, sunglasses can be very helpful, especially during winter.
Insulation
The amount of insulation or extra clothing you need to bring with you on your day hike will depend on the area you're hiking – whether it's in the backcountry or the city, the average daily and nightly temperatures and whether you may have to spend the night. For example, for a spring hike in the mountains, you should bring an insulated jacket, hat, gloves and a sit pad just in case you're still not back after dark.
Illumination
You always need to have a flashlight or headlamp in your bag, along with some extra batteries. In the event that you're delayed and it's now dark, or you decide to camp out, you always want that extra light.
First Aid Kit
Your first aid kit doesn't need to be too big, as you won't need most things in it. Some essentials that we recommend are bandages, something for indigestion, painkillers and antiseptic wipes. There are a lot of personal first aid kits out there, but assembling your own will save you money and make sure you're only carrying what you need.
Fire
If you or someone in your group gets hurt, or if you get lost or unexpectedly need to spend the night in the backcountry, you need to have something to make fire. Therefore, it's important that you practice making a fire. A very reliable way to start fires is using fire steel along with a fire-starter, such as cotton balls dipped in Vaseline. Even Doritos will work in a pinch!
Multi-tool Knife
There's no need to carry a big knife when you're hiking, so the best option is to have a swiss-army knife or some multi-tool knife. That, along with some safety pins and a roll of duct tape will be enough to patch anything you need.
Nutrition
If you're going to be hiking for a few hours, you need some fuel for the energy you'll be expending. Bring along some healthy snacks that are a good balance of protein, carbohydrate, and fats. If you're going to be out for a full day, make sure and pack some lunch also.
It's important that you avoid dehydration while on the trail. Staying hydrated will mean you'll feel better, and will eliminate any waste. There's no need to carry all the water you'll need for the day, just check for any water sources you can take advantage and bring a water filter.
Multi-Day Version
What should you pack for your multi-day hike? Pretty much everything you'd need for a day hike, and add some more food, toilet paper, and your camping essentials.
Multi-Day Hiking Essentials
Sleeping Bag
When it comes to sleeping bags, you have to choices: down and synthetic. Down packs smaller and is lighter than synthetic, but it's more expensive and loses its insulating properties if it gets wet. The choice is up to personal preference, but we recommend that you get the lowest degree ranked you can afford. It's always better to be able to unzip your sleeping bag or use it as a blanket if you get too warm than to freeze when it's cold as your sleeping bag is not doing its job.
Duct Tape
You've probably heard the joke about duct tape holding the universe together, and it definitely holds a ring of truth. Duct tape can repair tent poles, keep your shoes together, cover tent in your holes and it's a cheaper alternative to Moleskine. You can also add duct tape to foot hotspots, so they don't become blisters.
Bungee Cords/Nylon Rope
Using bungee cords and ropes to hang your toiletries and food a few feet up in a tree is important to keep wildlife from feasting on your food. Cords or ropes also come in handy when you need to replace a broken strap in your pack, need a makeshift clothesline or compress your sleeping bag.
Non-Essential (But Still Sometimes Recommended) Items
Trekking Poles
Before purchasing a pair of trekking poles, make sure you know the terrain of the whole trail. If it is a rocky and well-maintained trail, carrying a pair of poles can end up being less useful and more cumbersome. If you know, you'll be passing over dangerous stream crossings or have bad knees, then trekking poles can come in handy.
Stoves
It can be very tempting to know that you'll be able to cook hot meals, but the weight of the stove, along with fuel, pans, pots, and utensils ends up adding up. If your multi-day trek will take you through towns, consider living off cold rations such as bars, fruits, and sandwiches while on the trail, and fill up on warm food when you're in town.
GPS Unit
As we mentioned before, GPS units can be helpful, but you shouldn't rely solely on them. While useful, they can also run out of battery and malfunction, so don't treat them as your own personal "get out of jail free" card.
Sleeping Pads
A sleeping bag can be useful if you're camping somewhere cold, but they are unnecessary the rest of the time. During late spring and summer, your tent and sleeping bag should protect you from the cold.
Tent
Some hikers swear by tents, while others have switched to ground tarps or hammocks. This again boils down to personal preference, so research your options and decide what's best for you depending on where your hike will take you.