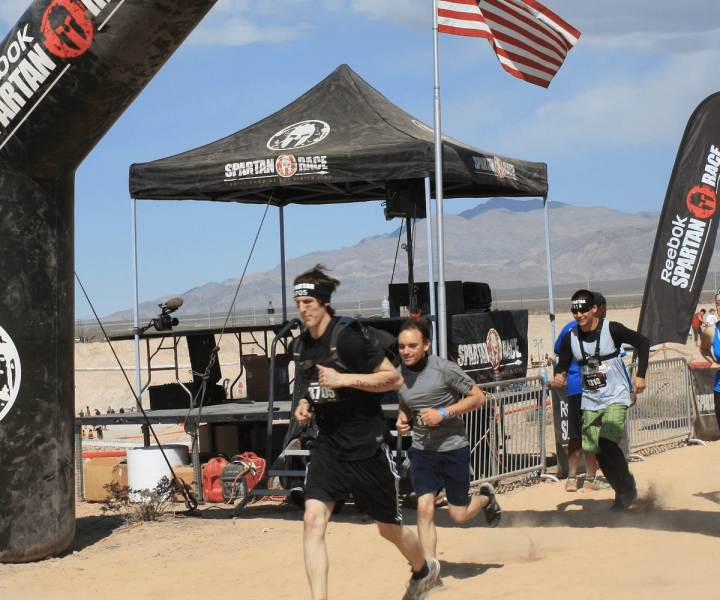 At its core, Spartan Race is a series of obstacle races with various distances and difficulty levels. Their lengths range from just 3 miles to a marathon distance. Spartan races started in 2007 and were named Peak Races until Reebok became the event title sponsor, and the races were renamed the "Reebok Spartan Race World Championships."
They may have started in the U.S., but they've now been franchised worldwide, and you can find them in Canada, Australia, South Korea and Europe.
Spartan Race is the leader in obstacle racing, offering races and courses for people of all ages and fitness levels.
There are three main types of races, which include sprint, super, and beast, along with endurance events and junior courses, aimed at children and young teenagers.
Sprint Race – 5 km and 20+ Obstacles
Sprint is the shortest course offered, and it's designed as a great place to start for beginners, though it's perfect for all fitness levels. Some of the 20+ obstacles include fire, mud, barbed wire, and walls.
Super Race – 13 km and 25+ Obstacles
This course is their middle distance course, and it's designed to test both your physical ability and endurance as well as your mental strength. The super course runs through more rugged and tougher terrain, and the obstacles will definitely test your grit and perseverance.
Beast Race – 20 km and 30+ Obstacles
The toughest course out of all the ones offered by the Spartan Race. The race has been defined as brutal, testing your courage, endurance, tenacity, and physical strength through its Signature Spartan Obstacles. Finishing won't be easy but crossing that finish line will give you an incredible level of accomplishment.
Junior Race – 1.5 km
This race is designed for ages 4 to 13, and it's a great chance for kids to learn teamwork, get active, and get muddy while having fun and conquering the obstacles in their way.
If you think you have what it takes to handle one (or all of these races, earning you a Spartan Race Trifecta), you can find a race close to you by visiting the Spartan Race website.