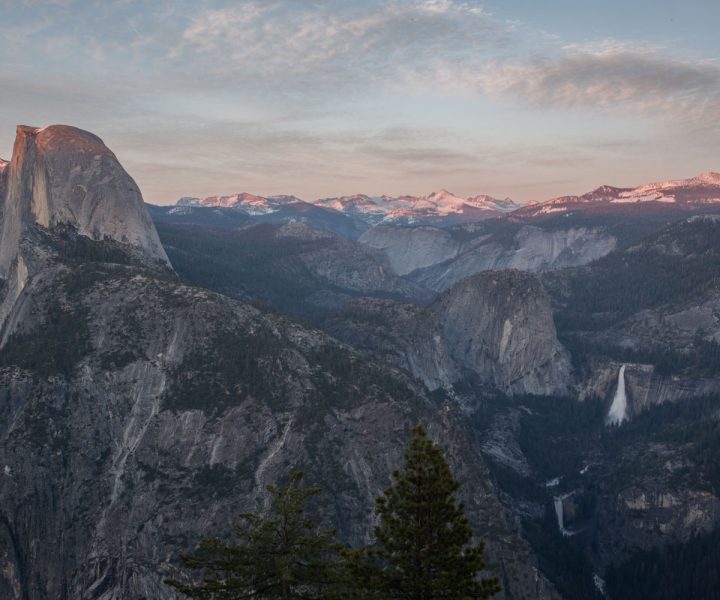 Adventure and stunning natural environments await you in most of America's National Parks. Parks typically get their largest amounts of visitors during the spring and summer, but there are some parks that are calling out for some winter exploring.
You may never go back to the more crowded months once you've visited these national parks during the colder months (though access to certain areas may be limited by snow and ice). The experience is worth enduring the chillier temperatures as it's a more tranquil and entirely different experience. Back-to-back road traffic gives way to snowshoe trails and cross-country ski, the mountains turn into a backcountry skier's heaven, and the landscape gets a fresh feeling from all the snow. Winter isn't the time to huddle under a blanket and stay indoors, but it a time to get out and experience all of the frosty beauties at its best.
Yosemite National Park – California
Yosemite National Park is the perfect getaway for winter sports enthusiasts. If you're craving ice skating, snowshoeing, downhill skiing or cross-country skiing, this is the place for you. The Glacier Point route is open to snowshoers and cross-country skiers during winter, and you can make the 21-mile trip in a day, or extend it to a few days by camping in the snow, or booking a room at the Glacier Point Ski Hut.
The Badger Pass Ski Arena is open for tubing, snowshoeing, downhill skiing and snowboarding from mid-December through March, offering over 90 miles of marked trails and over 25 miles of tracks for backcountry skiers. If you are up for a hike, there are loads of open trails, and you can experience the park in a whole different way, with trees and mountains covered in a blanket of snow.
The more you know: Before heading out, be sure to check the current NPS current conditions website, as you can get up to date information on any trail closures. For up-to-date information you can also check the Yosemite webcams to get an idea of the amount of snow falling and how much water is flowing over Yosemite Falls, to see if the trek is worth the effort.
Olympic National Park – Washington
Three distinct ecosystems can be discovered in this park: temperate forest, subalpine forest, and the rugged Pacific Shore. When temperatures are hovering around 40 degrees Fahrenheit, the woods come to life with winter rain, causing trees, mosses, and lichens to explode with green.
Hurricane Ridge that gets its name from the vigorous winds that blow through this area is the best venue for winter sports such as sledding, cross-country skiing, snowboarding, skiing, and snowshoeing.
The more you know: During the winter, a severe hazard you need to be on the lookout for are avalanches. It can be complex to forecast an avalanche, as you need to recognize the types of weather and terrain that cause avalanche conditions, so before heading out into the backcountry, get some formal instruction from the Rangers.
Bryce Canyon National Park – Utah
Bryce Canyon National Park receives more than a million annual visitors. No doubt one of the main drawing points are the hoodoos, the giant sandstone creations created by natural erosion. You're missing a spectacular sight if you've never seen them covered in snow.
Winter hiking is fantastic in Bryce Canyon. Without the crowds, you can appreciate nature's peace while walking amongst the trails, with the only sound being snow crunching beneath your boots.
One of the park's most iconic landmarks is Bryce Amphitheater, where a full day of hiking is needed to discover its beauty, especially Silent City and Thor's Hammer. These pink and amber formations are especially beautiful when their vibrant colors shine underneath a blanket of snow.
If winter sports are more up your alley, you can cross-country ski and snowshoe in several of the parks areas, offering entertainment for all skill levels to take in the views from the canyon rim.
The more you know: Stargazing is made particularly vivid with the crisp and dry air in winter. You can snowshoe hike under the full moon or take in an astronomy session for free with one of Bryce Park's guided tours.
Rocky Mountain National Park – Colorado
There's a wide variety of activities that can be done during winter in Rocky Mountain National Park, due to the various amount of winter snow accumulation across the park. The east side is less likely to receive snow, so the snowed areas are a bit more patchy, while the west side typically gets more snow, meaning deep snow areas are easier to be found.
If you have a need for speed, head towards the southwest area of the park, where a fantastic snowmobiling area awaits. The town of Grand Lake, a famous snowmobiling destination is connected to the North Supply Access Train by a two-mile stretch of park-adjacent trails.
More relaxed and family-friendly activities can be found in Hidden Valley. It's set against the backdrop of stunning mountain peaks, and it's one of the best areas for sledding and toboggan rides. You can also feel like a child again by having a snowball fight, building a snow fort and making snow angels.
Rocky Mountain National Park is one of the few national parks where you can backcountry camp or camp during the winter, as three of its campgrounds are open year-round. Bear in mind there's no water in the campgrounds during winter. If you're still eager to camp, remember that you'll need an overnight camping backcountry permit, which is free. Not so keen on winter camping? There are lots of lodges surrounding the park, where you can get a cozy night's sleep and head out during the day for ice skating, snowshoeing or skiing.
The more you know: This area of Colorado is prone to avalanches, so check in with rangers before heading out to the backcountry for any avalanche threats or closures.
Biscayne National Park – Florida
Not all winter activities have to involve multiple layers of clothing, freezing weather and snow. If you're looking for something warmer yet still spectacular, head down to Biscayne National Park. You'll still get to experience a national park at its best but without blustery weather and snowmen. However, be aware that you'll be changing snow for water, as land makes up only 5% of this national park.
Biscayne National Park is a great option if you want to enjoy some sunshine and relaxation. One of the best ways to tour the park is by taking a reef cruise, where you'll experience a new underwater world in their glass-bottom boats. There's endless wildlife to discover, including more than 300 types of fish, crabs, spiny lobster, and shrimp, along with hundreds of bird species that call this area of Florida their home.
Some of the park's most popular activities include scuba, snorkeling, and boating so dive into the warm water and swim along the coral with manatees, angelfish, and yellow snapper fish. The start of Florida's dry season is December, so it's the best time to get a break from the cold weather and snow from most other parts of the country is winter.
The more you know: Another reason to visit Biscayne Bay during winter is that along with the hundreds of birds already living there, you'll also experience the migratory birds settling in for the season.