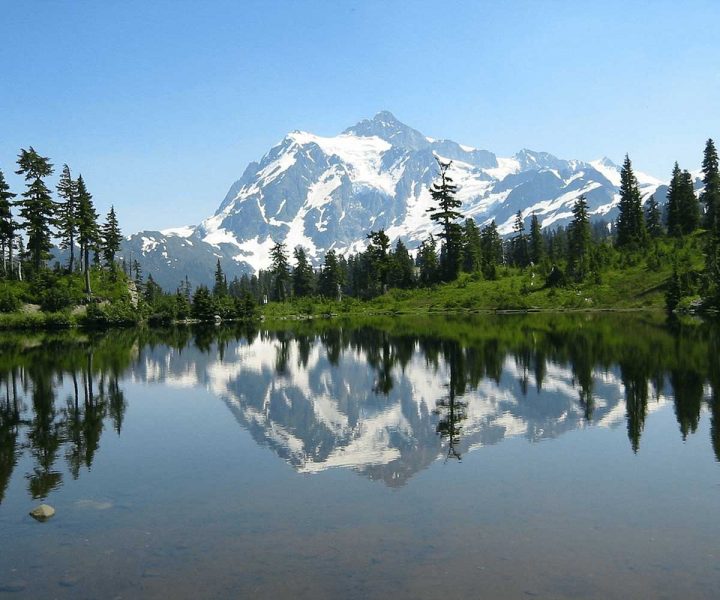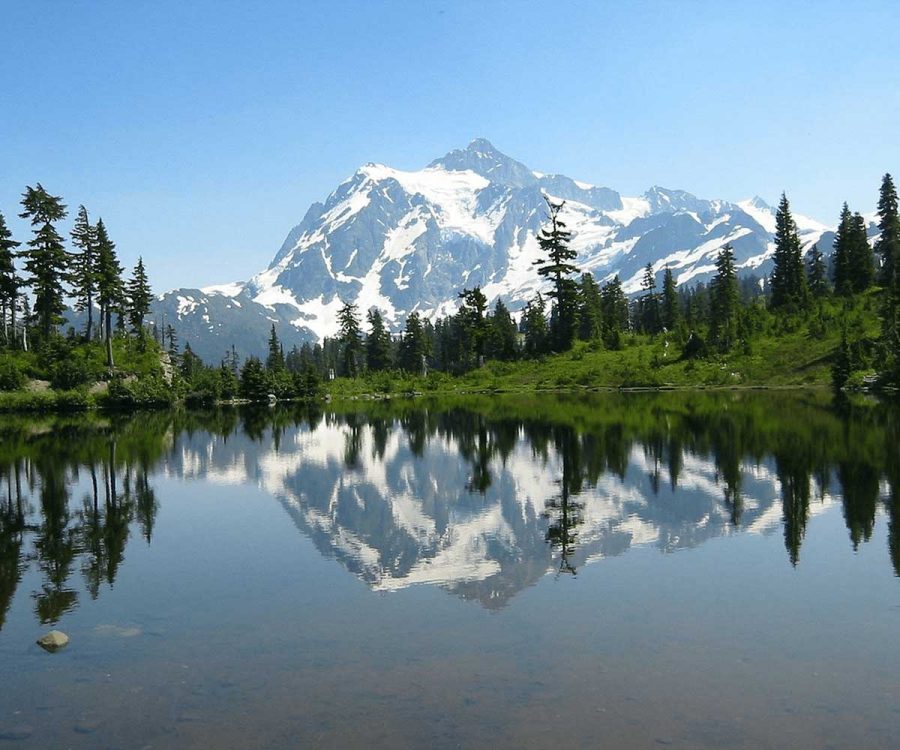 North Cascades National Park Overview
Region: North Cascades, Washington
Best Time To Go: Spring, Summer, Fall
Required Passes: National Park Pass
President Lyndon Johnson signed the bill that created the North Cascades National Park in 1968, therefore protecting 648,000 acres of ponderosa pine and old-growth cedar, along with granite peaks and almost 300 glaciers, giving it the name of the "American Alps." In actuality, they are the most craggy and rugged mountains in the continental U.S. are the North Cascades.
A variety of terrains can be found in North Cascades National Park, from its rolling eastern hills to its verdant western green forests. A great bonus is that this park sees only a fraction of the traffic that other national parks do, including nearby Olympic National Park. For a comparison, Olympic National Park receives around 3 million visitors a year, while North Cascades National Park is only visited by 27,000 yearly tourists.
Two distinct regions separate the park – the North Unit and the South Unit, with the dividing line being the Ross Lake Recreation Area. The park is nestled between the Cascade Mountain Range, which got its name from a large number of waterfalls that can be found in its terrain.
North Cascades National Park is home to an astounding variety of wildlife, including black-tailed deer, moose, marmots and black bears. It's next to impossible to spend a few days in the park and not see mountain goats, whose population is kept in check by mountain lions and bobcats.
The park was memorialized by Jack Kerouac in his book The Dharma Burns, as he spent a summer as a fire spotter atop Desolation Peak. In his book, Kerouac writes "Lo, in the morning I woke up…and I went out in my alpine yard and there it was…hundreds of miles of pure snow-covered rocks and virgin lakes and high timber, and below, instead of the world, I saw a sea of marshmallow clouds flat as a roof and extending miles and miles in every direction…."
With its bubbling rivers, undulating terrain and spectacularly vivid colors, North Cascades National Park is a fantastic spot to add to your bucket list. When you're ready to begin your adventure, we recommend starting off the visitor center in Newhalem where you can have a face-to-face chat with a park expert, who will be more than happy to help you make the best of your trip.
Permits and Activities
One of the most popular activities in the region is mountaineering, and it's easy to see why – the beckoning of jagged peaks from almost every viewpoint is too hard to resist. If you want to embark on this adventure, make sure you pay close attention to both permits and the weather before you begin. The north and south units are serviced by Wilderness Information Center in Marblemount, while the Lake Chelan Area is serviced by the Golden West Visitor Center. Backcountry permits are needed for all overnight stays, and planning in advance is recommended, as permits are limited.
There are no roadside attractions in North Cascades National Park, and most of its attractions require some effort to get there, as they lie deep in the mountains. For example, to reach the Lake Chelan entrance, you need to boat, kayak or hike. However, trust us when we say that any effort will be well worth the reward.
Best Hiking Trails
Skagit River Loop
Level: Easy
Length: 1.8 miles
Trailhead: North Cascades National Park Visitor Center in Newhalem
Skagit River Loop is the easiest trail, and it's recommended for all ages. You should do this trail if you want to saunter through yew and maple trees along the Skagit River and want a high chance of seeing eagles, otters, salmon, and dippers.
Thunder Knob
Level: Easy
Length: 3.8 miles
Trailhead: West end of Colonial Creek Campground
A pleasurable stroll over log bridges awaits you in the Thunder Knob trail. Hike amongst ledges covered in moss to reach a headland above Diablo Lake, giving you the chance to catch a glimpse of Jack Mountain, the most prominent land mass in the Skagit Valley at 9,065 feet.
Trapper Peak
Level: Moderate
Length: 10.6 miles
Trailhead: Thorton Lakes near Newhalem
This tough hike up a narrow spine is not recommended for beginner hikers, as you'll need some experience. Once you reach elevation at 5,964 feet, you'll be rewarded with unparalleled views of Thornton Lakes, Pickett Range, Skagit River and Newhalem.
Hidden Lake Lookout
Level: Moderate
Length: 9 miles
Trailhead: Sibley Creek Road off Cascade River Road
Hidden Lake Lookout isn't an easy hike, but trudging across talus slopes, alpine meadows and snowfields is rewarding on its own. As a bonus, you'll reach a National Forest fire lookout built in 1931 and positioned nearly 7,000 feet high. You'll get loads of company on your hike, from mountain goats to marmots ptarmigans, pipits, and pikas. Plus breathtaking views of Mount Rainier and Eldorado Glacier.
Sourdough Mountain Lookout
Level: Difficult
Length: 11.4 miles
Trailhead: Off Highway 20, in Diablo
Sourdough Mountain Lookout is a challenging hike, where you'll gain just over a vertical mile in elevation over five miles, and it's considered one of the most taxing hikes in North Cascades National Park. If you're up for it, you'll get to see incredible alpine meadows filled with flowers, a fire lookout from 1933 and the far-reaching views you'd come to expect from a lookout point.
Big Beaver – Little Beaver
Level: Difficult
Length: 37 miles
Trailhead: From Ross Dam Landing, take a water taxi
This complete hike will take you a few days, so it should only be attempted by experienced hikers. You'll pass through two remote and deep valleys, full of glacier-fed creeks and old-growth timber. There's a high chance you'll spot cougars, spotted owls and black bears.
Lodging and Camping
Lodging
There aren't that many lodging places in North Cascades National Park, if you want to discover this amazing park but don't feel like camping in the backcountry; two great lodging options are Ross Lake Resort and North Cascades Lodge at Stehekin .
Ross Lake Resort
This resort, open from mid-June through October, is located on the southern side of Ross Lake, and it provides cabin-style accommodation. Make sure to plan well ahead if you want to stay at Ross Lake Resort, as you need to make the reservation at least a year in advance.
Getting there won't be easy, as there's no road that leads to the resort, so you must take a boat from Diablo Lake or embark on a long hike to reach it. Be aware that you must bring your own food, as there's no store or restaurant on site, though they do provide a propane grill, as well as pots, pans, and tableware. To make a reservation, visit their website or call (206) 386-4437.
North Cascades Lodge at Stehekin
This lodge has two room types: standard rooms and cabins. The cabins are available year-round, and the standard rooms are available from mid-May to mid-October. Extra preparedness is needed during the offseason, as it gets frigid in the offseason, and you must also bring your own food, as there is no store on site. However, during the summer season, there's a full-service restaurant and general store.
North Cascades Lodge is also not accessible via road, so to access it, you can hike in, or take a ferry across Lake Chelan. To make a reservation, visit their website or call (509) 682-4494.
Camping
There are abundant backcountry camping spots, but it can be a real challenge to obtain a permit. Campgrounds inside the park are notably busy, especially during the weekends, so if you want to spend the weekend there, arrive on Thursday as early as possible, as most campgrounds operate on a first-come, first-served basis.
If you are not able to get a permit, you can always visit one of the five car campgrounds operated in the North Cascades by the NPS.
Weather
Due to the climatic barrier of the wet weather systems arising from the Pacific Ocean, this region sees abundant rainfall, recording an annual average of 70 inches of precipitation. In the height of summer, it's possible to get bright and sunny days, but if you're hiking at elevation, make sure you check weather reports or weather apps for possible showers and thunderstorms.