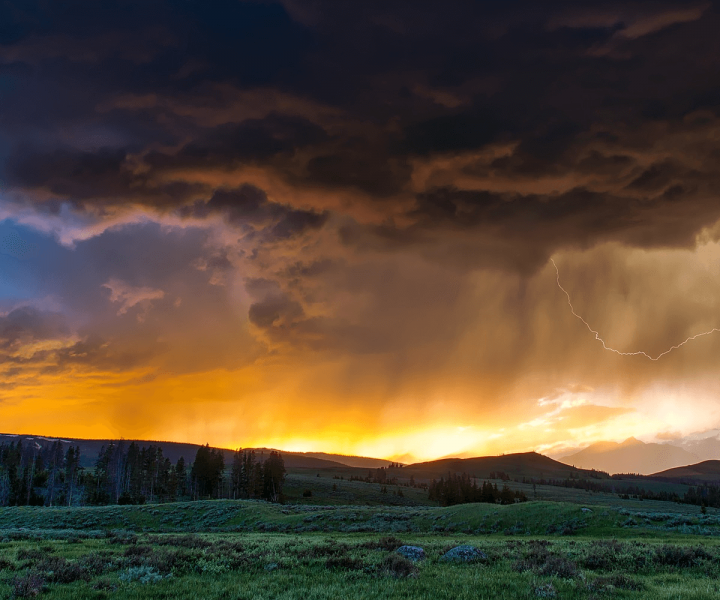 Searching for "weather" in any App store means you will be bombarded with endless options, with apps ranging from everything a meteorologist would want to an app that shows you a picture of a kitten every time you want to check the weather.
Knowing the weather forecast is important when you're planning any outdoor activity – be it a day hike, a mountain bike run or even walking the dog. A surprise shower can ruin your hike (even though it doesn't really have to), or lightning and thunder can put a hamper on your surfing day.
We've tested dozens of weather apps and used them for various scenarios, including planning bike rides, surf sessions, and planning hikes. We've managed to separate the good from the bad, and learned a few things in the process.
The things you need to keep in mind when looking for the best weather apps are the following:
Focus on radar, not forecast: A weather forecast is handy, but especially in the mountains, forecasts aren't to be trusted. Up-to-date information is everything, and seeing is believing. Look for an app that gives you radar imaging current within the last five or ten minutes.
Don't rely solely on user-created input: A lot of apps now have a feature where users can input the weather around them, helping you with immediate forecasts. It's great to be able to report the weather conditions in your area, but the user-generated info isn't the most useful in under-populated areas.
Online is best: Weather apps don't work well while offline. Weather data can't be cached, as it's constantly changing. The best weather apps will always update with new forecasts and radar images, so they won't work if you don't have a good GPS connection.
Best Weather Apps
Weather Underground
Price: Free (iOs and Android)
Weather Underground works by using radar data from NEXRAD, which is a network of next-generation radar stations which are operated by the National Weather Service. It also utilizes a worldwide personal weather stations network. Each station has a suite of instruments that measure the weather, gauging humidity, temperature, wind speed, rainfall, direction, and pressure. Therefore, the real-time reports are trustworthy, as they come from the station closest to your location.
This app is super comprehensive, giving you a very detailed hourly forecast, as well as a look at the week ahead. You not only receive radar imaging, but you also get a layer showing the projected path of any storms around you, letting you know if the storm is coming your way. One of the best features of Weather Underground is First Light/Last Light. Unlike most weather apps that just tell you the sunrise and sunset times, this app shows you what's really important – when it will actually get dark. This feature is super helpful if you're out on a hike and wondering if you have enough light to go for a few more miles.
RadarCast Elite
Price: $1.99 (iOS)
RadarCast is one of the only apps that use NOAA satellites and radars, giving you high-definition radar images from the previous two hours, projecting that radar an hour into the future, giving you a Future-Cast element. Beyond this, you are able to add a layer to the map which gives you arrows that show the direction of the storm.
This app is handy if you know how to interpret radars and don't want to rely on other people's forecasts. It has some of the best imagery of all apps, and it allows you to add a number of layers to the map, such as wildfire locations, drought locations, and cloud cover. Additional layers can also be purchased, such as tables and tide charts.
One of the best features is the lighting locator, which allows you add a map layer showing you where lightning is striking in your area, making it really helpful if you're planning a mountain hike which will take you to high altitudes.
RainAware
Price: Free (iOs and Android)
RainAware focuses on short-term and hyper-local forecasting, naming it "nowcasting." The app uses data from satellites, surface stations, and radars, extrapolating precipitation areas to your location. Basically, this app will predict the local storm's path. When you open the app, you'll get a detailed weather view for the next few hours. RainAware will tell you when if it's going to rain, and where and for how long. You can also get up-to-date radar imagery and a general forecast for either the next 24 hours of for the next seven days.
The detail on the radar imagery is great, as you can track the storm up to a minute before you open the app. Another fantastic feature is the constant forecast updating, based on the storm's movement. Our favorite feature of the RainAware is rain spotting. The app will focus on what's happening in your area for the next three hours, but it is also able to tell you where the closest rain is falling just by opening the app. This feature is super handy if you're tracking a storm or planning a trip.
DarkSky
Price: $3.99 (iOS and Android)
Dark Sky works by pulling data from the network of 140 radar stations spread out across the U.S. handled by the National and Atmospheric Administration and calculates that into hyper-local weather. They theorize that weather can be chaotic in a broad sense, but patterns can be seen and predicted on a local and therefore smaller level. Your phone's pressure sensors are also used by the app, so it gets more local forecasts through a feature that reports data right from your phone. The primary data will still come from the NOAA radars forecasts, but another layer of on-the-ground information is added from the user reports.
Most of the data you'll get from DarkSky is focused on the next hour of weather in your location, as the app focuses on the here and now. If you want to know if it's going to rain in the next hour, and how hard it's going to rain, this is the app for you. When we tried it out, it proved to be quite accurate for us, as it forecasted rain on several occasions, with only a slight error margin.
DarkSky's best feature is the global radar. The app has a fantastic global view, letting you see broad weather patterns worldwide. To see what's going on in your country, state, town or even backyard, you just have to zoom in, and you can compare how your weather is faring amongst other places.
RadarScope
Price: $9.99 (iOS)
This is by far the most expensive weather app and might only be of interest to serious weather geeks. Splashing out on RadarScope will give you super-resolution and NEXRAD Level 3 radar data, meaning you'll get the highest level of radar detail available for smartphones.
This app is used by private pilots in order to navigate around storms, so it's pretty high level. You might want to skip it if you just want an app that lets you know if it's going to rain in the next hour, but if you're interested in dual-polarization, velocity, and reflectivity, this is the app for you.