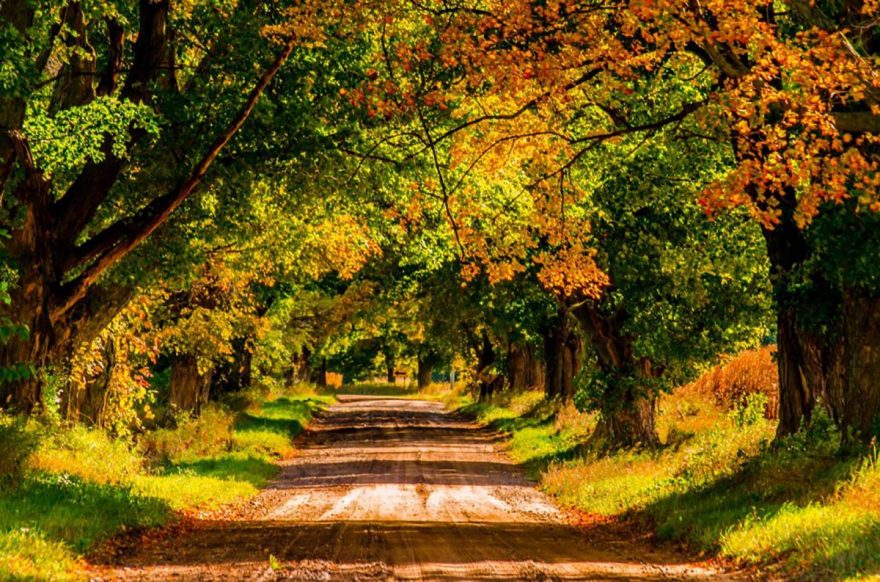 A major fall migration is about to begin. A migration not of birds or animals, but the mass movement of human beings who set out from their urban settings toward Michigan's forest lands to soak up the splendor of Mother Nature's colorful autumn palette.
Most will settle for a road tour along the state's byways, but taking it all in from behind a windshield can't compare to the experience of a stroll through the trees on the best Michigan trails. Here are five top spots where you can get an up-close and personal look at the beauty that abounds in the fall.
A couple will require a fairly significant investment in time and travel, but are well worth the effort. Others are better suited to weekenders and day-trippers. Use this information to plan ahead, but be sure to watch for "fall color updates" from local areas for forecasts on peak color.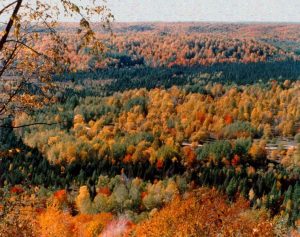 This 18-mile loop trail, near the village of Alba in Michigan's Antrim County, meanders through the Mackinaw State Forest and along the Jordan River Valley. Mature hardwood trees carpeting the valley blaze with vibrant color in the fall, making this area among the most popular leaf-watching spots starting in early October.
Highlighting the trail are Deadman's Hill and Landslide Overlook, which offer sweeping and spectacular views of the valley. A walk-in campground offers a perfect opportunity for weekend backpackers to hike the entire trail, while day-hikers can choose the 3.5-mile Deadman's Loop.
Escarpment Trail
While the Porcupine Mountains Wilderness State Park is a long way from just about anyplace else in Michigan, the time and effort spent in getting there will be well rewarded. And though the park's entire 60,000 acres is awash in fiery autumn hues during October, its Escarpment Trail is perhaps the most brilliant jewel in the crown.
Just 4 miles in length, the trail's elevation changes might challenge some folks, but the effort spent is rewarded by spectacular views of Lake Superior, the Carp River Valley, and Lake of the Clouds — a 133-acre gem that lies 1,100 feet above sea level.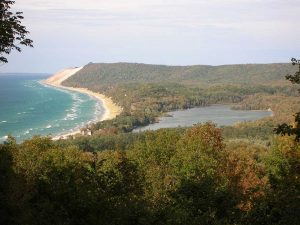 An autumn hike along the 1.5-mile Empire Bluff Trail at Sleeping Bear Dunes near Traverse City, blends water, sky, towering dunes and dazzling fall colors into a symphonic visual experience.
At trail's end, the bluff rises 400 feet above Lake Michigan's waters and offers breathtaking views of the shoreline any time of year, but the scenery is most stunning when trees are wrapped in their autumn wardrobe.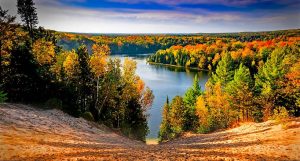 A few miles northwest of Oscoda in Iosco County, the Highbanks River Trail follows the bluffs overlooking the Au Sable River in the Huron National Forest.
During the summer, hikers often see bald eagles and other wildlife along the trail, but come mid-October, hardwood forests painted in extravagant autumn hues are definitely the centerpiece attraction.
The 7-mile trail runs east from Iargo Springs to Sid Town, offering a number of panoramic views of the river along the way.
Maple, beech and hemlock trees, ablaze in vivid fall colors, line the banks of the Upper Peninsula's Tahquamenon River in October, and the 4.5-mile trail between the Upper and Lower falls puts hikers smack-dab amongst them.
The river trail presents visitors an unbelievable kaleidoscope of gaudy oranges, yellows, reds and golds every step of the way, but due to hilly terrain and exposed tree roots, it can be a moderate to difficult hike. Those up for a bit of a challenge will be well rewarded, though.
It won't be long and Michigan's forests will change from green to gold. This year, make the most of it by hiking, biking or running on one of the state's many picturesque trails. And while every year is different when it comes to the timing of peak color, there is sure to be some spectacular views present during Michigan Trails Week, Sept. 24-30. Get out there and enjoy it!