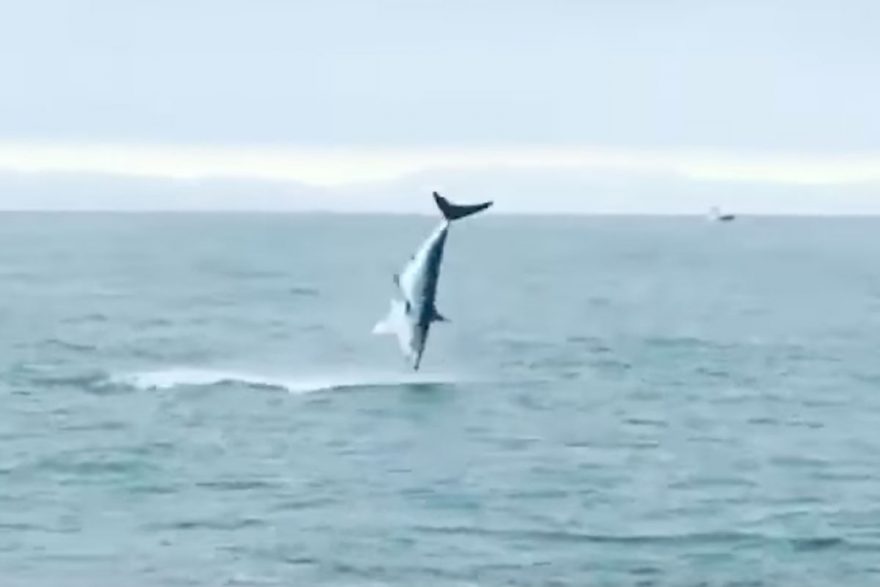 Anglers were treated to a free show courtesy of a 500-pound mako shark whilst fishing off Dana Point, California. Dana Point Sportfishing, hosting the experience, posted the footage of the shark leaping into the air and getting up close and personal with the fishers.
The crew aboard the boat were fishing for yellowtail when the mako hooked onto the mackerel bait. What followed was a jaw-dropping aerial performance which left the family on the boat screaming with amazement.
Reporting to the Orange County Register, Capt. Bo Daniel explained "The shark swam by the side of the boat and took the live mackerel bait. It took off screaming and crashed around in front of the boat. Then it started jumping right next to the boat. My deckhand, Steven LaSarge, was splashed like he was at SeaWorld with Shamu."
Ron Smith, who was there with his family, couldn't believe his luck. "I was tugging on it and in my peripheral vision, I saw a giant fish jump out on the other side of the boat," Smith mentioned. "I didn't realize how fast they move from the front to the back of the boat. It was incredible seeing it in the air, upside down and twisting."
Eventually, after about 30 minutes or so of struggling, the shark cut the line with its tail and disappeared. It is, in fact, legal to catch mako sharks but this wasn't the intention – it was just sheer luck and also that it was so close to the boat.
Mako sharks, also known as shortfin mako sharks, are terrifyingly fast swimming and known as "the peregrine falcon of the sharks". They can reach up to an impressive 20mph and can travel up to 34 miles per day. They're even known to jump as high as 9 meters in the air.