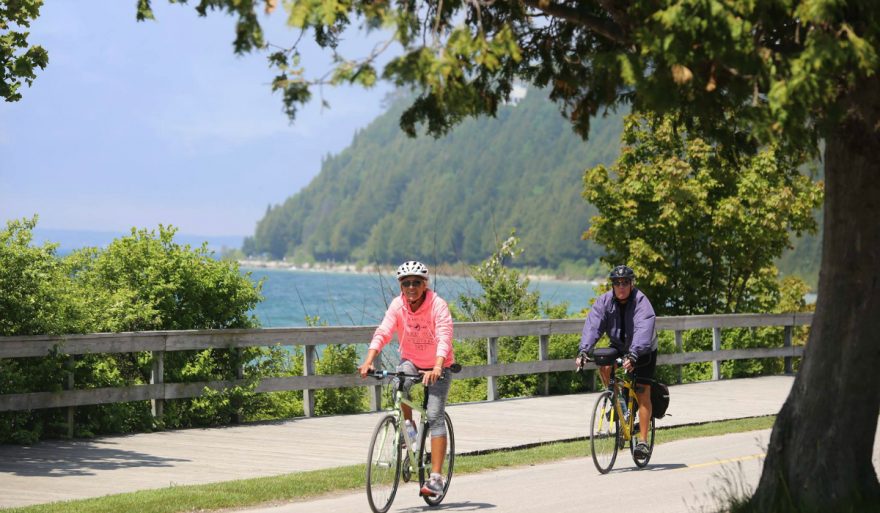 We realize that this is a tough call to make. After all, Michigan isn't recognized as the "Trails State" for nothing. It boasts nearly 3,000 miles of multi-use trails repurposed from abandoned railroad beds, plus thousands more miles of trails that weave through urban and wilderness landscapes across the state.
So, in a state surrounded by vast waters, filled with amazing geologic features and offering awe inspiring scenery at every turn, how do you choose the "6 most beautiful" bike trails? Like we said, it's a tough call. And we expect some two-wheel enthusiasts are sure to disagree. That's okay, but do us a favor and crank out a few miles on any of the half-dozen trails on our list and see if we might not be right.
Michigan's newest trail is also the longest designated state trail in the nation, with one endpoint on Belle Isle in the city of Detroit and the other in Ironwood at the western end of the Upper Peninsula. Iron Belle is unique in that it's actually one trail with two routes, with the westerly corridor through the Lower Peninsula geared toward hikers, while the eastern course is meant to maximize the bicycling experience. In the Upper Peninsula, riders follow a designated cycling route along the Lake Michigan shoreline, while hikers skirt the Lake Superior side.
Both routes make use of existing multi-use trails and pass through some of the best and prettiest urban, rural and wilderness landscapes the state has to offer. Each route is more than 60 percent complete, and work to close the gaps is ongoing.
The bicycle trail (774 miles) runs from Detroit to Bay City at the tip of Saginaw Bay, then follows along its western shore until turning west to North Higgins Lake State Park. It then heads north through Cheboygan to Mackinaw City, where riders can request cross-bridge transport to the Upper Peninsula from the Mackinac Bridge Authority.
From there the trail heads west along Lake Michigan's beautiful northern shore, then follows the Wisconsin border through the Ottawa National Forest and on to Ironwood.
We also would like to note, that both the Tahquamenon River Trail and the Pictured Rocks National Lakeshore are both part of the Iron Belle Trail.
This 26-mile bicycle route linking the resort towns of Harbor Springs, Petoskey and Charlevoix in Emmet and Charlevoix counties has an interesting history. In the 1880s it began as a footpath that was off-limits to horses and horse-drawn carriages. Later, railroad concerns took over and converted much of the original corridor to their own use. Later still – in the 1990s – a retransformation back into a non-motorized wheelway began.
Today, it's among the most picturesque of Michigan's many bicycle trails, as much of the asphalt and boardwalk wheelway skirts Lake Michigan and Little Traverse Bay, offering an open view of the water, as well as a number of scenic overlooks.
The trail is wide and fairly flat, with a number of trailheads that offer parking and easy entry. In addition, trail riders will find ample opportunities to stop, rest, eat and enjoy the view along the way.
One of Michigan's premier tourist destinations, Mackinac Island is known for the beautiful and abundant lilacs that bloom there each spring, the celebrated Grand Hotel and its world-famous fudge shops. A lesser known fact is that it has the only state highway in existence upon which automobile traffic is prohibited.
Travel the 8.3-mile State Highway 185, which encircles the island, and you'll have to do it on foot, by horse-drawn carriage or by bicycle. It's a must-do for any rider because of the incredible views of Lake Huron, the majestic Mackinac Bridge and beautiful woodland landscapes they'll encounter along the way.
The loop is an easy ride that could be done in an hour of steady pedaling, but riders should plan on up to 4 hours in order to stop and enjoy the awe inspiring vistas, as well natural and historic points of interest. Arch Rock, rising 150 feet above the water's surface and spanning 50 feet, is a natural wonder, while British Landing is where British forces successfully invaded the island during the War of 1812.
Riders can, and should, explore Mackinac Island's interior as well, on routes that lead to attractions such as the world-famous Grand Hotel, the Governor's Residence, historic Fort Mackinac and Skull Cave – a historic native burial site. And, of course, no trip to the island would be complete without taking time to explore its many gift and boutique shops, art galleries, restaurants, and especially, its famed fudge shops.
For a nominal fee, riders can bring their own bicycles to the island via ferryboat from St. Ignace or Mackinaw City. Or, rental bikes are readily available on the island.
Ottawa County, on Lake Michigan's eastern shoreline, boasts 100 miles of trails, but one – The Lakeshore Trail – outshines them all in terms of natural beauty and rider friendliness.
Twenty miles of paved pathway runs from Grand Haven State Park on the north end to Holland State Park to the south. It passes natural wonders such as Rosy Mound Natural Area – a classic Great Lakes dunes system – near Grand Haven and Pigeon Creek Marsh near the halfway point.
Kirk and Tunnel beach parks are perfect spots where riders can to take a break in the sand, use restroom facilities or stop for a scenic view of the big lake.
Though it's just more than 10 miles in length, Falling Waters Trail, connecting the village of Concord with the city of Jackson in Jackson County, traverses some very interesting and beautiful terrain.
Wide, fairly flat and fully paved, the converted rail-trail passes through lush woodlands and wetlands, as well as rich southern Michigan agricultural land. Toward its eastern end, it also travels through a geologic area of springs and lakes that early Native Americans called "The Land of Falling Waters." The region is the headwaters of not one, but four, of the state's major rivers.
To the west, where the trail crosses the Kalamazoo River, riders can enjoy a spectacular view of a vast wetlands area that's home to many types of wildlife. In fact, it's not uncommon to see whitetail deer, wild turkeys, several types of birds and waterfowl, as well as snapping, softshell and painted turtles along the way.
Falling Waters might not be a final destination for traveling cyclists, but it's definitely worth a side trip on your way to where you're going.
This amazing trail complex is meant for riders who appreciate rocks, roots and dirt as much as they do the jaw-dropping beauty of a stunning scenic overlook. In other words . . . mountain bikers – hardcore mountain bikers.
Located near the tip of Michigan's Keweenaw Peninsula, Copper Harbor Trails system features 35 miles of rugged singletrack through magnificent natural forest overlooking Lake Superior. Supported and maintained by the Copper Harbor Trails Club, the complex offers both natural geologic and manmade features that will definitely satisfy two-wheel thrill seekers.
Be warned: This is not the best place for beginners or the feint-of-heart. About 1 mile of trail is classified as "easy" on the club's website. Everything else is for intermediates and above.