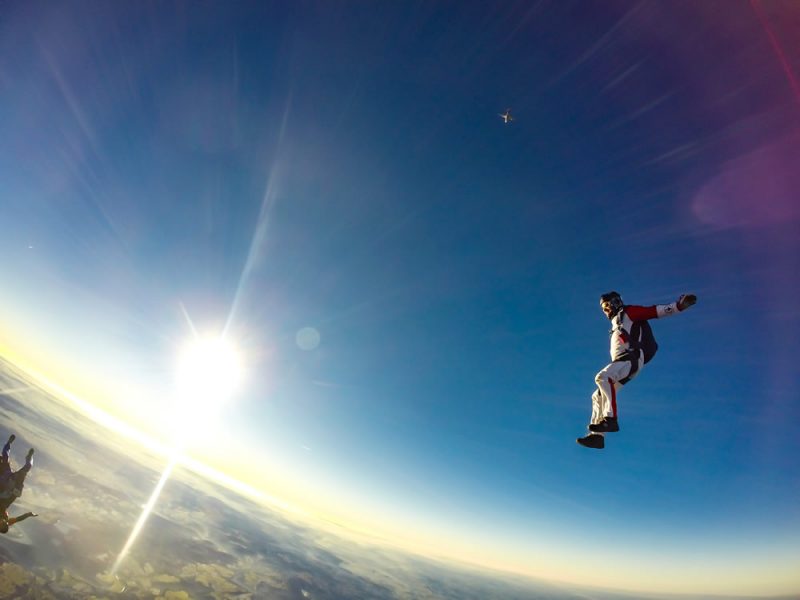 Attention all adrenaline seekers: this post is for you. If you are planning on visiting California soon, bear in mind that there is loads more to see beyond the glitter of Hollywood. Forget the faded and scripted image of California, and focus on the many incredible places this state has to offer, from mountains, valleys, redwood forests and hundreds of miles of fantastic coastline. California offers everything you need for any thrill-seeking adventure.
California offers include skydiving over Monterey's beautiful shores, zip-lining through the Redwoods, cliff climbing in San Francisco and flying over Napa Valley in a hot air balloon. So if you're looking for the ultimate guide to cross a few activities of your bucket list, read on.
California is the third largest US state by area and is commonly named as the Golden State. It's thought to be the place where dreams come true, and it really offers something for everyone. From family-friendly attractions like Disneyland to the glitz and glamor of Hollywood, to beautiful beaches all along the coast, the San Francisco Hills, Napa Valley and Sonoma vineyards to its capital in Sacramento. California is sure to fulfill everyone's needs.
However, the Golden State offers more than man-made attractions. Head outside the major cities, and you will find an incredible range of the most unbelievable wilderness, topography, and landscapes, where adventure awaits. The eight National Parks in California abound with endless activities for the adrenaline junkie, chock-full of unique places, scenery, and natural structures.
For an adventure enthusiast, California is one of the best places to explore, as you can find pretty much any kind of outdoor adventure you're seeking. Adventures await not only in Southern California; the Bay Area has a lot of adventures awaiting.
The Bay Area residents believe that they have the best of both worlds. They get to revel in a city brimming with Victorian architecture and unsurpassable views, but they are just a quick drive away from some of the most amazing parks, beaches, and vineyards. There are lovely weekend adventures to be had, from more tame bike rides around San Francisco to more thrilling outdoor activities to get your adrenaline going, including zip-lining in Sonoma to Kayaking in Tomales Bay.
Southern California is not far behind, and just a few minutes from LA, there are also a lot of extreme adventures to be had. Read on to experience all that California has to offer, and get your thrill on.
Snow Sports
California offers some fantastic snow activities, from all the way down to the border with Mexico to the northern tip of the state.
Vacationing during winter in the Golden State means the opportunity to downhill ski on world-class runs at Lake Tahoe or Mammoth, cross-country ski down the Sierra Nevada Mountains. More thrills are also available; you can learn how to ascend a frozen waterfall, or do aerial twists. An excellent source of information is the California Ski Industry Association, but read on to get more great tips on the best places to snow sport in California.
Snowboarding and Downhill Skiing
Where Can I Do It?
Lake Tahoe – Lake Tahoe, CA
Lake Tahoe is a snow sports lovers dream during wintertime. The amazing sparkling lake is surrounded by incredible mountains offering a lot of places for snowboarding and downhill skiing. There are more than a dozen resorts scattered around the mountains that surround the lake, meaning that there's no chance you'll run out of challenging downhill runs with major drops or incredible terrain parks where you can snowboard. All of the big name resorts, such as Heavenly in South Lake Tahoe, Squaw Valley, where the 1960 Winter Olympics were held and Northstar are equipped with all the amenities you need, and then some: equipment rentals, restaurants, resort hotels and spas, high-speed lifts and ski and snowboarding schools.
Mammoth Mountain & Mount Shasta – Northern California
Great skiing and snowboarding are also available in Mammoth Mountain, Big Bear Lake which is more family oriented, and California's oldest ski resort, Badger Pass can be found in Yosemite National Park . If you are looking for something more off the beaten path, Mt. Shasta Board & Ski Park is highly recommended. It also has one of the largest night skiing operations in California.
Sledding, Ice Skating, and Snow Tubing
Where Can I Do It?
Artificial ski rinks pop up all over California's largest cities during winter, including Embarcadero Center in San Francisco, and Pershing Square in LA. If you are looking for more thrills and higher elevations, head over to Squaw Valley in Lake Tahoe, where the skating rink sits over 2000 feet above the lake.

For snow tubing and sledding, there eighteen of California's public Sno-Parks around the Sierra Nevada offer some great winter fun.
Extreme Snow Sports
One of the newest and most adrenaline inducing snow sports available is snowkiting, a combination of sailing and skiing, where professionals attempt heart-stopping acrobatics while gliding through the air atop the mountains. If you want to try it out, head over to the Sierra Snowkite Center to be taught how to start flying amongst the snow.
Kayaking
There are plenty of spots to kayak both in Northern and Southern California, both for the experienced kayaker as well as beginners. You can choose a guided tour, or for the more extreme-minded, go off on your own. Our two favorite spots are the Channel Islands and Tomales Bay.
Where Can I Do It?
Channel Islands – Santa Cruz, San Miguel, Santa Rosa and Santa Barbara islands, Southern California
The Channel Islands are just off the coast of Ventura and Santa Barbara and are a dream come true for marine and outdoor lovers. Get on a kayak and explore these untouched islands, including Santa Cruz Islands Painted Cave, which happens to be the largest sea cave. You will paddle through crystal clear waters, see abundant wildlife and explore hidden coves.
Tomales Bay – Marin County, CA
The best way to see the Tomales Bay's diverse wildlife is through kayaking. The stretch of water available for kayaking is over 15 miles long, and you can find abundant wildlife, from seals to bat rays to the fascinating lion's mane jellyfish. Don't forget to stop by one of the many oyster farms around the area for some of the best and freshest oysters you will ever experience.
Hiking
The Golden State is a hiker's paradise, with an incredible diversity of landscapes. While hiking, you can explore Yosemite Valley, the stupendous Big Sur mountainous coastline, the sublime snow-capped Mount Shasta and untamed and rugged wilderness in Solstice Canyon. A lot of the national parks can also boast of having record-breaking statistics. Mount Whitney has the highest summit in the continental United States, the tallest waterfall in North America can be found in Yosemite, and Redwood National and State Parks are home to the world's tallest trees.
Easy, moderate and strenuous trails can be found in California, so there is something for everyone. If you are an experienced hiker, we also recommend tackling the Lost Coast and Mount Whitney.
Where Can I Do It?
The Lost Coast Trail – Shelter Cove, CA
This trail is almost 60 miles long, and it's the best place to relax and isolate yourself in an unspoiled wilderness with your thoughts, while also getting a great workout. This trail will take you through beaches, creeks, rocks and forests while gazing at the most amazing sea views. Diverse wildlife can also be encountered, including sea lions, seals, and Roosevelt Elk.
You want to be prepared if you want to tackle the Lost Coast, as a portion of the trail disappears at high tide, as it becomes submerged. The trails can be steep, and campsites offer basic or no amenities, so bring your own food, water, and gear.
Runyon Canyon Park – Los Angeles, CA
This is a great option if you're staying in LA. This hidden 130-acre gem in the middle of Los Angeles is just two blocks from Hollywood Boulevard, and it's a locals favorite. The park offers various trails, all offering incredible views of the LA cityscape and California's landscape. It's even possible to see Catalina Island and the Pacific Ocean from certain vantage points.
Mount Shasta – Siskiyou County, CA
For extreme adrenaline seekers, Mount Shasta has great intense hiking opportunities. You can climb to the highest peak of the volcano which stands at 14,162 feet and be rewarded with breathtaking views. The climb to the top is not easy, requiring some good equipment and excellent skills, so make sure you're prepared for the grueling hike.
Rock Climbing
California has a wide variety of bouldering and rock climbing areas. Two of them are considered world class destinations, Joshua Tree and Yosemite.
Where Can I Do It?
Joshua Tree National Park – Southeastern California
Abundant rock formations and beautiful landscapes can be found in Joshua Tree National Park. There are lots of trails to discover as well as plenty of rock structures to climb. If you're just starting out, there are lessons you can take to improve your skills as well as guided tours, and if you're an experienced rock climber, there are some challenging adventures to be had. The surreal landscapes, grippy stones and mild temperatures make this a must see area on any climber's list.
El Capitan, Yosemite National Park – Mariposa County, CA
As we mentioned above, Yosemite National Park is one of the greatest rock-climbing destinations in the world, and El Capitan is it's most famous climbing rock. This imposing granite monolith rises 3200 feet above the Merced River, and it guards the entrance to Yosemite Valley. Mostly reserved for advanced climbers, as the 31 pitch ascent can take up to five days, though elite climbers have been known to tackle it in just a day.
Castle Rock – Los Gatos, CA
You climbing itch can also be scratched in the Bay Area, by visiting Castle Rock. This state park sits atop the Santa Cruz Mountains and offers unusual rock formations, sublime views, and steep canyons. Both advanced and moderate climbing routes abound, but beginners should not fret, classes are offered for newbies.
Zip-Lining
If you want to try out zip-lining, California has plenty of zip lines to offer. Bear in mind that a lot of companies have some physical requirements that you need to meet, so be sure to check with them before booking.
Where Can I Do It?
You now have the opportunity to soak in the luxuriant Sonoma countryside from 150 feet above the ground, with speeds reaching 25 mph. The Sonoma Canopy Tours take you high above the redwoods on a must-see thrilling excursion right through the heart of wine country. Glide across 800 feet of cables, cross some adrenaline inducing sky bridges and end your day rappelling down an 80-foot redwood.
Redwoods – Redwoods National and State Parks, CA
While visiting the redwoods forest, you can spend almost three hours soaring through the world's tallest trees, and get the chance to learn about the Coastal Redwood ecosystem. Spiral staircases leading to sky bridges and rappelling to the forest floor add to the adrenaline rush of this experience.
Hang Gliding
It's possible to have wings in California. Through hang gliding, you can soar through the terrains of the East Bay or glide through the shores of the Pacific Ocean.
Where Can I Do It?
Fort Funston – Golden Gate National Recreation Area, CA
If you're ready to soar to great heights, there's no need to look any further than Fort Funston. It's thought to be one of the best hang-gliding regions in the San Francisco area, offering high cliffs and steady winds. You can experience seeing the Bay Area at ultra-high altitudes, and the great thing is you can do it year round. There are a lot of shops around the area offering introductory hang-gliding courses.
California Coastline – Northern California
If you're looking for a more scenic view, then soar above the California Coastline. The spectacular coastline of Northern California is world famous, and one of the best ways to take it all in is by hang-gliding through the air, soaring like a bird.
Kitesurfing
There are plenty of kiteboarding choices in California. Kiteboarding in the Pacific Ocean is a magnificent experience, despite its relatively cold temperatures. You just need to know that the best time to do it is during the summer, as the difference in the temperature between the land and the water creates the perfect breeze for kiteboarding.
Where Can I Do It?
Oyster Point Park – South San Francisco, CA
Oyster Point Park in the Bay Area is known for having the wildest currents and the strongest winds, making this a world-class kitesurfing area, especially at Golden Gate and Crissy Field. Elsewhere in the Bay Area, reliable and high winds can be found, making this a great spot for sailing waves, for both experienced riders and beginners. Some great places are Ocean Beach in the heart of San Francisco. The most popular kiteboarding spot in Northern California is 3rd Avenue, so don't miss it!
Bungee Jumping
Bungee jumping might be one of the wildest experiences your body can go through, but the exhilarating feeling of falling through the air cannot be replicated, and it's a must-do for any adrenaline junkie.
Bungee jumping is a very popular sport, but unfortunately, due to the nature of the sport, there aren't may professional companies in California. You might need to drive a couple of hours outside the main cities to find a bungee jumping location, but the sensation of standing at the edge of a cliff or bridge with your heart pounding is well worth it.
Where Can I Do It?
Bay Area – Northern California
This is one of the favorite spots to bungee jump, but a drive is still required, as the closest bridge is a two and a half hour drive. The closest places are Placerville and west Yosemite.
Whitewater Rafting
You can't deny how awesome it is to go whitewater rafting in California's waters, and how many possibilities they offer. You can spend a lazy day floating around in tubes, run through some Class III whitewater rapids, take a multi-day tour taking you through some of the best scenic locations, or even experience some of the most challenging Class V rapids in the country.
Where Can I Do It?
American River – Sierra Nevada Mountain Range, CA
This river is located in the heart of Gold County, and it offers something of everything: breathtaking scenery, peaceful calms, various rapids and narrow rocky gorges. The American River is made up of three sections: North Fork, Middle Fork, and South Fork and it's a really popular whitewater rafting destination.
Rafting in the Middle and South Forks, which are between class III and IV is available from April through October, but you can only whitewater raft in the North Fork, classified as class IV+ during April and May.
Cherry Creek/Upper Tuolumne River – Cherry Creek, CA
This river is only recommended for advanced and expert whitewater rafters, so go at your own risk! The drops average 110 feet per mile, and there are 15 class IV and V rapids along with numerous class V+ rapids. Since parts of the river drop over 200 feet in a single mile, an excellent physical condition is required.
You won't have much time to take in all the splendor of the scenery, but on those few chances where you have time to look around, you will experience one of the most splendid canyons in California. This river can be rafted from June to October.
Scuba Diving
If you've ever wanted to explore the deep blue sea, California is the place to do it. If you're a beginner, there are plentiful of places offering you lessons so you can go ahead and dive into the ocean and explore the underwater world of the Pacific Ocean, including kelp forests, rocky reefs and an affluence of marine life.
Where Can I Do It?
LA Coast – Los Angeles, CA
While scuba diving off the coast of Los Angeles, you can wander through the kelp forests of Catalina Island and swim with the playful sea lions of Barbara Island. You can also spot all kinds of sea life in Veteran's Park, including sharks and octopi, halibut and California's giant crab. If you're lucky, you might even spot leopard and horn sharks to get your heart racing.
Southeast Farallon Island State Marine Reserve – San Francisco, CA
If you make your way to the Farallon Islands, nicknamed Farallones, you'll encounter one of the world's most famous ecotourism spots. Located off the coast of San Francisco, you'll swim amongst a group of islands, and it's a great place to spot blue, humpback, killer and gray whales every summer and fall.
Skydiving
Skydiving is the go-to adrenaline rush for thrill seekers looking for that ultimate heart-pounding and hair-raising experience. Everyone says they want to do it, are you ready to go forth and experience it? There are over a dozen drop zones in California, each featuring different strengths, from the highest jumps to the best ground facilities.
Where Can I Do It?
Skydive Perris – Perris, CA
Skydive Perris is one of the largest skydiving centers in the world, having hosted over 70,000 jumpers. It's a two-hour drive from LA, but well worth the trip. You can experience a 12,500-foot jump, and an indoor skydiving wind in their facilities if you want to prepare yourself before doing the real thing.
Skydive Monterey Bay – Monterey Bay, CA
If you're ready to skydive, why not start with the world's highest jump? Skydive Monterey Bay provides you with nearly 90 seconds of freefall, and if you manage to keep your eyes open during the whole time, you are rewarded with around six minutes of unparalleled views of the mountain ranges, Santa Cruz, Salinas Valley and the Pacific Ocean.
Diving With Sharks
There's a popular saying that says one man's heaven is another man's hell. This is particularly the case when it comes to cage diving. For adrenaline junkies, being dangled in an iron cage in the middle of the Pacific Ocean while surrounded by sharks is high on their bucket list. For others, it's their idea of purgatory. If you're ready to conquer your fears, California offers you a chance to come face to face with sharks.
Where Can I Do It?
San Diego – San Diego, CA
One of the best spots to catch a glimpse of mako sharks is San Diego. They are abundant in this area from June to November along with blue sharks, as they follow their food to the San Diego coast. You'll get a chance to experience both of these sharks without a cage, so it's sure to make your heart pound a little bit faster!
Farallon Islands – San Francisco, CA
The shark season is only from late September through November, so plan ahead if you want to get a chance to experience cage dives and encounter a great white shark. You will also get the opportunity to see porpoises, whales, and seabirds. There's no need to know how to scuba dive, and if you're not quite ready to jump in, there's a chance of seeing sharks being fed while staying safe and dry.
There's a whole lot of world and adrenaline to experience in California, so go out there and enjoy it!