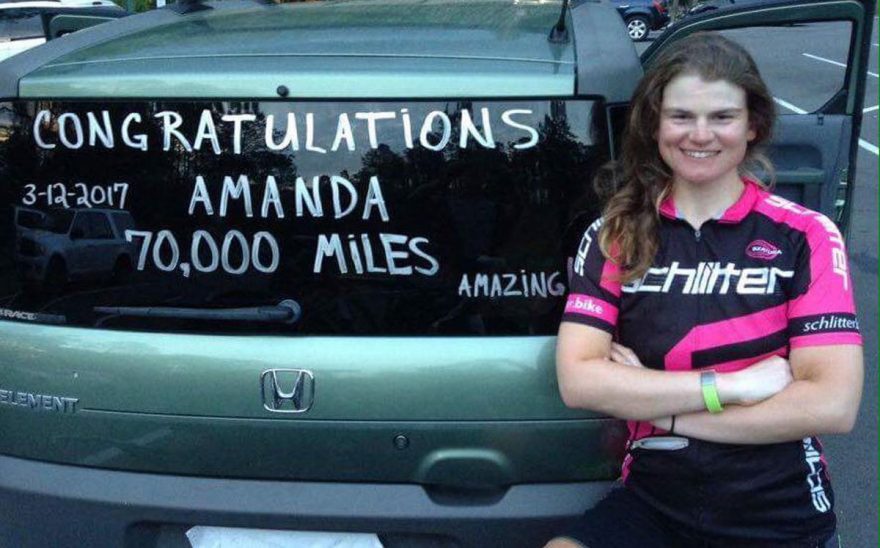 Averaging more than 236 miles per day, Amanda Coker not only broke but smashed the record for the most miles ridden on a bicycle in one year, covering over 86,000 miles. This beat the previous record by more than 10,000 miles.
Coker, 24 years old, traveled the equivalent of nearly four times around the world in order to complete the impressive feat. You may be thinking that she got to see some incredible places on her travels. Did she? No, is the short answer. For the majority of the year, Coker rode her bike along a seven-mile loop around Flatwoods Park, Tampa, Fla.
The Backstory
In 2011, along with her father, Ricky, were riding their bikes near their home in North Carolina when they were hit by a distracted driver. Amanda suffered many, if not all, of the symptoms of serious brain injury and her dad, a broken back. Her injuries resulted in her leaving school as well as suffering from anxiety and depression.
It took a while for Amanda to want to face cycling again and it was in 2015 that she suggested a cross-country bike ride with her father. Due to the injuries, Ricky was unable to pedal along but did ride behind her on a scooter for around 3,000 miles. It's safe to say this was enough to ignite the fire again and fuel her passion for being on a bike.
The Challenge
Amanda set off on her challenge, encouraged by the men's record holder, on May 14, 2016, and beat it in 4 and a half months. The previous woman's record had stood at 29,603 miles since 1937.
Riding through hurricanes, wildfires, good, and bad weather, Amanda didn't go a day without racking up miles. Even on her slowest day, she managed to clock over 50 miles and on her best day she clocked over 300 miles.
There's a lot to be taken away from this inspirational achievement. It goes to show that our limitations are very little to do with physical barriers but rather psychological ones. This can be applied not only to sport but all walks of life. Well done, Amanda.