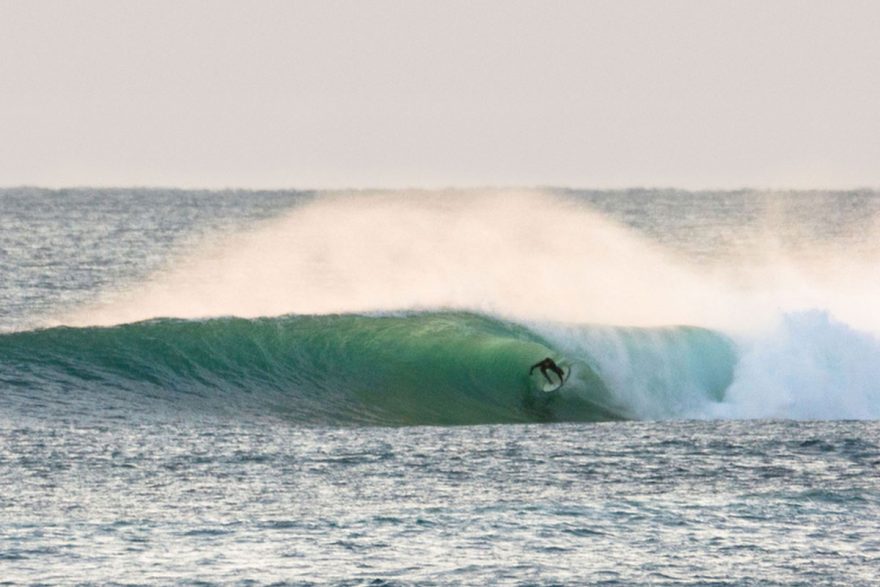 Have you heard of Chris Burkard and his new film, Under an Arctic Sky? If not, where have you been?
Burkard, a photographer and all-around adventurer, has produced a film alongside Sweatpants Media which is a documentation of the journey of six surfers searching for waves under the Northern Lights off the coast of Iceland.
Burkard is a highly skilled photographer, as well as director, author, speaker, and explorer. He is a man of many talents and is passionate about everything outdoors. In order to produce the film, Burkard worked alongside independent film production agency, Sweatpants Media. They launched an incredibly successful Kickstarter campaign to raise the funds for post-production and the worldwide tour. The total amount raised ended up being over $280,000.
Although Iceland was set to have its worst storm in 25 years, the surfers and crew braved the challenging conditions and their efforts have paid off. Here is the official trailer for the film.
The first round of the film's tour is underway and there are plenty of days still scheduled.
NEW YORK, NY —  4/23/2017 thru 4/29/17 — Tribeca Film Festival
NEWPORT BEACH, CA —  4/24/2017 — Newport Beach Film Festival
ENCINITAS, CA  —  5/3/2017 — La Paloma Theater, 471 S Coast Hwy 101, Encinitas, CA 92024
SAN CLEMENTE, CA  —  5/4/2017 — Album Surf Shop, 1705 N El Camino Real, San Clemente, CA 92672
LOS ANGELES, CA —  5/5/2017 — Downtown Independent,  251 S Main St, Los Angeles, CA 90012
LA WORKSHOP – MAKING OF UNDER AN ARCTIC SKY —  5/5/2017 — 251 S Main St, 251 South Main Street Los Angeles, CA 90012
VENTURA, CA —  5/6/2017 — Iron & Resin Shop, 324 E Main St, Ventura, CA 930012
SAN FRANCISCO —  5/9/2017 — Victoria Theater,  2961 16th St, San Francisco, CA 94103
PORTLAND, OR —  5/10/2017 — Aladdin Theater,  3017 SE Milwaukie Ave, Portland, OR 97202
SEATTLE, WA —  5/11/2017 — EVO,  3500 Stone Way N, Seattle, WA 98103
SEATTLE, WA —  5/13/2017 — Langston Hughes Performing Art Institute
VANCOUVER, BC —  5/14/2017 — Patagonia, 1994 W 4th Ave, Vancouver, BC V6J 1M5, Canada
TOFINO, BC —  5/16/2017 — Shelter, 601 Campbell St. Tofino, BC V0R2Z0
ANCHORAGE, AK —  5/18/2017 — Beartooth Theater, 1230 W 27th Ave, Anchorage, AK 99503
WHISTLER, BC —  5/20/2017 — Whistler Film Festival Adventure Film Series
SALT LAKE CITY, UT —  5/23/2017 — Megaplex Theatre, 165 S Rio Grande St, Salt Lake City, UT 84101
NEW YORK, NY —  5/24/2017 — TBD
TORONTO, ON —  5/25/2017 — TBD
MONTREAL, QC —  5/27/2017 — Théâtre Rialto, 5723 Park Ave, Montreal, QC H2V 4G9, Canada
QUEBEC CITY, QC —  5/28/2017 —L`Imperial de Quebec, 252 Rue Saint-Joseph Est, Quebec Canada
SILVERTHORNE, CO —  5/30/2017 — Silverthorne Pavilion, 400 Blue River Parkway Silverthorne, CO 80498
BOULDER, CO —  5/31/2017 — TBD
DENVER, CO —  6/1/2017 — TBD
SAN LUIS OBISPO, CA —  6/2/2017 — Fremont Theater, 1035 Monterey St, San Luis Obispo, CA 93401