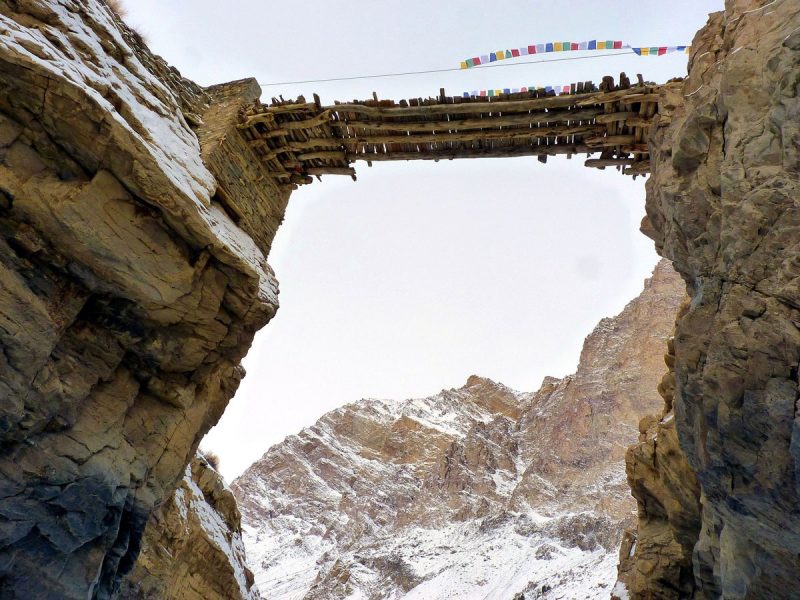 Some outdoor enthusiasts such as trail runners, mountaineers or mountain bikers regard hiking as the 'weaker sibling', claiming that there's not enough adrenaline or speed. However, these hikes, reserved for very experienced hikers only, are some of the world's toughest and most dangerous.
From a frozen river deep in the Himalayas to a trail that kills almost one hundred people a year, there's something for every trekker looking for a thrill. A lot of preparation, specialized equipment and a lot of bravery are required to tackle these treks.
They are located all around the world waiting to be discovered, and while there are many dangers to be encountered, including wild animals, exposure, falling rocks, heat and no trail markers, completing them is one of the most rewarding experiences you can have. Many people can complete these routes unscathed, but be warned that a couple of mistakes can lead to serious injury – or even death.
Kokoda Track, Papua New Guinea
This trek has a rich history, as in 1942 it was the backdrop of a battle between Australian and Japanese fighters. This route was almost inactive until sometime in the past ten years or so when the sixty-mile trek, which connects Port Moresby to the Kokoda village, was discovered by adventurous trekkers.
Due to its long distance and treacherous conditions, this trek can take anywhere from five to eleven days to finish. Ask someone who knows to describe this trail and most likely the words 'hostile' and 'remote' will be used. Considering the location of the route, the rescue times can vary from a few hours to days and even weeks.
The trail will take you into the Owen Stanley mountain range, into the heart of its forest. Expect to experience hot and humid days, rain-soaked days and bitterly cold nights, suitable only for the most experienced and fit hikers. Dangers to your health such as malaria and other tropical illnesses are a high concern.
2009 was not a great year for the trail, as 13 people heading to the trailhead were killed in a plane crash, and four more trekkers died while hiking the trail. Some trekkers have referred to the hike as a StairMaster in a steam room. Count on harsh conditions including slippery roots, ankle-deep mud and soaring temperatures during the day.
However, in spite of the numerous dangers including parts of the trail that become waterfalls, poisonous plants, rushing streams with log crossings the dramatic and astounding of the rivers and valleys make this trek one memorable experience.
In the recent years, Papua New Guinea and Australia's governments have been improving the trail's conditions, making more modern facilities available. The dangers still remain, but the route is becoming more accessible.
Devil's Path – New York State, USA
You wouldn't expect to find a dangerous trail in New York, but Devil's Path Trail honors its name. According to official records, there is at least one death each year on this trek, be it from a fall or heart attack.
You can find it located in the Catskill Mountains. It may seem short, as it's only 25 miles long, but its treacherous conditions and a total of six peaks to climb mean it can take you several days to complete it.
The whole trail is filled with vertical slopes, extremely rocky terrain, very slippery sections and extreme downhills. Expect to find a number of bears during the trek, so follow proper safety precautions.
The hike up to Indian Mountain is six miles long, with unrelenting steep terrains and some sections will require you to hoist yourself up by clutching to slippery roots. You will also find a "chimney" where you will have to navigate a ten-foot cliff and go around a fallen tree, steep gaps requiring you to use your hands and feet up sheer rock cliffs and rocky chutes.
Once you manage to complete the trek, you will be rewarded with incredible views of the Catskill Range, making it all worth it.
Kalalau Trail – Kauai, Hawaii
This trail is located along the coast of Na Pali and boasts of steep volcanic steps, an isolated jungle and rewards you with a pristine underdeveloped beach once you complete it.
It is eleven miles long and sits atop of cliffs towering 4,000 feet above the ocean. While the trail might be graded, it's barely level as it winds you along five valleys and to the top of towering cliffs, passing amongst jungles and waterfalls.
Some of the common dangers include the three major streams swelling rapidly when its raining and causing a flash flood, thick mud, falling rocks around waterfalls and lots and lots of rain. You must hike this slippery trail with extreme caution, as one failed step can send you down into the ocean. This is particularly the case of Crawler's Ledge, where the path is only a sheer ledge next to the cliff.
Countless accidents have happened on this trail, and several people have lost their lives. However, you should be most aware of swimming on the trails beaches, as more than a hundred people have died while doing so. Also watch out for the transient community that lives on the shore, as they can be rough. A few years ago, a Japanese hiker was thrown off a cliff by a drug addict.
Expect narrow passages, extreme inclines and declines, narrow passages and rip tides, which make this trek suitable for experienced, adrenaline loving hikers. There are no facilities around, so make sure to come well prepared with lots of water and food for the duration of your hike.
West Coast Trail – Vancouver Island, Canada
This trek is 48 miles long, and very popular amongst extreme hikers, being visited by hundreds of people yearly. It doesn't come with the usual extreme dangers such as lava, snowstorm or other extreme factors, but it does require determination and experience. Expect to find wooden bridges, steep slopes, and long ladders when trekking through the West Coast Trail. Due to its very wet weather year round, things can become slippery, and you can quickly lose control.
A common injury is a twisted or sprained ankle due to the slippery conditions, but experts comment that if that's the only injury you get out of the experience, you should consider yourself lucky.
One of the most real dangers in this trek is the presence of predators. A lot of wildlife lives in the forests you're hiking through, including cougars, black bears, and wolves. While not common, they have been known to attack hikers. You will also have to slog through waterways, encounter beaches where the path is blocked due to high tide and lack of services, such as food and water. This trek has been completed by many hikers already, but it's still extreme, so if you're planning on taking it on, don't do yourself a disservice and prepare for it beforehand.
Chadar Trek – Himalayas, India
This is one of the toughest treks to be found in India, taking approximately six to eight days to complete and reaching altitudes up to 10,900 feet. You might have seen a picture of Buddhist Monks walking barefoot along the river, as they have been published in hundreds of magazines all over. However, knowing that they walk this trail barefoot should not lead you to believe that this is an easy trek; it's definitely not for the faint of heart.
To complete this trek you must cross the frozen river of Zanskar. Depending on the time of year it can gurgle bubbles while water escapes the ice or a solid sheet of ice. Since the ice is not stable and is prone to breaking, you can only cross it by the slippery rock trail along the riverside.
However, this isn't the only dangerous part of the trek, as temperatures are below freezing throughout the journey. Expect freezing cold temperatures during the day, dropping to minus 30 degrees Fahrenheit during the night. Your willpower will definitely be tested when you are sleeping in caves in those temperatures so come prepared with warm clothes, experience, and the right attitude. This unique adventure is certainly the experience of a lifetime.
Skyline/Muir Snowfield Trail – Mount Rainier, Washington, USA
The inclusion of this trail on this list might be surprising, as it seems to be just a short mile trek. You start off by meandering through a gorgeous mountain meadow filled with picturesque wildflowers, with increasingly nicer views as you saunter through shimmering lakes, lush forests and breath-taking views. Then that's when the trail starts to get intimidating. Inexperienced hikers start the trail in t-shirts and shorts and end up with hypothermia due to the plummeting temperatures halfway through. The average annual temperature of Mount Rainier is 27.1 degrees Fahrenheit, and the summits temperature has never peaked above 72 degrees.
When you begin the 2,800 vertical Muir Snowfield climb is when the real challenge begins. It's a totally vertical, snowy and cold climb, with unpredictable weather. Around a hundred people have lost their lives on the trek, due in part to the storms blowing in off the Pacific Ocean. They have suffered hypothermia, been blown off a ridge of have been overtaken by an avalanche. Mount Washington State Park's website warns, "There are no guarantees that hikers will escape the mountain unscathed, so if absolute safety is what you require, then avoid a visit."
Being able to see Mount Rainier, an active volcano, up close is what makes it worth it, along with the breath-taking scenery along the trek.
The Snowmen Trek – Bhutan
The Snowmen Trek is Bhutan's toughest trek, due to its steep ascents and high altitudes. The trek takes twenty-four days to complete, from Paro to Nikka Chhu, so it's not for the inexperienced. It is a high altitude trek, as you will never be below 13,000 feet above sea level, and is almost 17,500 feet at the highest pass.
Some of the challenges you will face include the remoteness of the area, arduous weather conditions, and consistently high-level passes.
If you want to experience this trek, be aware that there's only a short period of time where you can go during summer, as it's closed throughout most of the year due to snow. You will be greeted with incomparable views of the Himalayas, dense forests, snow-capped mountain peaks and lush valley landscapes.
When you're there, a visit to the separate mountain kingdom of Lunana should not be missed. This memorable landscape will offer an exciting challenge for experienced hikers and make it a once in a lifetime experience. Take into consideration that while experience is vital, you also need to be flexible, as it has constantly changing weather conditions and it's in a very remote location.
El Caminito del Rey – Spain
El Caminito del Rey or "Little King's Path" is known as one of the world's scariest hikes as it hangs one hundred feet up on sheer cliffs. Located in El Chorro Gorge in Malaga, the trail is a two-mile steel and concrete path, which was constructed over a hundred years ago for local hydroelectric plant workers, but it became a destination for thrill seekers.
It was closed for a few years due to an increasing number of deaths and crumbling pathways, but that did not deter daredevils from taking the steep paths heading up the cliff. It reopened in March 2015 after some renovations from the Spanish government, so while the crumbling pathways have been restored the main source of fear – vertigo – still remains. If you are afraid of heights, this isn't the trek for you.
Drakensberg Traverse – South Africa
Drakensberg Traverse is not only long, but it's also one of the toughest treks around. The trail is around 150 miles long, and it lacks a marked trail or prescribed route. The most challenging part may be the beginning of the trek where two rickety chain ladders take you to the ridge, where the trail is made up of herding trails, rock scrambles, and animal tracks.
Once you've managed to find the trail on top of the ridge, you will encounter windy conditions, intense hills, mud and snow all along the trail. What you won't encounter are facilities, checkpoints, or markers so you're fully on your own and must be self-sufficient to complete the trek. Other dangers include cold weather, altitude sickness, and an uneven terrain.
What makes this trip worth it are the rewards, including the Amphitheatre, an enormous rock cliff, the sun rising over the incredible landscape and the towering waterfalls.
Stats report that there are 55 deaths reported here prior to 1985. No more official stats have been out, but reports state that there is at least one death every year on this hike through Natal National Park.
The Death Trail – Mount Huashan, China
Mount Huashan stands 7066 feet tall. For centuries, pilgrims have climbed the five spires of Mount Huashan. All of the climbs are risky and unsafe, as they boast nearly vertical stairways, a virtual lack of handholds. However, this plank trail, aptly called The Death Trail, lives up to its name as the most dangerous one of them all. The trail consists of wooden platforms nailed to the mountainside and even getting there is challenging, as you have to climb a vertical staircase. The trek is made even more treacherous by the absence of planks, worn wooden planks, and rusty chain handles.
The danger increases when you take into account the overwhelming amount of people that want to climb to the historical Taoist monasteries. No death statistics have been published, but unofficial reports have the number of deaths at around one hundred per year. This is considered one of the most dangerous and scary treks in the world, no matter your level of experience.