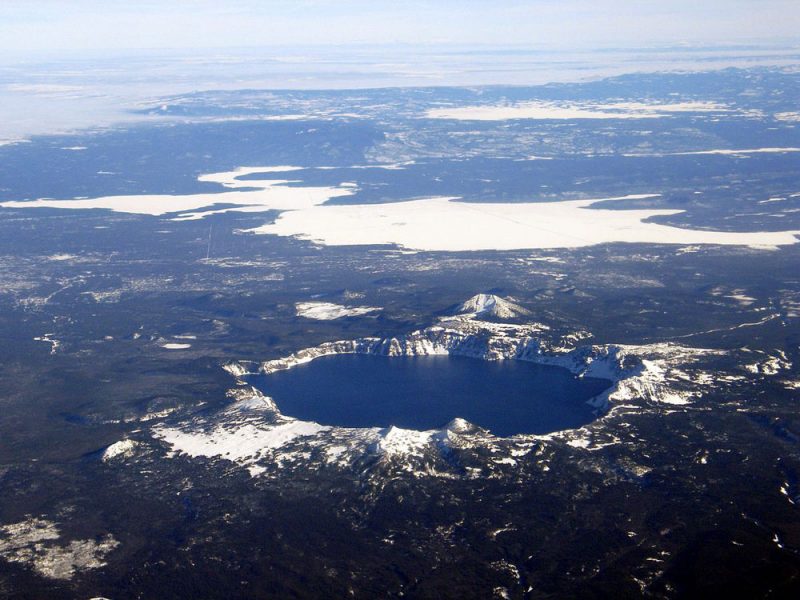 Being the deepest lake in the US, Crater Lake National Park has a lot to offer and it's one well worthy of a visit.
The lake itself is an impressive 1,943 feet deep and its blue waters will provide the ideal backdrop for a day out. The lake is 5 miles wide and is encompassed by cliffs which reach up to 2000 feet in height. In winter months, the national park welcomes an average of over 500 inches of snow.
Aside from the main attraction (the lake itself) this national park has offers plenty to do, with lodges and activities perfect for family trips.
Why Should You Visit?
As we mentioned, one of the main reasons people visit the park is due to the stunning scenery offered. However, it's not just a good looking park, it has some personality to offer too:
The lake is among the clearest in all of North America and winter scenes here are near unrivalled.
The land around the national park is virtually untouched, meaning it's a fantastic location for those who love to get close to nature. You can make the most of this when you're not cruising the large lake.
There are many accessible trails for you to complete, which offer fantastic views of waterfalls and the stunning nature.
When the day comes to a close, you can lodge right next to lake's edge, at Crater Lake Lodge. Further still, you'll be left staring at the deep, starry night sky.
When Should You Visit?
Depending on what kind of adventure you're looking for, the time of year you decide to go should be considered when planning your trip here. The high season for the park is July and August due to the fact it's warmer at this time.
Throughout the winter months, some of the park faces closures due to heavy snow. Often, this can happen between October and June. For much of the year, North Entrance Road and Rim Drive are closed. Usually, in April there is an effort made to clear the snow.
How to Get to the Park?
There are several ways to access the park, depending on where you're coming from and what mode of transport you're taking.
Airplane: Medford is the closest airport, which is 80 miles away. From here, you can rent a car to get to the park.
Train: AmTrack allows you to get to Klamath Falls, which is around 60 miles from the park. Here, you should be able to arrange a shuttle or rent a car to get there.
Vehicle: Fortunately, there's no size restriction on your vehicle, however you do need to watch out as there can be small, twisty roads, wildlife and cyclists.
Camping Opportunities
If you want to make the most of the outdoors, then you'll want to choose to camp at Crater Lake. If you're not choosing one of the two campsites, then you'll have to obtain a permit to enjoy the backcountry camping. The permits are free and can be received from the Park Headquarters.
For obvious reasons (snow), the camping season at Crater Lake is fairly short, so the best time to camp is in the warm, summer months.
For backcountry camping restrictions, take a look here.
Mazama Campground: 7 miles south of Rim Drive, you can camp here for $22 per night, or take an RV here for $31 per night. For RVs, you can benefit from electric and water hook-ups.
Lost Creek Campground: This is a smaller campsite, available for tents only at $10 per night.
Don't Miss
You could spend a lot of time a Crater Lake and still want to explore more and a do more. However, there a few 'must dos' when you're there:
Wizard Island: Cinder cone is a rock formation, rising from the lake as a result of a volcanic eruption over 7000 years ago.
Rim Drive: A 33-mile, 2-hour, drive which offers beautiful scenery and views of stunning cliffs.
Crater Lake Lodge: Over 100 years old, the lodge is built from log and stone and is the perfect place to get cosy and socialize after a day of exploring.